Your Chevy Express 3500 van requires tires that can withstand heavy loads and drive well off-road. And if your van is your workhorse, you will likely need to replace the tires more frequently than the average driver.
There are a ton of tire options to choose from. However, only some tires will be a good fit for your van, and obviously, you want the best tires. But which are the best tires for chevy express 3500?
This article looks at 8 tires that should be a good fit for your cargo van. We picked these tires based on how much weight they can handle, how well they do off-road, and how safe they are.
A Quick View Of Our Top Tires For Chevy Express 3500
Please note that prices and availability on Amazon may vary from those mentioned in this post
Last update on 2023-12-02 / Paid links /
Please note that prices and availability on Amazon may vary from those mentioned in this post
Last update on 2023-12-02 / Paid links /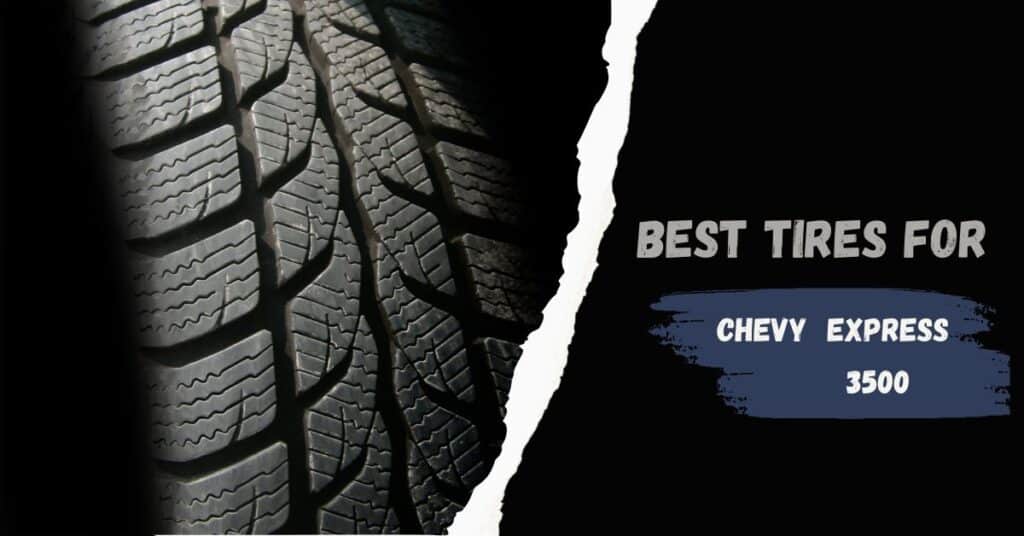 Helpful Facts To Know Before Considering Tires For The Chevy Express 3500
What Size do Tires Go On A Chevy Express 3500?
The Chevy Express 3500 typically uses 16-inch tires with a section width of 245 millimeters. Most tires used on this cargo van model will also have a load index of 120 and an aspect ratio of 75.
What is the Valve Stem in a 2022 3500 Chevy Express
The valve stem is a crucial part of a tire that keeps the tires inflated. This part can be used to inflate or deflate the tires. A cracked valve stem can lead to under-inflated tires, leading to slow air leaks, which causes decreased tire life. 
How Much Load Can A Chevy Express 3500 Hold?
The Chevy Express 3500 is a 1-ton van meaning it can hold loads of up to 1 ton. However, this may vary, and it is important to check the load capacity of your Chevy Express. Also, load capacity differs from towing capacity.
How To Read Your 2022 Chevy Express 3500 Tires Or any Other Year Tires?
The tires of a Chevy Express will be designated with a long series of numbers and letters combined. So what do these numbers and letters mean? The first letter will be 'LT.' These initials stand for light truck, which is what the Chevy Express is. 
The three-digit number that followers the LT initials refers to the tire's width in millimeters. The number that follows it is the aspect ratio of the tire. This number is followed by R and another number, which refers to the diameter of the wheel in inches. 
How Often Should You Rotate the Tires on a Chevy Express 3500?
Ideally, rotate the tires after every 5000 to 7000 miles. However, you should refer to your owner's manual for a more accurate answer. 
Review Of The Best Tires For Chevy Express 3500
Starfire Solarus HT All-Season LT245/75R16 120R Tire
The StarFire Solarus HT all-season tire is great for vans, SUVs, CUVs, and even pickup trucks. So what makes it an excellent option for your Chevy 3500 Express van? Let's find out.
Even Treadwear
One feature that makes this one of our favorite tires for the Chevy Express is the symmetrical 5-rib pattern. This pattern ensures the natural wear and tear of the tire is even over its lifetime.
Good Handling On wet surfaces
It also has good traction on wet surfaces. This is thanks to its four center grooves. These grooves push water out of the tire to give you good traction when driving over wet surfaces. They also help prevent hydroplaning. 
Offers a Quiet Ride
You should expect a quieter ride with these tires. This is mainly due to narrow and limited airflow between tire grooves. The full-depth jagged edges throughout the tread system offer good traction on snow and wet surfaces.
Verdict
These are great all-season tires for the Chevy Express 3500 with an excellent 50,000-mile warranty. The price is also reasonable, and they should be top on your shopping list if you are looking for the best tires for a cargo van. Their load capacity of 3042 pounds is also sufficient for a cargo van.
Pirelli Scorpion All Terrain Plus All-Terrain Radial Tire
The All-terrain scorpion radial tire from Pirelli is another excellent choice for the Chevy Express 3500. The tires are surprisingly quiet while offering good traction on different surfaces, from mud, and rain to sand.
Aggressive Sidewalls
The first thing you will notice about these tires is their aggressive sidewalls. These offer good protection for the occasional off-road driving without sacrificing on-road civility. 
Deep Tread Design
The tire's tread pattern is one of the things that makes this one of the best tires for vans. You get a symmetric high void pattern that offers smooth and quiet on-road traction. In addition, the tires feature deep grooves and independent blocks for easy grip in loose terrain. On the other hand, the tires' wide lateral notches and open shoulders help with traction on wet surfaces.
Load Capacity
The tires' load capacity is 3042 pounds and has a load index of 120. Meaning the tires will be sufficient for carrying heavy loads in your chevy express vans. 
Verdict
These tires have an aggressive look that makes them look awesome. However, their aggressive sidewalls and treads aren't just for show. They serve to offer good traction on wet surfaces and even on snow. 
Nexen Roadian AT Pro RA8 All Terrain Radial Tire-LT245/75R16 120R
The Nexen Roadian AT Pro all-terrain tire is designed to be mild-mannered on the highway while being capable enough of Handling off-road challenges. This makes it a perfect fit for drivers who want freedom regardless of weather or terrain.
Excellent tread pattern
Part of the reason these tires work well off-road and on-road is the tread pattern design. It features a symmetric design with a staggered center rib. The tire also comes with dual tread blocks, these help shovel dirt or mud while driving. These also feature micro-grooves and biting edges, providing good traction on snow and wet roads. 
Wide shoulder blocks
The tire also features wide shoulder blocks that improve handling for off-road driving. In addition, the tire is surprisingly quiet for an all-terrain tire. It also has dual layers of nylon, giving it more durability and strength.
Load Capacity
The tire is available in sizes ranging from 16 to 20 inches. For this review, we picked the 16-inch option. It has a tread depth of 16 32nds, a load capacity of 3042 pounds, and a load index rating. 
Verdict
Some people have complained of the tire shaking at speeds beyond 75 MPH. However, it is still a good option for the Chevy Express 3500. It offers good Handling off-road while providing a quiet drive. 
Firestone Transforce AT2 All Terrain Commercial Light Truck Tire 
The Firestone Transforce AT2 all-terrain commercial light truck tire is built for light trucks. It is a 16-inch tire that can handle loads of up to 3042 pounds. While it is a light truck like the 3/4 ton truck tire, it can also be used on vans and SUVs.
Tough Rubber Compound
This tire is built from a tough chip and tear-resistant rubber compound. This compound is tough enough to withstand harsh driving conditions such as rocks and gravel. It also gives the tire even wear and tear over its lifespan. 
Deeper Tread
The AT2 all-terrain tire has a deeper tread than its predecessor, the Transforce AT. This translates to better traction and Handling on wet and snowy surfaces. The excellent traction on wet surfaces is also helped by vast voids and closely packed tread blocks. 
Quiet Ride and Good Off-road Handling
This Firestone tire is excellent off-road. However, it is also good for driving on-road. The tire offers a quiet and smooth ride. 
Verdict
While the tire is an excellent choice for the Chevy Express 3500, some drivers have complained of the treat wearing off quick. Nevertheless, this is still a great tire that works well off-road and on the road. 
Bridgestone Dueler A/T Revo 3 LT245/75R16 120S E All-Terrain All-Weather
The Bridgestone Dueler AT Revo tire is pricier than the other tires on the list. However, it is well worth the money, with its off-road performance and smooth and quiet ride. It is an all-weather road.
Aggressive Tread For all Terrains
This tire has an aggressive, deep tread pattern that offers good traction on wet surfaces. The all-weather compound of the tire also gives it good Handling all year round. It has good flexibility even in colder weather. 
Quiet on-road performance
The tire is also quiet on the road. Its groove placement minimizes the chances of hydroplaning. The groove placement eliminates water and slush from the footprint. 
Even Tread Wear
The tire's grooves have a stepped design work together to lengthen the tire's lifespan. The groove design also optimizes the tire's contact with the road surface. This helps distribute the driving pressure along the tread surface.
Verdict
These tires come with a 50,000 miles limited warranty. Overall, this is a good tire for all-weather driving and has good traction on different terrains, from snow and rain to mud. 
Cooper Discoverer AT3 LT All-Season LT245/75R16 120/116R Tire
The Cooper Discoverer AT3 tires for light truck vehicles are all-weather and all-terrain tires that will be a good option for your Chevy Express 3500. They are designed to work in all seasons and all kinds of terrain.
Zigzag Tread Grooves
You will notice that the tires have a wide zigzag tread pattern. This tread design help disperse water and slush from the tires. This helps prevent hydroplaning while driving on wet surfaces, such as when it rains.
All Weather Tires
The tires are designed with a special silica compound resistant to damage. They also feature a five-rib design that offers good traction on different terrains. The silica compound does not lose its flexibility in colder months.
Good traction
You will love the grip these tires have when it comes to driving on snow, mud, or ice. They offer excellent acceleration and deceleration traction. They work particularly well on ice and greasy snow. You can also run these tires up to 80 psi of pressure, which are great for towing and carrying loads of up to 3042 pounds. 
Verdict
Like the other tires on our list, these look aggressive with solid sidewalls. And this is what you want on your tires. They also wear well and last long. On top of this, they come with a 60,000 miles warranty.
Yokohama Geolandar M/T G003 LT245/75R16 120/116Q E
If you plan to carry heavier loads in your Chevy Express 3500, consider buying the Yokohama Geolander G003 tires. These tires can accommodate loads of up to 3086 pounds and have an aggressive design.
Minimal Road Noise
The one thing you will notice about these tires is how aggressive they are. From their appearance, they look like the perfect off-road tires. However, they have minimal road noise, which is surprising for their design.
The off-road-focused Tread pattern
From their appearance, it shouldn't come as a surprise that the tread pattern on these tires is designed for off-roading. The tires are built using a triple polymer blend that offers cut and chip-resistant protection when driving on gravel and rocky terrains. 
Good Handling on snow and mud
These tires handle really well on snow and mud. The aggressive tread pattern offers a good grip on snow or mud. Also, the amount of rubber on the sidewalls ensures maximum protection in different terrains.
Verdict
These will be your best bet if you do a lot of off-road driving. While they are quiet on the road, you will hear the noise as you accelerate. Though the noise gets easily drowned by the radio. Overall, they are a good choice for a workhorse van.
Cooper Discoverer STT Pro All-Season LT245/75R16 120/116Q Tire
The Cooper STT pro-all-season tire is another designed for off-road. The aggressive tread and tough sidewalls make them an excellent fit for off-road driving. However, they still need to compromise on on-road Handling.
Hybrid 3-2 tread pattern
The tires feature a hybrid 3-2 tread pattern. This pattern helps control noise and enhances stability. In addition to this hybrid tread pattern, they also feature alternate shoulder lugs for sufficient traction on mud and soft surfaces.
Wide Grooves
The wide grooves on these tires push water away from the tires and can prevent hydroplaning. This is important when driving in the rain or on wet surfaces. They also feature a 3-ply polyester casing that improves puncture resistance. 
Durable construction
Thanks to the Armor Tek construction of the tires, they will last long before requiring replacement. The durability of the tires is further reinforced by twin steel belts reinforced by spirally wrapped nylon.
Verdict
These tires are best suited for pickup trucks, light trucks, jeeps, and SUVs. They can also be used on vans such as the Chevy Express 3500. Overall, they are another excellent option for frequent off-road driving.
MICHELIN Defender LTX M/S All Season Radial Car Tire
The Michelin Defender LTX M/S all-season radial car tire is the successor to the top-rated Michelin LTX M/S2 tires. So how do the new tires compare to the old, especially for vans?
Symmetric tread pattern
The Defender LTX share the same symmetric tread pattern as their predecessor. The pattern features stable, independent tread blocks with active sipes. This offer good traction on dry roads as well on wet roads. 
MaxTouch construction
The tires feature the Michelin Maxtouch construction. This creates an even contact patch that helps promote traction and even wear. This construction also helps in distributing acceleration, braking, and cornering forces evenly.
Strong to handle heavy loads
The inside of the tires features twin steel belts. The latter provides the strength and durability needed for the tires to handle heavy loads. The tires can accommodate loads of up to 2403 pounds.
Verdict
These tires are a bit let down in the load capacity department compared to the other tires on our list, hence why I placed them at the bottom of the list. However, they are still great tires for driving on the road in different weather conditions.
What Should You Look For When Buying Tires For Your Chevy Express 3500
Tires have a big impact on your car's acceleration, braking, steering, and even fuel economy. On top of these, they need to be in tip-top shape whether it's blistering hot or freezing cold. Basically, tires are an investment you cannot afford to ignore.
Especially if you own a transport vehicle such as the Chevy Express 3500. And the good news is that modern tires are designed to withstand all kinds of terrains and weather conditions. However, the huge variety of tire brands out there being marketed as the best tires for the chevy express 3500 can be overwhelming.
So how do you choose the right tire for your Chevy Express? And what should you look at when buying tires for your cargo van? Below we have
outlined some key factors to consider when buying tires for your Chevy Express 3500.
Type of Tires
All-season tires will make the most sense for a minivan such as the Chevy Express 3500. These offer comfort and smooth driving on the highway. They also offer good traction for all seasons. 
However, consider all-terrain tires if you plan on doing a lot of off-road driving. These features complex and aggressive tread patterns designed for driving on mud, dirt, sand, or gravel. 
Mud-terrain tires, such as the Cooper Discoverer AT3 LT All-Season, will be a good option for driving through mud or less solid terrain.
The Aspect Ratio
A tire's aspect ratio determines how comfortable and responsive tires are when steering. A low aspect ratio of less than 75 results in quicker responses when cornering. However, a lower aspect ratio also results in stiffness when driving.
A higher aspect ratio means thicker sidewalls, which results in a comfortable ride. Tires with higher aspect ratios are typically designed for buses and heavy vehicles. Tires with lower aspect ratios are designed for performance and race cars.
For an average car such as the Chevy Express, a standard aspect ratio of 75 is sufficient. But a higher aspect ratio tire can be a good option if you intend to carry heavy loads.
Radial Tires
Most tires designed for vehicles such as the Chevy Express are radial tires. These are manufactured with cords laid at a 90-degree angle and run perpendicular to the direction of travel. 
This type of tire offers a flexible sidewall with minimal rolling resistance translating to improved fuel economy. They also offer a softer ride and less vibrations while driving. More importantly, they last longer. 
Load Rating
The load rating the load capacity tires can support. For most tires used on the Chevy Express, a load capacity of 3042 pounds is sufficient. You can opt for tires with a higher load rating for carrying heavier loads. 
Speed Rating
The speed rating is the speed at which tires can perform optimally. This rating is typically designated in alphabet and ranges from A to Z. The tires on our list have a speed rating of R. This means a rating of 106 MPH or 170 Km/h. This is the ideal speed rating for tires designed for heavy-duty light trucks. 
UTQG and DOT codes
When you buy tires, they should have a DOT and UTQG code. DOT stands for Department of Transportation, and these code on a tire means it conforms to the department's regulations. This code indicates the tire manufacturer and when the tire was made.
The UTQG code, on the other hand, stands for Uniform Tire Quality Grading. This code helps you know a tire's tread wear, traction, and temperature. 
The Warranty
A warranty is an essential factor to check. The warranty of tires is usually indicated in miles. For new tires, you want a warranty of around 50,000 miles. A higher warranty mile rating is good, but the standard is 50,000 miles.
Noise levels
Another essential aspect to consider is how much noise the tires produce while driving. The noise level can be a nuisance. The tires on this list have a minimal noise level.
Frequently Asked Questions
How much do Chevy Express 3500 2022 tires cost?
On average, the Chevy express 3500 tires cost anywhere between $150 and $350 per tire. This equals a total cost of $600 to $1400 for all four tires.
Are used tires safe for use on a Chevy Express 3500
Used car tires may be cheaper than new tires, but they have a higher risk of damage than new ones, especially if they have unbalanced wear.
What tire brand does Chevy use?
Chevrolet uses General Grabber HTS tires on most of the company's vehicle models, including the Chevy express.
2005 chevy express 3500 tire size
The 2005 Chevy Express 3500 uses 16-inch tires
Conclusion
The Chevy Express is a van used for transporting goods. As such, you want tires that can handle the load and offer good traction on different terrains and a smooth ride. The tires we picked above are some of the best for chevy express 3500 on the market.
Last Updated on February 3, 2023 by Rifen