Did you know adding a turbocharger can improve fuel economy in your 5.9 Cummins by up to 40%? It improves horsepower, torque capacity, and overall engine performance.
However, the market is saturated with a whole range of turbos, and not all meet the standard. That's why we took it upon ourselves to test and review some of the best turbo upgrades for the 5.9 Cummins engine, providing you with our hands-on experience.
We understand the importance of having a turbocharger that can keep up with your Dodge Ram truck's demands, whether you're hauling heavy loads or just cruising down the highway.
In our quest for the best turbo upgrade options for the 5.9 Cummins engine, we took our 2006 Dodge Ram 2500 and our friend's Dodge Ram 3500 out for a spin to put several turbochargers to the test, pushing them to their limits and see how they held up under pressure. Our goal was to find the most efficient and valuable turbochargers that deliver maximum power and performance. Now that we've revved up the 5.9 Cummins engine with various turbocharger upgrades, let's take a quick peek at our top picks.
A Quick View Of Our Top Picks
Please note that Prices and Availability Are Subject To Change
In the following review section, we'll share our experience with each turbo, providing you with the information you need to make an informed decision. We'll also discuss the specific needs of the 5.9 Cummins engine and why choosing the right turbocharger is critical.
Read thoroughly to pick up the right turbocharger for your 12-valve Cummins to add horsepower and gain more fuel down the road!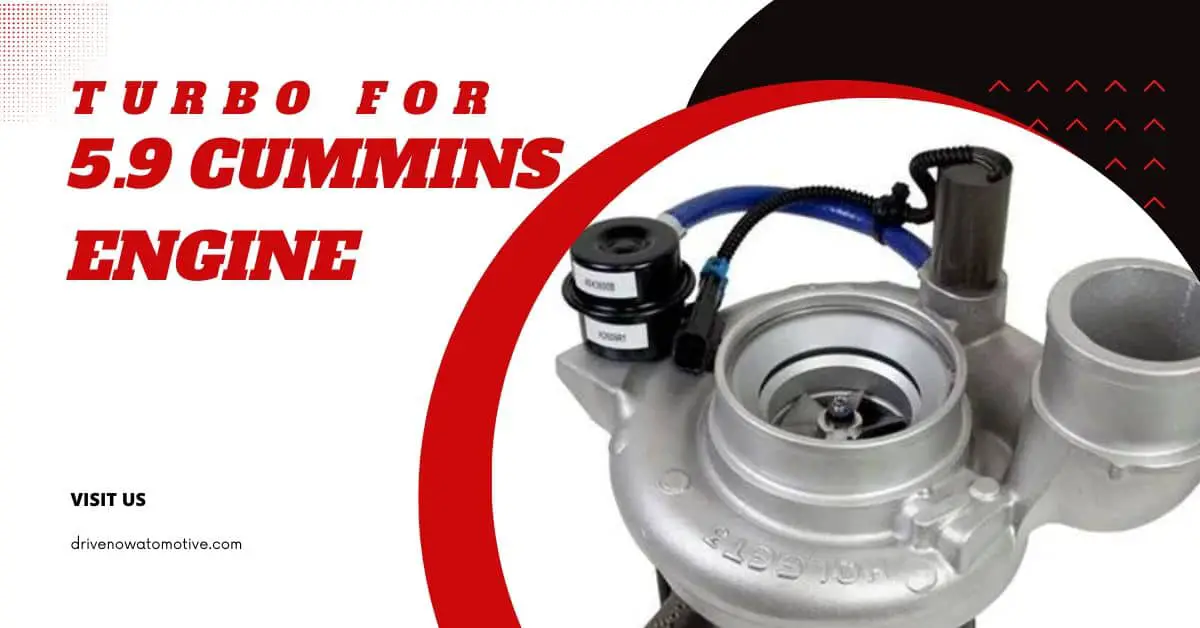 When To Upgrade The Turbo For 5.9 Cummins
A bad turbo will give you hints that tell you you need an upgrade soon! The very basic warning sign is your Dodge turbocharger is not performing as it used to. The rest of the signs are as below-
Slower Speed
An old or stock factory turbo cannot produce as much energy as before. The engine probably has lost horsepower. As a result, your truck is slower than before, and you may notice sluggish acceleration.
Irritable Squeak Noise
When the turbo in your 5.9 Cummins makes a whiny noise, similar to the horn when you're on the go, it's a sign that the turbo has some fault. It worsens over time and shows up along with other turbocharger failure symptoms.
You Need Too Much Engine Oil
Besides reducing engine power, you'll have to use more engine oil in a faulty turbo. If your turbocharger is failing, it might be leaky as well. So, you'll need a hell lot of fuel because the engine is burning an excess amount of oil every time. 
To be sure, use an automotive borescope. Look inside the turbine housing. If you find any oil, it indicates the turbocharger is leaky. You should take an initial step, or you may have to replace the whole turbo.
Excessive Smoke from the Exhaust
When you notice smoke coming from your turbo, it may indicate a faulty turbocharger. The smoke happens when oil drips into the hot exhaust system through the broken turbo cover.
It creates a lot of dark-gray smoke whenever you rev up the engine, indicating a turbo failure. You should look at the turbo and replace it ASAP if it's broken.
Lit Check Engine Lights
Your Check Engine Light or CEL will flash on the dash. Though it may indicate many other problems, it can also flash if the turbocharger has any issues. Since a failing turbo can make the CEL flash, you should give it a check when this happens.
Why Should You Upgrade Your 5.9 Cummins Engine Turbocharger?
These below highlighted benefits make a turbo an essential part of your 5.9 Cummins engine
Increased Horsepower and Torque
One of the most significant benefits of upgrading a turbocharger in a 5.9 Cummins engine is increased horsepower and torque. A turbocharger can significantly boost the engine's performance, allowing it to produce more power and torque. The 5.9 Cummins engine can produce a significant amount of horsepower with a turbocharger. This increased power can improve the vehicle's towing and hauling capabilities, making it an ideal choice for those who frequently use their trucks for heavy-duty work.
Better Engine Capacity and Increased Lifespan
It's the easiest and most effective way to increase engine power without changing your car. A turbocharger can help to reduce the strain on the engine by providing more oxygen for combustion, which reduces the amount of unburned fuel in the engine. This, in turn, reduces the amount of wear and tear on the engine, helping it to last longer.
Better Fuel Economy
Contrary to popular belief, using a turbocharger can actually improve a vehicle's fuel mileage. By increasing the amount of air that enters the engine, a turbocharger can help to be more efficient burn fuel. This means that the engine can produce more power with less fuel, resulting in improved fuel economy. In fact, some drivers have reported up to a 20 to 40% increase in fuel efficiency after installing a turbocharger.
Eco-friendly
Turbocharger is eco-friendly as it burns the oil cleaner, reducing the amount of toxin released into the air.
Works at a Higher Altitude
One of the main challenges of driving at high altitudes or going uphill is the decrease in air pressure. This decrease in air pressure can cause non-turbocharged engines to lose power and performance. However, a turbocharged engine can overcome this challenge by compressing the air, allowing the engine to perform better at high altitudes. This makes a turbocharged 5.9 Cummins engine an ideal choice for those who frequently drive at high altitudes.
Reduced Noise Pollution & Compact Size
It's lighter and more compact than the same power-producing engine and doesn't make as much noise. Best for small vehicles that need a power boost.
Improved Driveability
Finally, a turbocharger can improve the overall driveability of a vehicle. With increased power and torque, a turbocharged 5.9 Cummins engine can accelerate faster and provide a smoother ride. This can make driving more enjoyable and less stressful.
Universal Use
A turbocharger is usable in diesel and gasoline Cummins engines and any type of vehicle- truck, car, bus, and even ship which supports installing a turbo.
Which Type Of Turbocharger Is Best For A 5.9 Cummins Engine?
As of 2019, about 34% of brand-new light-duty vehicles have turbochargers. Turbochargers come in various forms and shapes- 
Single-turbo,
Twin-turbo, 
Twin-scroll, 
Variable Twin-scroll turbo, 
Variable Geometry Turbo, and 
Electric turbo.
But not all will fit the 5.9 Cummins. You may come to a place where you must compromise between a good high-end power and a low-end torque if you pick the wrong turbo. 
So, below are the top 8 turbos suitable for 5.9 Cummins that we researched and tested for you.
How We Picked The Top Turbos For 5.9 Engines For This Review:
When selecting the turbos for this review, we wanted to ensure that we were choosing upgrades that would be appropriate for our own 5.9 Cummins engine. To do this, we extensively researched the available turbos in the market and analyzed various factors, including performance, durability, customer reviews, and affordability.
We then took our 2006 Dodge Ram 2500 and our friend's 2004 Ram 3500 truck out for a spin to test the products and determine which ones performed the best. Our goal was to provide a diverse range of options that would be suitable for different needs and budgets, ensuring that everyone can find the best turbo upgrade for their 5.9 Cummins engine.
Best Turbo Upgrade For 5.9 Cummins: 8 Top Picks
Based on our experience, we're sharing our insights about the turbo for 5.9 here.
DPS (Diesel Power Source) Stage-1 62mm Turbocharger
Thrust Capacity
Our first pick is a stage-1 62/62/12 turbo that we love for its increased thrust load capacity. According to the manufacturer it is claimed that the 360° bearing adds 50% more towing capacity. However, when we tested we find it actually increase 30% of towing capability compared to the stock turbo on our 2nd-Gen Dodge. 
Reliability
While it's directly attached to the system manifold and can incorporate air more profoundly than ever into your 12V Cummins engine, we believe it lowers the high EGT, resulting in increasing the lifespan.
Wastegate
The high-flowing wastegate of the stage-1 62mm Turbocharger is adjustable and much larger than the stock. Depending on your truck size, it's around 930 CFM, or 22 lbs/min, whereas the stock is about 550 CFM at best. So, it's less worrying that you barely need any modifications.
Spool-up Time & Hp
During our field test, we observed that the spool-up time of the turbocharger is comparable to the stock model. Additionally, the horsepower (Hp) of the turbocharger is around 450 at maximum, with an RPM range of 1300-1400. These impressive statistics highlight the strong performance of this turbocharger, making it an excellent replacement option for the stock OEM 5.9l Cummins turbo.
Compatibility
This turbo will suit those who want a reliable option with a quick spool-up time and greater speed. However, you'll need an additional 4″ downpipe for this.
Installation
It took us about three and a half hours to cut down the stock pipe and install the 4″ downpipe and the turbo. The turbo has four bolts and three clamps that were effortless to put together.
DPS Stage-1 62mm turbocharger is a great pick for anyone who tows heavy loads and wants to improve their engine's longevity.  But this might not be the best pick if you have a limited budget.
Blackhorse-Racing Diesel Turbocharger
Wastegate & Flange
After conducting a practical test with our neighbor 2002 Dodge 2500 Trucks, we found that the Blackhorse-Racing Diesel Turbocharger with an additional internal wastegate turbine is an excellent choice for those seeking a power boost at a reasonable price. 
Compatibility
The turbocharger is compatible with the 1999 to 2002 Dodge RAM 2500/3500 with 5.9-liter engines and is bolted onto a standard T3 Flange. However, it may not fit the 2001 Dodge Ram 2500, the Base Extended Cab 2-Door Pickup with a 5.9L engine.
Spool-up Time & Hp
The Blackhorse turbocharger's spool-up time is impressive, and it can produce up to 270 Hp, which is slightly less than our previous pick stage-1 62/62/12 turbo.
Air-Fuel Balance
The turbine maintains a good balance of the air-fuel load, and the torque output is fine, maintaining combustion chamber pressure quite well.
Mode of Transmission
This 15.4 lbs turbo model has a 4″ exhaust and is made of high-quality material, suitable for both manual and automatic transmission.
While this turbocharger is an excellent choice for those looking for a power boost, it's not the best option for towing. We recommend using an EGT gauge if you decide to run this turbocharger. Overall, the Blackhorse diesel turbocharger is an affordable option that can give your engine a boost without breaking the bank.
Geluoxi Turbo with Wastegate Control Solenoid
Power Gains
Firstly, let's talk about power gains. In a tuned engine, this turbocharger can improve horsepower by up to +40 Hp and +60 ft/lbs torque, while in-stock engines, it provides a boost of around +20 HP and +30 ft/lbs torque. These power gains are quite impressive and can significantly improve your driving experience.
Greater Compatibility
Compatibility is another area where the Geluoxi Turbo truly excels. In our testing, we found it incredibly easy to replace our friend's 2004 Dodge Ram stock turbo with the Geluoxi Turbo, and it fit perfectly. It is an outstanding replacement option for any 2004-2007 Dodge Ram 2500-3500 5.9L Diesel Cummins engine.
Reasonable Pricing
The best part of this turbocharger is its reasonable pricing, which most manufacturers often fail to offer. You can get a significant power boost without breaking the bank.
Weight
However, it's worth noting that this turbocharger is relatively heavy compared to other options on the market, weighing in at around 25.9 lbs. If you're looking for a lighter option, you may want to consider other turbos.
Spool-up Time & HP
One of the best features of this turbocharger is its quick spool-up time and extended longevity. It increases about 5 to 7 PSI and is reliable in high-boost applications, providing a significant boost to your engine's performance.
Reliability
Additionally, this turbo eliminates compressor surge, and its severe-duty journal bearings and thrust collar give it a long-lasting, rust-free performance. So, you can rest assured that this turbocharger is reliable and will provide excellent performance for a long time.
Overall Recommendation
Overall, we highly recommend the Geluoxi Turbo with Wastegate Control Solenoid for any 2004-2007 Dodge Ram 2500-3500 truck owner with a 5.9 Cummins engine who wants to boost their engine's performance. It's an affordable and reliable option that provides excellent power gains. Just keep in mind the weight factor while making your decision.
DPS (Diesel Power Source) Twin Turbo S475 With Kit
Dual Turbo
This is our second pick from the brand DPS (Diesel Power Source), a twin-turbo. The small one is a DPS 64mm turbo, and the large one is an S475 Borg Warner with an 80mm compressor wheel.
Spool-up Time & Hp
This twin-turbo from DPS has almost the same spool-up time as the stock, but we noticed a significant improvement in the airflow. And this S475 turbo is mostly tuned for 350-800 Hp applications, which is great for users who want high spool-up time and amazing driveability.
Thrust Capacity
Its 360° thrust bearing included in all DPS 62mm & 64mm adds about 45% thrust load capacity to the stock. This turbo is directly bolted to the system; you do not need any modification. 
Usage
If you want to have the best twin turbo kit for 5.9 Cummins, upgrading with this Twin Turbo S475 will be a great option for your 5.9 Cummins to go for if you like- towing, racing, sled pulling, and drivability all at once. 
Improved ETG & Boost Pressure
We also noticed a great improvement in the EGT (Exhaust Gas Temperature), which generally reduces temperature from 300° to 500°, much higher than a single turbo. Furthermore, the adjustable boost pressure exceeds the driving pressure, which is something you cannot do with a single turbo.
Drivability
One of the things we liked most about this S475 turbo is its boosted power and drivability, which increases torque significantly in the mid and upper RPM bands. The twin-turbo is a great option to go for if you would like towing, racing, sled pulling, and drivability all at once.
Compatibility
Compatibility is not an issue with this high-tech compound turbo. It was designed using Computational Fluid Dynamics (CFD) Testing, and the kit fits like the factory-built OEM.
Weight & Pricing
Now, let's talk about the price and weight of this twin-turbo. The DPS Dual Turbo is a bit heavy on the pricing and weight, weighing about 132 lbs. However, the 4″ exhaust downpipe comes with the pack, as well as the 3-piece high-flow exhaust manifold, so you need no additional spending.
Overall, we are satisfied with the performance of the DPS Dual Turbo. This is for anyone who wants greater power to boost the engine, and if you do not have a budget problem, it's worth your investment!
CF Power New Replacement 24V HE351CW Turbo
Compatibility
Our next pick, the New Replacement turbocharger, is from CF Power. This turbo is made to meet or exceed OEM standards. And it fits the 2004.5-2007 5.9L 24V diesel Cummins engine perfectly. 
Components
This HE351CW turbo comes with a turbo feed, drain line, fittings, gaskets, o-rings, and install kit. Therefore, it was easier for us to replace the worn-out stock.
Hp
CF Power New Replacement turbo adds up to +40 HP/+60 ft/lbs torque for tuned engines, whereas stock engines have around +20 HP/+30 ft/lbs torque.
PSI Boost
When installed, this turbo gives us a power boost of up to 30+ PSI. But you need wastegate modifications to increase the power boost. Also, the lifespan is longer than usual, with a 5 to 7 PSI turbo boost in high-boost applications. 
Drivability
It also terminates compressor surges while improving performance at high boost levels. More importantly, the journal bearings and thrust collar can handle severe driving conditions.
Sealed Thrust Bearing
As a precaution against oil leaks, the turbo has oil seals in the bearing housing. The 360° brass thrust bearing works as a life-saver keeping the temperature at a relevant point and cooling it faster than the steel versions. 
Improved Lubrication
Lubrication is also improved with 6 oil passages, whereas the stock has 5 oil passages in the 270-style thrust bearings, preventing early failure due to rusting.
Weight & Pricing
This turbo is about 27 lbs, and the pricing seems reasonable. Moreover, you'll find most of the replacements on the market overpriced. Compared to those, it's pretty affordable.
It's a solid choice for your 2004.5-2007 5.9L 24V diesel Cummins engine if you want improved engine performance and a greater engine lifespan at a reasonable price.
Stigan Turbocharger with Actuator
Compatibility
Our next pick is a brand-new Stigan turbocharger. It fits your Dodge Ram Diesel 5.9 Cummins for late 2004 and 2004.5 through 2009 models. For the later models, check the next Stigan turbo mentioned at No. 8.
Components
It has all the required components, including a pre-calibrated electronic wastegate actuator.
Weight & Pricing
This brand-new turbo requires no modification before installation and weighs about 35 lbs. It may seem slightly pricey compared to most options here, but it's worth the price.
Improved Lubrication
You'll barely notice any noise coming from the turbo. Its high-speed compressor reduces the noise effectively while improving its stability in harsh conditions, maintaining a precision balance. 
High-quality Material
Since the turbine wheels are made of high-quality K18 Inconel alloy, the durability is extended and ensured with a pressure test, heat test, and extensive use. Also, the performance is better compared to the usual K13 Inconel alloy.
The compressor and exhaust housing has a thick cast which stops early demolition of the components. 
Refined Design
We liked its refined design. It matches or exceeds OEM standards, performs better, and ensures durability.
It's a great turbo replacement for the 2004 and 2004.5-2009 Dodge Ram Diesel trucks owners. If you want a quality turbocharger that will last for years and give you smooth performance, and you have no budget issue, then go for this one!
DPS Stage 3 64mm Turbo
Compatibility
Our third DPS turbo is a stage-3 suitable for engines up to 640 Hp that flow 1190 CFM, like the 1988-98 Dodge 5.9 Cummins. It's a higher-performing turbo than the DPS stage 1.
Spool-up Time & Hp
Like the stock, this 64/71/12 turbo spools up quickly and improves horsepower by 10% to 12%. 
The spool-up rating for stage 3 64/71/12 is 1450-1600 RPMs at max and Hp rating 600. The highest horsepower rating is achievable between 30-50 RWHp.
Thrust Capacity
Its 360° adjustable thrust bearing adds about 50% extra thrust load capacity to your engine. 
Wastegate
Compatible to 2nd gen Dodge, this turbo from DPS has a high-flowing wastegate that flows 1190 CFM, which is almost double the stock, 550 CFM at max, based on your truck.
The wastegate flow exceeds a non-gated turbo, 22 lbs/min. However, you'll need an HX40-style 4″ downpipe for the 4″ outlet.
Improved ETG & Boost Pressure
With excellent towing capacity, it also lowers the high EGT.
Mode of Transmission
You can directly bolt it to the manifold without any modification as a factory replacement of the stock. 
Weight & Pricing
It weighs about 35 lbs. The price is comparatively higher than the stage 1 version.
DPS Stage 3 Turbo is a larger version of the previous DPS stage 1 model. We would suggest this turbo to anyone who wants to improve their engine performance significantly in the 1988-98 Dodge 5.9 Cummins engines.
Stigan 847-1011 Replacement Turbocharger for Holset HY35W
Compatibility
And last of all, we tried the Stigan 847-1011, a replacement for the original Holset HY35 turbo. It's an exact fit for your 2003 & early 2004 Dodge Ram Cummins 5.9L Diesel engines and won't fit late 2004 and later models.
Improved Design
This brand-new turbo is an exact fit for the stock. It's super easy to install and doesn't need extra modification. Also, its improved design gives you optimum performance balancing extreme heat under high-pressure and heavy use.
Components
K18 Inconel Alloy, a relatively more heat-resistant component than the regular K13 type, was used for it. The premium-quality materials and thick cast are common in Stigan turbochargers, ensuring long-time performance and eliminating the risk of damage.
Compressor
A high-speed compressor reduces noise and performs a quieter turbo operation. This turbo meets or exceeds the OEM standards and seems quite reliable.
Weight & Price
And if you consider the pricing, it comes at a reasonable price that you can go for even with the minimum budget.
Overall, the Stigan 847-1011 is an excellent turbo replacement for the 2003 & early 2004 Dodge Ram Cummins 5.9L Diesel engines. We recommend it to anyone who wants to improve their engine performance significantly within a limited budget.
Factors to Consider When Choosing a Turbo for Your 5.9 Cummins
Some factors are mandatory when you want the best compound turbo setup for towing 5.9 Cummins. Are you towing with your truck? Is the turbo compatible with the engine's power level? You must have answers to these questions before you pick one.
Power goals and intended use of the vehicle
First, you must decide what you intend to use your truck for. Do you want- extra torque capacity or horsepower? What do you need more- added high-end power or a quick spool up?
Is the truck for regular driving or towing and hauling, or do you want it for off-road use? Or, are you an extreme racer who loves frequent racing?
| | |
| --- | --- |
| Intended Use | Approximate Power Added Over Stock |
| Regular Driving/Work Truck/Towing | +150 Horsepower |
| Regular driving plus occasional heavy driving | +250 Horsepower |
| Extreme off-road performance | +350 Horsepower |
| Racing | +400 Horsepower and up |
After all, the vehicle's intended use determines the power requirement of your aftermarket turbocharger.
Compatibility with the engine and other components
When choosing an aftermarket turbo upgrade for 5.9 Cummins, you need to know whether the engine is compatible with the added power from the turbo. Otherwise, extreme power handling can damage the system ultimately.
The 5.9 Cummins can handle between 500 to 800 Hp from a turbo. However, that is true when you properly tune up and support the engine through adequate modifications.
To support the engine, you must upgrade the intercooler, and fuel system, besides ensuring the compatibility for the targeted power goal and increased power output.
Apart from that, some turbo models are an exact fit for a particular series of trucks produced within a certain production time. 
So, you need to verify the production date of the truck when purchasing a new turbo. Otherwise, the turbo may not be compatible with your truck and fail to fulfill the requirements.
Size of the turbocharger (A/R ratio and compressor wheel size)
Before buying a turbo, consider the A/R ratio and compressor wheel size.
Compressor Wheel
Compressor wheels come in various types. An efficient compressor can pump adequate air into the system without raising the temp. So, choose the right compressor to avoid consequences like- performance drop, high temperature, etc., from a large compressor.
A/R ratio
The A/R or area Ratio should neither be too large nor too small. Because when you choose a bigger area ratio, the turbo won't be as powerful.
And when you choose a smaller A/R compared to the motor size, you bottleneck the system and choke the exhaust, ultimately resulting in power loss, especially on the higher RPM.
You can use a flow calculator to get an idea and to find the right power curve for your engine on the internet. Make sure the source is reliable. Also, choose housing that falls between too large and too small.
Exhaust housing
As you are about to increase horsepower, remember that you also need adequate exhaust housing for the excess gas to pass through. It is also essential to minimize the exhaust gas temp. 
Brand reputation
Brand reputation is essential in choosing the right turbo for your Cummins engine. And a branded product, though it often comes at a higher price, often gives value for money. A vague promise from a cheap company can only waste your money down the drain.
So, pick a reliable, reputable turbo brand with a good product history from above, as we've picked them after thorough research and appropriate utilization.

If you consider these factors when buying the best turbo for 5.9 Cummins, you can rest assured that the turbo will be in proper use.
Last Updated on October 2, 2023 by Rifen