There are several ways you can improve the performance of your truck's 6.0 L Powerstroke engine. However, if you want to get the most out of your engine upgrade, replacing the turbocharger is the best place to start.
But buying an aftermarket turbo can be daunting. There are plenty of options to choose from. Selecting the best turbo for 6.0 Powerstroke will require understanding some technical aspects. To help you navigate through the purchase process, we have compiled a buying guide on some of the things to consider.
More importantly, we have also compiled a list of aftermarket turbos for the 6.0 L Powerstroke that will be worth every penny. 
Top on our list is the 6.0 POWERSTROKE KC STAGE 2 TURBO. It was the best option from among those we tested. And while it isn't cheap, it is well worth its hefty price tag.
In second place is the Garrett Powermax Turbocharger. Similar to the KC stage two, the Powermax delivers exceptional performance over the stock turbo. 
A Quick Comparison Of Our Top Picks
Why trust our review
We want to know which is the best turbo for 6.0 Powerstroke. And so we tested a number of turbos. We did a comprehensive test of each of the six we narrowed to and offered our honest opinions on them, including their pros and cons.
How we choose the best
We considered a number of things in our selection of the best turbos for the 6.0 Powerstroke. Key among them was the ease of installation, power output, and the accessories that each of the turbos came with.
What is a turbocharger, and what does it do?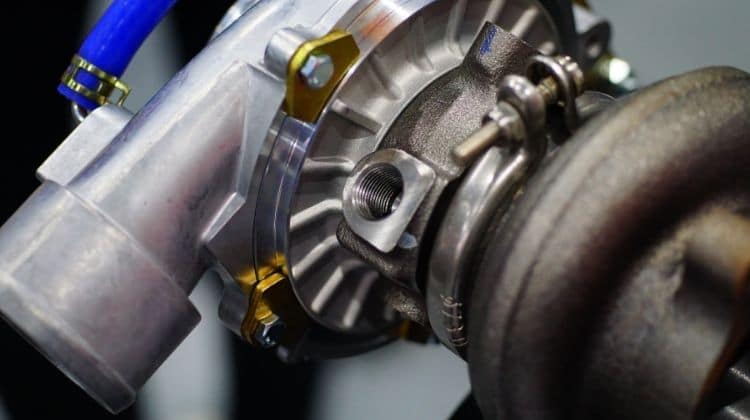 Like a jet engine, a turbocharger forces more air into the engine, causing it to produce more power torque. In a diesel engine, the air is first compressed before fuel is injected. A turbo compresses more air which translates to more air and fuel mixture being used in the combustion.
What this means is that a turbocharged engine does not have to be big to produce more power. This translates to a car's overall weight reduction as it can use a small engine without compromising on power output.
What are the advantages of turbo engines?
Improved power output: The most obvious benefit is more power output from the engine. A turbocharger forces more air into the engine, which translates to more power. This, in turn, translates to high speeds and improved towing performance in trucks.
Environmentally friendly: At the heart of a turbocharger is the concept of recycling energy from exhaust gases. This ensures less C02 emissions while at the same time improving the efficiency of the engine combustion process.
Smaller engines: Turbocharged engines are usually smaller in size compared to non-turbocharged engines. This means a more lightweight vehicle without affecting performance.
How to perform checks on a turbocharger?
Physical inspection: check the inlet compressor and spin the shaft. Check for excessive shake or roughness when spinning the shaft. Also, move the shaft up and down and check for radial wear. 
Check boost pressure: Use a vacuum or pressure gauge to check the boost pressure of the turbo. If the airflow is higher than what the boost pressure indicates, it may be a sign of a leak in the induction tract.
Check the wastegate: You can also use a vacuum gauge and pump to check the wastegate. Connect the pump to the wastegate actuator and operate the watergate. Check to ensure there is no pressure drop.
How do I know if my 6.0 turbo is bad?
There are several symptoms that indicate a bad turbo. Some of the common ones are;
White or grey exhaust smoke. If you notice excessive white or grey smoke from your exhaust, it may be as a result of an engine oil leak or worn-out internal seals of the turbocharger.
Increase oil consumption: 
Another sign is if your car is requiring more oil than usual. This can be as a result of an oil leak in the turbocharger and will impact turbo performance.
Engine warning light is on: 
if your engine warning light is on, one of the culprits for this may be a faulty turbocharger.
How to remove and install the 6.0 l Powerstroke turbocharger?
Removing the turbocharger on a 6.0 l Powerstroke is a process that involves a number of steps. The process of removing will entail.
The first step is to remove the turbocharger intake tube. This is located between the compressor housing and the air filter. Next, disconnect the charge air cooler inlet pipe.
The next step is to remove the push-pins that secure the harness that runs from the passenger side to the drive side. Again, position this harness in a way that it will not get in your way. Also, remove the charge air cooler tube.
Next, remove the Marman clamp. Use a socket to remove both the up pipe and downpipe marman clamps. An 11 mm socket should do the job.
On the compressor housing, you will find a solenoid clamp mounted, which you have to remove. Also, disconnect the VGT solenoid connector. Next, use a socket to disconnect the oil supply line from atop the turbocharger.
The turbocharger is usually held in place by three mounting bolts. To make them easy to remove, apply a lubricant on the bolts. The left and right bolts will be easy to access. However, the rear bolt is not so accessible as it is positioned behind the compressor housing.
Use a socket to remove the three bolts that secure the turbocharger. For example, you can use a 10 mm socket. Once the turbocharger is out, remove the oil drain tube. You can do this by pulling it towards the radiator and rocking it side to side.
Installing a new turbocharger may require more time than removing it. First, you will have to clean the gasket surface of the oil supply line. Next, position the turbocharger back on top of the engine. Ensure it is sitting on top of the drain hole. This may require several attempts and then reinstall all other parts, including the oil drain tube and air intake.
Best 6.0 l Powerstroke turbocharger
The 6.0 L Powerstroke engine was introduced to replace the 7.3l Powerstroke. However, it only lasted up until 2007 in the Ford Super Duty trucks. In the Ford, Ecoline vans the engine last until 2009, while it lasted up until 2010 in the Ford Excursion SUVs. If you need a 7.3 turbo then check these best turbos for 7.3 Powerstroke.
With a single variable geometry turbocharger, the 6.0 l was more fuel-efficient than its predecessor. But it wasn't without its troubles, hence why it was discontinued. Given it is a decade old, it may be time to replace the stock turbocharger with an aftermarket one.
6.0 POWERSTROKE KC STAGE 2 TURBO
If performance is of utmost importance to you and cost isn't a problem, we recommend the KC stage 2 turbo for 6.0 Powerstroke. This is the perfect turbo for anyone driving a 2004-2007 Ford F250 or F350 truck. 
So what exactly is it about this turbo that earns it the top spot on our list? Firstly, it comes with a 10 blade turbine. The latter allows for increased airflow and produces a loud whistle. There is also the billet wheel with extended tips that allows it to have a high boost capability.
We also love the fact that the turbo came with a VGT solenoid included in the package. In addition, we found it to be easier to install than most of the other turbos we tested. As such, we recommend it for beginners.
However, as already stated, this turbo isn't cheap, so if you are looking for something on the budget side, then we suggest looking. Also, we found that it is only compatible with a limited number of models. So it isn't the best option for everyone. However, if cost is not an issue, this is the best turbo upgrade for 6.0 Powerstroke.
Garrett Powermax Turbocharger 
This Garret Powermax Turbocharger is designed for the 0.45 to 0.7powerstrok 6.0 engine. As such, it is sold as a direct turbo replacement for the stock factory turbo. But should you replace your stock turbo with this one? Let's find out.
Firstly, this is a larger turbo than the stock one and produces more power. As such, you should notice a significant increase in engine performance with this installation. You should also expect a much faster boost than your previous model.
What about the sound? As you would expect, this Garret turbo produces an excellent whistling sound. In fact, we rank it among the best-sounding turbos out there. 
While it is an excellent option for top-end performance, it does take a bit of time to spool up from a dead stop. Also, getting this turbo properly installed can be a challenge. For example, it took us quite a bit of time to get it placed on top of the oil drain.
Overall though, this is the best aftermarket turbo for 6.0 Powerstroke. It is a significant improvement over the stock one. In addition, it is compatible with 2004 to 2005 6.0 Powerstroke. Thus if you are looking to replace your stock 2006 f350 turbo, this may be a great option to consider.
Garrett GT3782VA stock replacement turbo
If you are on a budget, we recommend the Garrett GT3782VA. The latter is less costly than others on our list. However, it is still a capable turbo and, in some areas, outperformed pricier models.
The first we noted with this turbo when installed is the quick spool up. This is largely thanks to it having a larger inducer and fewer veins. Regarding installation, it came with all the necessary accessories for installation.
In the package, you get a gasket, o-rings, and spacers. Mounting bolts are also included in the package. It should fit the 2003 to 2007 F 250 trucks. It features a typical ten-vane exhaust wheel, which produces a whistling sound.
While it does come with all installation accessories, we found it to be challenging to install. Also, the V clamps can break when overtightened. Overall though, this is an excellent turbo for the price.
 6.0 POWERSTROKE – KC STAGE 1 TURBO
Another KC turbo is the KC stage 1 turbo for the 6.0 Powerstroke. This is designed to fit the 2004 to 2007 ford models. Also, compared to other turbos, this one is quite lightweight and small. 
In terms of performance, we did notice that it spools up pretty quick. Furthermore, thanks to its 10 blade wheel, it is able to allow increased airflow, translating into improved performance. Also, the sound it produces is pretty great.
In the package, it came with a new VGT solenoid included, which is always great to see. And while it is lighter than most of its competitors, it maintains the same boosting capabilities. This is thanks to the billet wheel with extended tips. Furthermore, it works great with stock injectors without turbo lag.
Similar to the other KC model on our list, we feel that this one is a bit pricey considering its features. Also, it is compatible with only a limited number of models. As such, it may not be the right option for most people. 
GARRETT – POWERMAX TURBO
The powermax is a little bit costlier than its counterparts, which begs the question: is it worth the splurge? Firstly, this turbo has a nice design which is characterized by a higher compressor wheel. 
This larger compressor wheel will help increase the power output of your engine. Thus you should notice improved engine performance when you install this turbocharger. In addition, it features nine movable vanes.
This helps improve the efficiency of the turbines, which in turn improves airflow. In addition, the drop-in design of the turbo made it easy to install. As a result, it was easier to install when compared to some of the other options on the list.
While it is a great turbo, its price may be a bit too high for most. Thus its price tag is its greatest con. Nevertheless, if cost is not a problem, then this is a unit we would highly recommend. It is designed to fit 2004 to 2007 6.0 Powerstroke engines.
Garret Turbocharger GT3782VA
The Turbocharger GT3782VA is meant to be a replacement of the stock turbocharger on the 2005 to 2007 6.0 Powerstroke ford engine. And this turbo will be a significant improvement over the stock turbo.
This turbo features an updated center housing. This helps prevent moisture build-up under the unison ring and thus prevents corrosion in the area between the ring and the turbine housing. 
Additionally, this turbo features brand new unison rings and vanes. This ensures proper clearance, which helps improve engine performance. There is also a VGT solenoid included in the packaging.
It comes with a two-year warranty and is of the same size as the stock 6.0 Powerstroke turbo size. This means it should slot into the 6.0 Powerstroke engine easily. Overall, installation is relatively easy. 
Best turbo for 6.0 Powerstroke buying guide
So you have decided to purchase a new turbocharger for your car's aging and worn-out one. Well, there are a couple of things to consider before settling on one. The main things to consider are.
Vehicle compatibility
The first and most important thing to consider is compatibility. Every turbocharger is designed to fit different car models. Therefore, it is important to check if a turbocharger is designed for your car model before buying.
When buying online, you will find compatibility tools to check whether a specific turbo is compatible with your specific car model. 
The brand
As with any other product, some brands have a better reputation for producing turbochargers than others. However, brands such as KC have a great reputation for producing high-quality turbos. They also offer warranties on their products.
Going for a turbo from a trusted brand will give you confidence in its performance. 
Ease of installation
When it comes to turbochargers, ease of installation is not always guaranteed. Overall, these components are not known for being easy to install. Nonetheless, some models are easier to install than others. For example, models that feature a drop-in design are usually easier to install.
Also, check to see if the turbo comes with accessories needed in the installation process. This will save you from having to purchase any additional accessories.
Warranty
A warranty gives you peace of mind and gives you room to get a replacement if the product is damaged. Check to see what the warranty terms of a turbo are. Some have shorter warranty terms than others. Obviously, a more extended warranty is better.
Durability
You want a unit that will last you. The construction of the turbo should be of good quality and have. The design of the center housing should help reduce the build of moisture, as this causes corrosion. Overall the construction and design of a turbo will have an effect on its longevity.
Frequently Asked Questions
Is the 6.0 Powerstroke a good engine?
The 6.0 Powerstroke engine gets a bad rep for being unreliable. And to be honest, this engine is not without its fair share of problems and is the main reason it was discontinued. However, with proper maintenance, this engine is not as bad as some have made it out to be. However, proper maintenance requires someone who knows what they are doing as this engine is notorious for having overly complicated systems. The engine was later replaced in 2008 by the 6.4 l engine that featured a compound turbo designed not to take up more space than a single turbo.
What is the size of the 6.0 Powerstroke turbocharger?
The stock 6.0 turbocharger inducer measures 58 mm, with the exducer measuring 82 mm.
How much power can a 6.0 Powerstroke handle?
The 6.0 Powerstroke has been known to handle up to 700-rwhp, and some people have been able to get up to 800-hp.
What's the difference between a VGT and a non-VGT turbo?
A variable geometry turbocharger or VGT uses an electric solenoid to actuate vanes used to improve exhaust flow to the turbines. This helps with spool up. A non-VGT turbo, on the other hand, does not have an electric solenoid. Thus how fast the turbine wheel is spooled up depends on how quick and hot the exhaust gas enters the housing.
How much is a turbo for an f250?
The cost of a turbocharger for an f250 will depend on the turbo. Modern f250 turbos tend to be pricier than those used on the Powerstroke 6.0 engine.
Conclusion
The Powerstroke 6.0 l engine was a step up from the previous 7.3 diesel engine. However, it was not without its issues, some of which related to the turbocharger. Replacing the stock 2005 f350 6.0 turbo with a good quality turbo may help address these issues.
More importantly, getting the best turbo for 6.0 Powerstroke will give you better performance than with the stock one and extract the maximum horsepower, torque, and fuel economy. 
Last Updated on February 2, 2023 by Rifen
Last update on 2022-10-12 / Affiliate links / Images from Amazon Product Advertising API