Looking for a way to spice up the look of your car without having to spend a ton of money? Why not install exhaust pipes on the tailpipe of the car. Exhaust tips are fairly inexpensive and can greatly improve the look of your car.
Not only that, but a good exhaust tip will also change the sound output of your exhaust. So if you want a deeper sounding exhaust for the f150 or for any vehicle, exhaust tips could be the answer. But which is the best exhaust tip for deep sound?
After all, you do not want to spend your money on any run-of-the-mill exhaust tip. So we tested a wide selection of exhaust tips in search of the best. And narrowed down to seven, and in this article, we break down what each of the seven offers and why we picked it.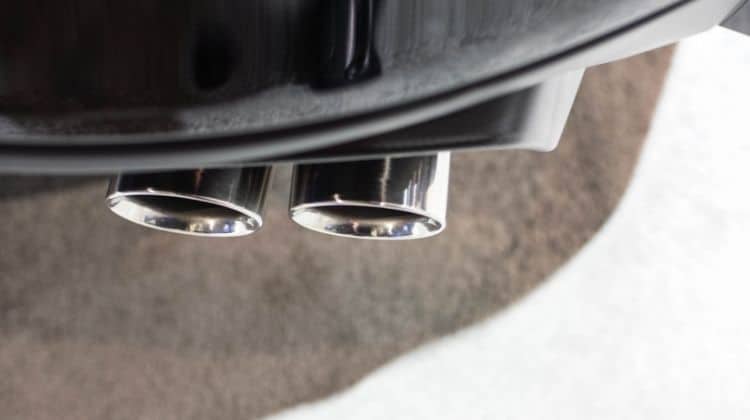 Top on our list is the GM # 22799815 Exhaust Tip - Highly Polished with GMC Logo - Dual Wall.... This exhaust tip can produce a deeper and louder sound profile. Also, since it is a dual wall tip, it is much thicker and durable than single-walled ones.
Position two goes to the Flowmaster 15363 3.5"X 12"X 3"Ss Exhaust Tip Strt Roll, which is at the same level as the GM 22799815. It was honestly difficult to choose between the two. All the same, all the others on the list are capable exhaust tips. 
Who We Are
We are car enthusiasts always on the lookout for new accessories to review. We test each accessory to see how they perform before compiling our reviews and giving our views. 
Why should You trust our review?
For this review, we decided to take a selection of 15 exhaust tips and compare their performance. We did this with the intention of getting to know which was the best. From our tests of the 15, we narrowed it down to seven, which we have reviewed below.
We selected the 7 based on the impact they had on the exhaust sound, ease of installation, and construction.
Types of exhaust tips
Dual and single wall tips: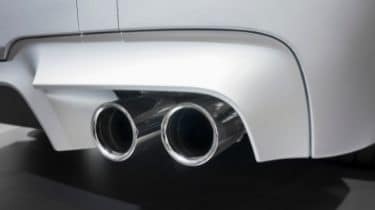 Exhaust tips can either be a single or dual wall. Single wall tips feature a single layer of metal tubing and are the thinner and cheaper of the two. Dual walls, on the other hand, feature a double layer of metal construction.
As such, the dual-wall tips are pricier and thicker; they also look better as they come in a number of design configurations.
Rolled edge tips: 
Rolled edge features an inward curve that makes the exhaust look bigger. More importantly, thanks to this inward curve, these tips help produce a deeper exhaust sound.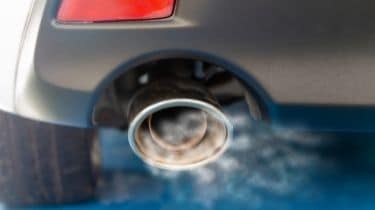 Turndown exit tips: 
Also known as dump outs, these types of tips have a curved angle facing the road. This means they are more noticeable and bounce the exhaust sound off the road and back in the exhaust. This creates a more profound and louder exhaust sound.
Straight cut exhaust tips:
Straight cut tips have a traditional cavernous appearance with the edge not being angled. This makes them look like the default exhaust. However, since they are more noticeable, they make your car look like it has a performance exhaust system installed.
Angled cut tips:
Unlike straight cut tips, angled cut tips are cut at an angle and feel more at home on more aggressive style cars. These types of tips are popular with 4×4 drivers.
Do All Exhaust Tips Give a Deep Sound?
No! Not all exhaust tips will have the same effect of giving your car's exhaust a louder and deeper sound. Muffler tips have little to no impact on the sound of your car's exhaust.
Difference Between Resonator and Regular Exhaust Tips
Resonator exhaust tips are sometimes used in combination with a muffler to reduce noise. But when installed on a tailpipe, they cause air to vibrate in a certain way. These tips produce a loud, reverberating, and high-frequency sound.
Regular tips do not produce the same loud sound as resonator tips. Thus if you want a loud sound resonator, tips are the best option.
Will a bigger exhaust tip be louder?
Only by a little margin. A larger diameter exhaust improves exhaust flow, but the difference is very slight in terms of sound.
Difference between muffler and exhaust
A muffler is installed to reduce exhaust noise, while the exhaust is the pipe through which exhaust gas from the engine leaves the vehicle. In essence, the exhaust removes the toxic exhaust gases produced by the internal combustion processes, and the muffler is used to reduce the noise produced.
If you are not a fan of the loud roaring sound vehicles make from their exhaust pipes, and prefer a quiet drive, a muffler is what to get. But if you want your car to be heard from a distance, and love the roaring sound, then an exhaust is what to get.
Best exhaust tips for deep sound reviews
GM # 22799815 Exhaust Tip
A Lot of online reviews praise the GM # 22799815 Exhaust Tip for its stunningly beautiful design. And while it is a beautiful stainless steel exhaust tip, it isn't what earned it the top spot on our list.  
We installed this on a Sierra 1500 and noticed a significant change in the roar of the exhaust system. Made from stainless steel, this dual-wall exhaust tip will be long-lasting thanks to stainless steel being rust and corrosion-resistant. 
As for installation, it took only about ten minutes to get it installed. It comes with clamps included in the package. Therefore, there is no need to purchase any additional components. One negative worth mentioning is the quality of the finishing. We aren't so sure it will last for long, and some people have complained of the finishing wearing out after some time.
Flowmaster 15363 Exhaust Tip
Up next is the Flowmaster 15363 Exhaust tip. In our view, this is one of the best sounding exhaust tips on the market. The roar of the exhaust was noticeably louder after installing this angled tip.
But that's not the only reason we picked it at number two. Since it is made of stainless steel, it should last you for a very long time. It also comes with a lifetime warranty, which rubber stamps its long lifespan.
This tip didn't seem to be covered in oil or any anti-corrosive film. Nonetheless, we did dip and wipe the surface with alcohol wipes. This is to avoid the surface of the tip blueing when heated. It is a phenomenon you may notice with the tip, but it's a common occurrence for oily surfaces.
Borla 20248 Exhaust Tip
The Borla 20248 Exhaust tip has to be one of the most stylish exhaust tips out there. And it is one of the best when it comes to producing a deep and aggressive sound. 
We are big fans of the rolled edge design of this exhaust tip. But what we loved even more about its design was the Borla logo placement. The logo placement gives it a unique and stylish look.
While it has to be welded onto the tailpipe, it does not take long to install. Overall, it produces a deep sound and has a beautiful stainless steel design.
MBRP T5124BLK Black Finish
While we do love a nice chrome finish as much as the next car enthusiast, we also know that there is nothing unique about a chrome finish. So if you are looking for something a bit different, let's introduce you to the MBRP T5124BLK black finish tip.
As its name suggests, this exhaust tip sports a stylish black finish. Made from T-304 stainless steel, it is built to last you long. As for installation, it comes with clamps included to make work easier.
At 18 inches long, you may have to cut a bit of the stock exhaust tailpipe to install this. But we think that's a tiny price to pay. In addition, the black finish will give your car a different look for everyone else's chrome finish tips. It will also give your exhaust a deeper sound profile. 
AUTOSAVER88 3 Inch Inlet Black Exhaust Tip
The AUTOSAVER88 inlet black exhaust tip is available in either a 4 inch or 3 inches. For our review, we picked the 3-inch inlet. Both are relatively small exhaust tips measuring 9 to 10 inches in length. 
Also, if your tailpipe has an inlet diameter larger than 3 inches, we suggest looking elsewhere for an exhaust tip. Nonetheless, this is a universal exhaust tip and should fit any vehicle whose outlet pipe is between 2 To 2.5 inches in diameter. 
The black-coated finish gives it an impressive look. Installation is also easy, though we suggest applying grease to lubricate it as you may encounter some resistance. It does come with clamps for installing, which makes it much more manageable.
DC Sports EX-1012 Performance Bolt-On Resonated Exhaust
The DC sports Ex-1012 resonated exhaust is an inexpensive option for small engines. The exhaust sound you get with this bolt-on exhaust tip is somewhat mellow. But for people who do not want an overly loud exhaust, this is a great option. 
It is a universal fit, though you should check the outlet pipe size of your tailpipe. It fits tailpipes with a diameter of 1.5 to 2 inches. It has an angled tip and is made from polished stainless steel. 
While it does not produce the deepest or loudest of sounds, it will give your car a nice touch. When installed, it is quite visible from under the car. The polish on this exhaust tip does wear out quicker in some parts, though.
MBRP T5053 5″ O.D. Dual Wall Angled Exhaust Tip
Last but definitely not least is the MBRP T5053 dual-wall angled exhaust tip. This is one of the best exhaust tips for diesel trucks. It has a nice chrome finish that complements its stainless steel construction.
The sound quality is significantly improved. You will notice a deeper and louder sound from your exhaust with this tip installed. This is a bolt-on tip that should be relatively easy to install.
However, we do recommend using a lubricant as it was a bit difficult to slip it onto the tailpipe. Nonetheless, this isn't a big deal as most new exhaust pipes will require lubrication during installation. 
How To Choose The best exhaust tip for deep sound: buying guide
Exhaust tips aren't all the same; some are better than others. And when shopping for one you want the one that will be the best option for you. Here are some key factors to consider when shopping for an exhaust tip.
Construction material
An exhaust tip should last, as you do not want to keep changing the tip frequently. Stainless steel is the best for making exhaust tips. This metal is rust and corrosion-resistant. Therefore, consider tips made from stainless steel.
 Length of the exhaust tip
Some exhaust tips are longer than others. A more extended tip will be more noticeable than a shorter one. Thus if you prefer having your tip being prominently visible, a longer exhaust tip will be an ideal choice.
The design
The design will depend on the type of exhaust tip. Also, the design you settle on will depend on your preferences. For example, some people want a chrome finish, while others prefer a black finish. Ultimately, exhaust tips come in all kinds of designs, and you will find one that suits you.
Inlet and outlet size
To install an exhaust tip, you must first be sure that it will fit into your car's tailpipe. The outlet diameter of the tailpipe should be smaller than the inlet diameter of the tip. If the outlet diameter of the tailpipe is bigger, then it will not fit. 
It is, therefore, wise to measure the diameter of your car's tailpipe outlet before shopping for a new tip.
Ease of installation
A tip should be easy to install. The package should include clamps for installing the tip onto the exhaust tube. Not all exhaust tips come with clamps included. Also, some will require you to modify the tailpipe first. All the same, ease of installation is an important factor to consider.
The purpose
Different people buy exhaust tips for varying reasons. If giving your exhaust a deeper and louder sound is important, consider dual-walled models. However, the sound produced may not be important to you for aesthetic purposes, and it will come down to preferences.
Dual exhaust tips installed in twin exhausts will produce a deeper and louder sound profile. 
Frequently Asked Questions
How can I make my exhaust sound deeper or sporty?
Installing an exhaust tip is one way of giving your exhaust a deeper or sporty sound. It is also one of the more inexpensive options. For a louder and deeper sound, you can consider replacing the muffler.
Does an exhaust tip change the sound Tone?
Yes, a tip with a wider diameter will give you a more throaty tone, while a narrow tip will give you a more raspy tone. 
Can an exhaust tip improve horsepower?
No, installing an exhaust tip will not have any effect on the performance of the vehicle's engine. The only effect will be on the sound produced by the exhaust system.
Why is my exhaust tip turning black?
This can be as a result of an unburnt fuel mixture that is deposited onto the tailpipe and to an extension on the exhaust tip.
What is the loudest type of exhaust Tips?
Typically a wider exhaust tip will give you a louder and deeper sound. 
How can I make my exhaust louder without buying anything?
One way of making your exhaust louder without spending money on anything is by cutting the pipe at a certain position.
Conclusion
Overall there are many exhaust tip models on the market. However, not all can be considered the best exhaust tip for deep sound. Some will have a small impact on the sound profile of your exhaust. The seven we have reviewed will translate to a significant change in the sound profile of your car's exhaust. 
Last Updated on May 27, 2022 by Rifen
Last update on 2022-09-16 / Affiliate links / Images from Amazon Product Advertising API