Back in the day, when the Chevy 350 first came out, a 60-amp alternator was enough to power all your car's electrical accessories. However, with the growing list of electronic controls that modern cars come with, you will need at least 90-amps.
But the amp rating of the best alternator for Chevy 350 today should offer at least 100 amps. Thus when it comes to upgrading your alternator, the amp rating is something you will want to consider seriously. 
And while the typical lifespan of an alternator is 7 to 10 years, damage or other issues may necessitate replacing the alternator sooner. And if you have a Chevy 350 under your hood, there are several options available.
We looked at various alternators compatible with this iconic engine and prepared a list of the 5 best that stood out.
A Quick Look At Our Top Alternator Picks For Chevy 350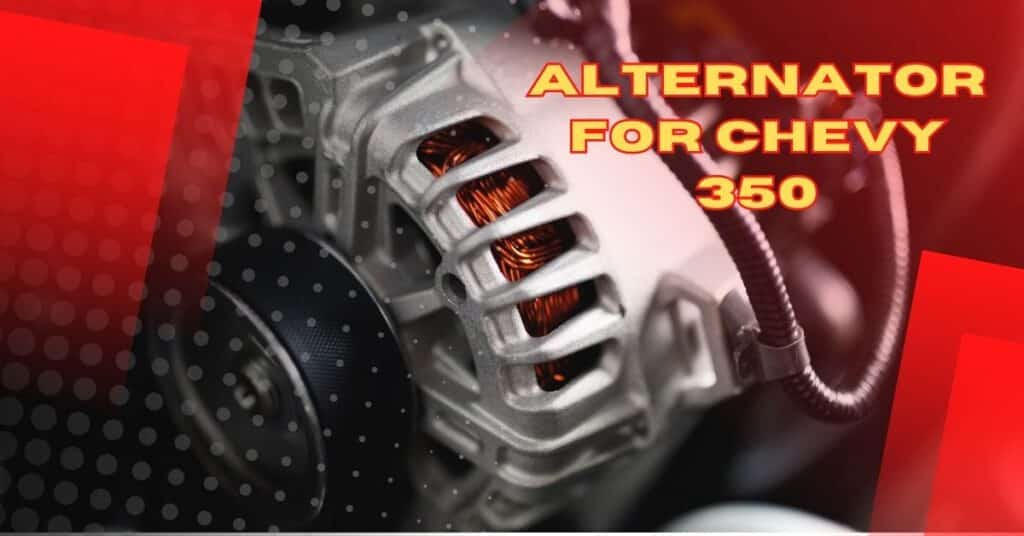 Benefits of using a higher amp alternator with Chevy 350
When shopping for an alternator, should you go for something with the same amperage as your previous one or a high amp alternator, Chevy 350? An alternator with a higher amp rating will be a better choice for several reasons, which are;
Improved Electrical power
if you have installed or plan on installing additional aftermarket electrical appliances such as auxiliary lighting, a better audio system or winches, a higher amp alternator will offer an improved electrical output to support all the systems in the car.
Improved battery charging
One of the main functions of the alternator is recharging the battery, something it does while the car is running. A higher amp alternator will have enough juice to recharge your battery quicker, especially if you use power-consuming accessories while driving. It may also be beneficial if you frequently make shorter trips where your battery may need more time to recharge.
More stable electrical system
Another benefit of a higher amp alternator is that it gives you a more consistent and stable power supply. This ensures all accessories are functioning optimally.
All-round Peace of Mind
Having a higher amp alternator gives you the peace of mind of knowing all electrical accessories in your car are well taken care of.
How to Know When an Alternator is Failing and Need an Upgrade
When it is time to upgrade or replace your alternator, some tell-tale signs will tell you it is time. These signs are;
Erratic lights
Since the lighting in your car is powered by an electrical current, it will be affected by a failing alternator. And in most cases, when your lights become dim or overlay bright, it may be due to the inconsistent voltage from the alternator, indicating it needs replacing.
Dead battery
several things may cause your battery to die, including a bad alternator. If the alternator fails, it cannot recharge the battery sufficiently. Try jumpstarting the car to test whether a bad alternator causes the battery to die. If the car stays running, the issue is battery related, but if the car runs for a short period and dies again, it may be alternator related.
Frequent engine stalling and trouble starting
Since the alternator is responsible for recharging the battery, you may have issues starting if it needs to do this properly. This may present itself as frequent engine stalling and trouble starting the engine.
Whining noises from under the hood
if you hear whining or growling noises from under the hood, it may be a sign of a bad alternator. This noise can be due to the alternator's pulley being misaligned or rubbing against the side.
Unplease smell
If you smell a foul odor from the car's hood similar to that of burning rubber, it may be another sign of a bad alternator. The alternator's proximity to the engine means that it wears out over time, causing an unpleasant smell.
Types of Alternators
When you are looking for a Chevy 350 alternator upgrade, it is important to note that there are different types. 
Brushed Alternators
This is the most common type of alternator found in cars. It consists of a set of brushes, a stationary stator and a rotating rotor. These types of alternators work by electromagnetic induction, where the brushes and the alternator come in contact allowing for electrical current.
Pros
These alternators are usually cheaper than other types due to their simpler designs
They are also more readily available as they are the most common type of alternator used in most car brands
They are reliable and have been proven to produce consistent power output over a long period
Due to their simpler designs, they are easier to maintain than other types
Cons
Since they use brushes that are vulnerable to wear and tear due to constant friction, they require periodic replacement
They are typically less efficient than brushless alternators due to energy loss caused by friction.
Brushless Alternators
With brushless alternators, as their name suggests, the brushes are replaced by solid-state electronics. Therefore, they require less maintenance compared to brushing. However, the working principle is the same. 
Pros
Brushless alternators are more efficient than brushed ones as there is no energy loss due to brushes and commutator frictions.
Since they do not require brushes that tend to wear out, they typically have a longer lifespan than brushes. 
These alternators have a lower risk of radio frequency interference due to producing less electrical noise.
They offer a more stable and consistent power output, which helps protect electrical components from voltage fluctuations.
Cons
These types of alternators are typically costlier than brushed alternators
Due to their more complex design, they tend to be more complicated to install and maintain the brushed alternators.
Which Type Of Alternator is Better for the Chevy 350?
So which alternator is better for the Chevy 350? For most use cases, a brushed alternator will be enough. However, you may opt for the more complex but efficient brushless alternator if you have unique power needs.
Top 5 Best Alternators for the Chevy 350
Tuparts Automotive Alternator Compatible with 120Amp Chrome
At under $100, the Automotive Alternator for 120amp chrome is a decent option if you want to upgrade the hot rod's factory alternator. It is a single-wire self-exciting alternator, meaning it does not require additional wiring connections or an external voltage regulator.
Compatible with 1 and 3-wire systems
One of the unique aspects of this alternator that caught our attention is that it can work with both a 3 and 1-wire system. Its description says it is a 1 wire system. However, it has the configuration to work with 3 wire system. Though from our research, this is a source of confusion for many people.
120 amp rating
The amp rating stands at 120 amps. This means that you can expect an amperage output of between 60 to 65 amps at idle. We installed it on a Chevy C10, at it performed as expected. The charging was at about 14.5 volts.
Self-exciting
This alternator is described as a self-exciting alternator. However, when we first installed it did require an initial start-up and kicked in at 2000 RPM. After that, it kicks in from about 1200 RPM.
The cons
There are a couple of things we did not like about this alternator, though. Key among them how noisy it is. And based on other users' the noise does not go away even after a few weeks. Also, the 1-wire and 3-wire compatibility is confusing and makes the installation process a bit challenging.
Verdict
Nevertheless, this should be a good enough replacement for the stock Chevy 350 stock alternator. It has decent power output and is well built, with the frame engine and chassis being of good quality.
SCITOO New Alternator for 120Amp Chrome 1 Wire Self Exciting Street Rod GM 305 350 BBC SBC
The SCITOO New alternator for 120 amp chrome is another single-wire self-exciting alternator. It is designed to be compatible with the 305, 350 and Big block Chevy engines. It can also be used with small-block Chevy engines.
Single-wire alternator
As mentioned, this is a single-wire alternator. Therefore, it only requires a single connection to the battery. We find single-wire alternators to be easier to install than two or three-wire alternators. And this one was no exception.
Self-exciting 
Another notable feature of this alternator is that it is a self-exciting alternator, meaning less wiring is required compared to other types of alternators. This also adds to the ease of installation and should make it easier to maintain.
Chrome finish cast steel shell.
The cast steel shell that makes up the exterior of the alternator is of good quality and should last for a long time. The shell has a chrome finish, which looks very modern.
The cons
If you have a lot of aftermarket electrical accessories likely to consume a lot of power, this may not be the alternator for you. In our view, this alternator works best as a simple replacement and does not expect it to provide you with crazy power output for your accessories.
The verdict
If you are looking for something inexpensive but good quality to replace your worn-out Chevy 350 alternator, this should be top of your list. But if you are looking for something to offer you improved power for your new accessories, you may want to look elsewhere.
Rareelectrical New Chrome Bbc Sbc Chevy Alternator
The Rareelectrical new chrome BBC SBC Chevy alternator has a lower amp rating than the other two at 110 amps but is still capable. It sports the same chrome finish as its other two competitors.
Single and three-wire compatible
This alternator is also compatible with a single and three-wire configuration. For the single-wire connection, the self-exciting regulator only uses one wire. You can use the 2 prong and battery connections for the three-wire configuration.
110 amps rating
Its 110 amps rating will be enough to power your lighting system and the other basic electronic systems in your car. We installed this on a 1978 chevy c20, and it worked well. It has an output of about 12 volts, which is decent enough for basic electronics.
The negatives
While it is a decent enough alternator, it has its fair share of issues. One of the issues we had with it was that the mounting hole which was small. This made the installation process challenging. Also, its power output could be better and is only suited for the basics.
Verdict
As with the other alternators, this one is well suited to the basic electronic systems in your vehicle. It has a nice chrome finish and is compatible with both single and three-wire configurations.
A-Team Performance – GM CS130D Style High Output Alternator
The A-Team performance GM CS130D style high output alternator is, as its name suggests, a high output alternator designed for the Chevy small block V8 gen3 engines. It is a good fit for vehicles that have additional aftermarket electrical accessories. 
180 amp output
The alternator's 180 amp output is high to help power all the electrical accessories in your vehicle. Also, it should offer you a higher output than the stock alternator of your car's 350 engine. 
Easy installation
It is designed to be a direct bolt-on replacement for the stock alternator. We had no problems installing this alternator. Also, the mounting hardware was similar to that of the stock alternator, making installation even easier.
The negatives
There are a few negatives to speak of regarding this  GM CS130D alternator. However, it is relatively pricier than other options. However, this is due to its higher output.
Verdict
If you add many new electrical accessories, this is the alternator you want. It should give you more power than the stock alternator to power your new accessories. It also comes with a nice chrome finish.
New Alternator Replacement For Chevy/GMC C3500HD
The cheapest option on the list is the New alternator replacement for Chevy/GMC from Parts Player, which is a decent option for vehicles with a few electrical accessories. This is the alternator to get if the price is an issue.
105 amps rating
Its 105 amp rating is not all that impressive, but considering its price, it is quite understandable. Also, it is capable of a decent output of 12 volts. Furthermore, it comes with the mounting hardware needed to install it.
Chevy compatible
One of the best things about this alternator is that it is compatible with a long list of Chevy engines, including the 5.7 350 and also the 7.4 454 engine. It also comes with a 1-year guarantee.
The cons
The downside of this alternator is quite obvious, with it being quite small in terms of power output compared to other entrants on the list. It is at the same level in terms of amperage as some stock Chevy 350 alternators.
Verdict
For the price, this is a decent option to replace your worn-out Chevy 350 alternator. It produces enough power for your car's most basic electric accessories. However, it cannot be considered an upgrade over the stock alternator.
What to Consider when Choosing the Best Alternator for Chevy 350
There are a lot of alternator options available for the Chevy 350 engine. There are several things to consider to sift through the many options available to find the right fit for your car. 
Amperage Rating
One of the first things you will notice in an alternator's description is the amperage rating. This can range anywhere from 60 amps to 350 amps. But what rating is best for the Chevy 350? Since the Chevy 350 is a small block engine, it requires an alternator with at least 100 amps to 200 amps, with the most optimal being 100 to 150 amps. A higher amperage may be too much stress on the engine.
Compatibility
Before buying an alternator, check that it is compatible with the Chevy 350 engine. It is also important to check if it is compatible with your specific vehicle brand. Not all alternators are compatible with small block engines like the 350.
Size and Fitment
Another important thing to consider is the alternator size you are buying. It needs to fit the housing of the alternator you are replacing. Having the worn-out alternator with you is recommended when shopping for a new one in a physical store. If buying online, check the dimensions to see if they match the dimensions of the one you are replacing.
Power requirements
For 12 volts batteries that are typically used in small block engines, you need an alternator of about 100 amps. This will be ideal for basic electrical accessories. If you have more energy-consuming accessories, you can go for something with a higher amperage. From our list, the A-Team Performance – GM CS130D Style High Output Alternator, with its 180 amps rating, is the best choice for more demanding accessories.
Alternator Maintainance Tips
To ensure that your alternator is in good condition, there are several things you can do;
Ensure you follow the recommended vehicle maintenance schedule outlined in the vehicle manual. This will ensure any issues with the alternator are identified early.
Ensuring the serpentine belt that drives the alternator is well-tensioned is important. The belt should not be too loose, nor should it be too tight.
Check the electrical connections connecting to the alternator and the battery terminals for dirt and gunk and clean them periodically.
Monitor the health of your battery, as a faulty battery can put a strain on the alternator reducing its lifespan. Have the battery tested periodically and replace it when it needs replacing.
Regular driving can also help maintain the alternator, as long periods of inactivity can hurt the alternator.
Conclusion
When it is time to replace your truck's alternator, you must find the best alternator for Chevy 350. However, not all alternators will do; for a small block engine such as the Chevy 350, something in the 100 to 180 amps range may be a good fit. 
Last Updated on June 6, 2023 by Rifen
Last update on 2022-10-12 / Affiliate links / Images from Amazon Product Advertising API