Brake dust grime on wheels and hubcaps is unsightly and nearly impossible to clean with basic detergents. Unfortunately, you can expect your car's wheels to be covered in this substance over time.
These tough-to-remove stains result from tiny particles shaving off the brake pads every time you step on the brakes. Of course, one option to get rid of caked-on brake dust is to take your car to an auto detailing service, but what is the fun in that?
A more satisfying alternative is to do the job yourself. And to get the job done, you will need the best wheel cleaner for baked-on brake dust. With that in mind, let's look at some of the Best wheel cleaners for brake dust available on the market.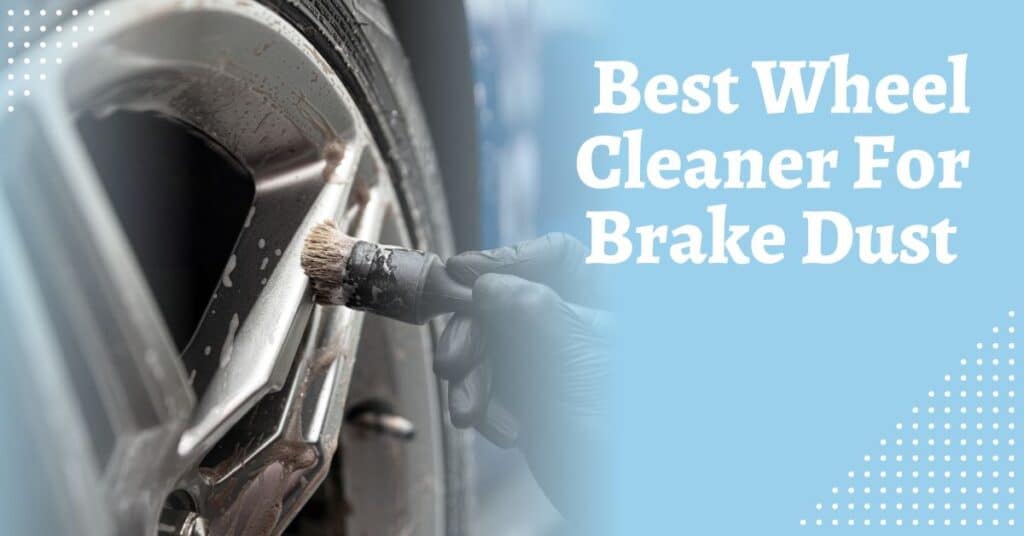 Types of Wheel Cleaners You May Find In The Market
Wheel cleaners can be classified into three main types, acid-free, acid cleaners, and iron removers.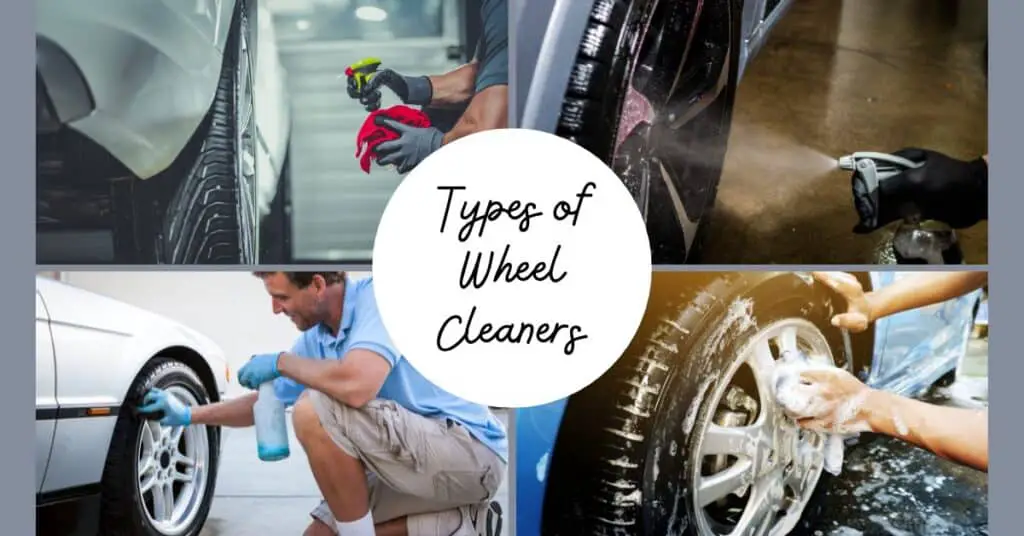 Acid-Free Cleaners
These are formulated with ingredients that are tough on grime and brake dust but gentle on the wheels. Thus they do not corrode the wheels and are recommended for sensitive surfaces. They are the best option for most cleaning applications.
Acid-based Cleaners
This contains an acidic formula for removing the metal particles stuck to the wheels. However, when used on bare sensitive surfaces, they will corrode the surface. They are thus not recommended for sensitive wheel surfaces.
Iron Removers
These are specifically designed for removing iron particles stuck to surfaces. Therefore, they are used on other surfaces and not on car wheels only. 
Differences Between Wheel Cleaner And Iron Remover
The main difference between wheel cleaners and iron removers is in how they work. Iron removers are relatively new and are used to remove metal particles that have bonded to a car's surface.
As such, an iron remover can be used on any metal surface of the car, not the wheels. Iron removers work by accelerating the oxidation process of metal particles. As such, when you apply the remover, you will notice a color change.
On the other hand, wheel cleaners are used to specifically clean wheels. As a result, they are more effective at removing brake dust soot than shampoo and common detergents. In addition, wheel cleaners tend to be cheaper than iron removers. 
However, there are wheel cleaners that are a mixture of the two. These are usually the best wheel cleaner for heavy brake dust.
Tips on Removing Brake Dust Effectively From Any Wheel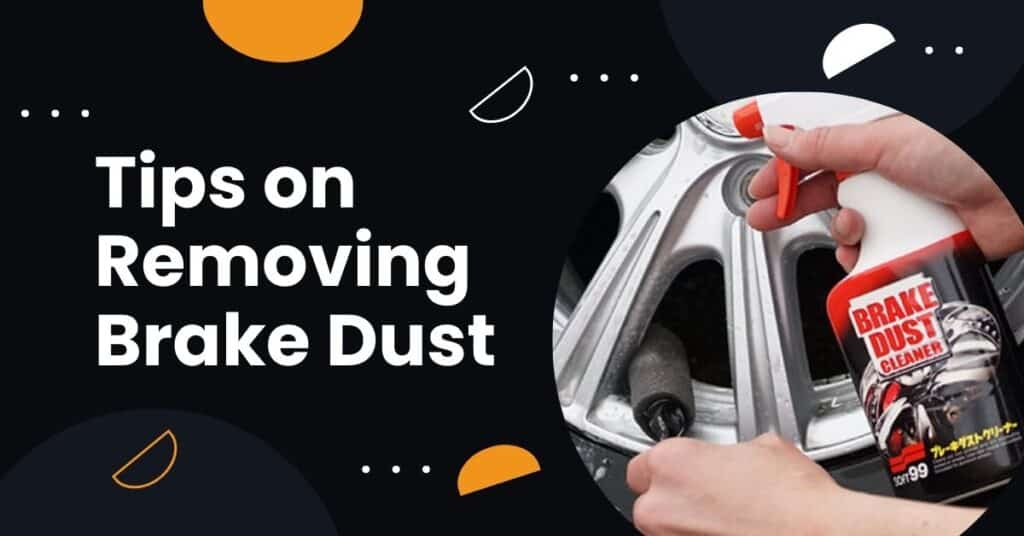 Let The Vehicle Cool Down
Before cleaning the brake dust, removing the hubcaps and cleaning them separately is advisable. Also, if you are from driving the car, let it cool down before cleaning. High temperatures will not be effective for the dust removal process.
Wear Protective Clothing
Also, before you start the actual cleaning, wear gloves and a face mask to avoid inhaling the harmful particles.
Use The Right Brushes
When removing brake dust, you will need to use wheel cleaner brushes. Knowing what kind of brush to use is essential. Ideally, you want to use non-scratching wheel brushes. These can be used to clean the wheels and hubcaps.
Use A Pressure Washer if Possible
To make your work easy, you will want to use a water hose for a car wash with a specialized hose attachment for washing cars if you have access to one. However, do not use a washer with high pressure. The ideal pressure range is below 2000 PSI. Therefore, an electric pressure washer will be better than a gas one.
Spray The Wheels First
You can use a standard garden hose if you do not have a pressure washer. Spray the wheels with the garden hose to remove the grim first. Do this before applying the wheel cleaner. 
Use The Brushes To Clean The Wheels
Use the brushes to clean the wheels, ensuring you reach all the crevices. You can use an old toothbrush if you cannot reach certain crevices. Rinse the wheels after cleaning to remove the wheel cleaner.
How To Prevent Build-Up Of Brake Dust
While brake dust buildup is almost inevitable, there are things you can do to minimize this buildup. 
Regular Cleaning
One way to prevent brake dust buildup is to clean your vehicle regularly. This will minimize the buildup of brake dust over time.
Apply Wax or Paint Sealant After Cleaning
After cleaning the wheels, it is a good idea to apply wax to the wheels. Alternatively, you can use a paint sealant. Applying a sealant will make it harder for the brake dust to stick to the wheels.
Opt For Ceramic Brake Pads
You can swap out your brake pads for ceramic ones. Ceramic brake pads still produce dust but are less corrosive to wheels. As such, the particles will not stick to the wheels as aggressively.
Avoid Heavy Braking
Another thing you can do is try and minimize heavy braking. This is easier said than done but will effectively reduce the chance of brake dust buildup.
Apply Brake Dust Repellent
Aerosol brake dust repellents create an invisible layer over your wheel rims, preventing brake dust buildup. The downside with this option is that the repellents typically last only a few weeks.
Use An Advanced Shielding
An alternative to dust repellents is to apply a more advanced ceramic coat over the wheel rims. The coating will create a protective barrier on the wheels that prevents brake dust buildup.
Today's best wheel cleaner for baked on brake dust
Meguiar's G180132 Ultimate All Wheel Cleaner
Maguire makes some pretty fantastic wheel cleaners, and the G180132 ultimate wheel cleaner is up there with the best products from the brand. It comes in the form of a gel that takes about 30 minutes to dry.
It is Acid-Free And PH Balanced
This wheel cleaner is acid-free and should work on all kinds of wheel surfaces. So you should not be worried about it corroding your wheel finish. Unfortunately, the same cannot be said about its effect on grime and dirt, as it easily eats up road dirt and grime.
Leaves A Nice Shiny Finish
When you apply this wheel cleaner, you will notice it turns purple as it works on the dirt and brake dust stuck on your wheels. And when it dries out, it leaves your wheels looking clean and shiny, with a nice gloss shine. Though we understand not everyone is a fan of a gloss finish.
Powerful Wheel Cleaner
1 or 2 swipes of the wheel with this cleaner is enough. Thus you do not need much of it to achieve the desired results. It is also quite thick and stays on for longer, and as long as you wait for it to dry, it does not sling on the car.
Who Is It For?
Compared to some other options, this cleaner is rather pricey. But for the results you get, it is well worth it. It will be an excellent option for luxury cars with a lot of brake dust buildup. 
Sonax (230200-755) Wheel Cleaner Full Effect 
The Sonax Wheel cleaner's full effect is another great option for removing brake dust stuck to the wheels. It comes in a 16.9 fl oz bottle, though there is a larger 169.1 fl. oz option available, but for this review, we will stick with the standard 16.9 fl. Oz.
Powerful Acid-Free Cleaner
This acid-free and PH-balanced cleaner should work on all wheel finishes. It works well on stubborn brake dust stains, and you should notice it turning red as it reacts with the metal elements of the brake dust. We tried it on the wheels of a BMW M3, and it was able to clean the wheels exceptionally well.
Easy To Use
To use this cleaner, you simply spray it on the wheels; no scrubbing is required. After a few minutes, you will notice it turning red. The manufacturer recommends letting it sit for 3 to 5 minutes. But in our experience, it worked better after 15 minutes. Then, spray the tires with a garden hose, and you are done.
Not Much Is Needed
Some people have complained that the bottle is too small. However, you do not need a ton of this cleaner to clean your wheels. Cleaning all four wheels with about a quarter of the bottle is possible.
Who Is It For?
This cleaner is cheaper than the Meguir cleaner but works really well on stubborn brake dust stains. As such, it is an ideal option for DIY cleaning tasks. It will also work well on wheels that have not been cleaned in a while.
best chrome wheel cleaner for brake dust: Adam's Wheel Cleaner 16oz
The Adam's wheel cleaner is designed to remove stubborn brake dust stains from car wheels. Like the other wheel cleaners, it comes in a spray bottle, and you simply spray it on your wheels.
Effective On Most Wheels
This wheel cleaner works on most wheel finishes and does not corrode them from clear-coated, powder coated to chrome and alloy wheels. However, it is not recommended for anodized raw aluminum wheels.
Works Very Well
After spraying this cleaner on your wheels, you let it sit for 3 to 4 minutes. It turns purple as it reacts with the metal particles. And when you rinse off the cleaner, you are left with pristine clean wheels.
Enough For Four Wheels 
This comes in a 16-ounce bottle, and while you can buy it in either a 1 or 5-gallon container, the 16-ounce bottle is what most people buy. This will be enough to clean all four wheels; in most cases, you will be left with enough for two additional wheels.
Who Is It For?
This wheel cleaner works well with both DIYers and professionals. It is effective at removing stubborn brake dust and dirt. It also does not take long to get the desired results.
Griot's Garage 11026 Heavy Duty Wheel Cleaner 35oz
If you find the 16-ounce bottle that most cleaners come in is too small for you, you can try the larger Griot's Garage heavy-duty cleaner. This comes in a 35-ounce bottle which should be sufficient for your wheel cleaning needs.
Ph Balanced And Non-Acidic
What makes this one of the best alloy wheel cleaners for brake dust is its Ph-balanced and non-acidic nature. It means it can be used on all types of wheel finishes without you worrying about it being corrosive.
Does Not Have A Strong Smell
If you have used the Sonax, you know it has a rather unpleasant smell. This Griot's cleaner is the opposite as it has a pleasant smell. As such, it is an excellent alternative to other cleaners such as the Sonax and Wolfgang, known for their unpleasant smells. 
Powerful Wheel Cleaner
Just because it smells nice does not mean it is inferior to the likes of the Sonax cleaner. In our analysis, it was at par with the Sonax. It requires light scrubbing with a sponge, which was excellent.
Who Is It For?
If you dislike the strong and often unpleasant smell of most wheel cleaners, you will love this Griot's cleaner. Also, it will be a good option if you want more cleaner for your wheels, and the basic 16-ounce bottle simply isn't enough for your needs.
GYEON Quartz Q²M Iron 4000 ml – Car Iron Remover
If you are looking for something a bit more aggressive than a wheel cleaner, the GYEON Quartz car iron remover should do the trick. This iron remover acts fast on stubborn brake dust and other ferrous deposits and can be used on surfaces other than wheels.
Not Just For Wheels
This is offered in a 4000 ml bottle though there is also an option for smaller 500 ml and 1000 ml bottles. The 4000 ml offers the best value for money, though. And unlike basic wheel cleaners, you can use this on wheels and any other surface of your vehicle, such as the bumper and trunk.
Works Well On Iron
When you apply this remover on your wheels or any other vehicle surface, you will notice it turn purple and drip. This is usually an indication of it reacting with the ferrous deposits. However, it works really well, and you will notice a glossy finish once you are done.
Can Be Used On Various Surfaces
This product is Ph neutral and is safe to use on different surfaces, even on polished rims. It can also be used on other sensitive surfaces with excellent results.
Who Is It For
This product should be for you if you want versatility from your wheel cleaner. It can be used to clean wheels and other parts of your car; thus, while it costs more, it offers more in terms of applications.
DipYourCar Brake Dust Pro 32oz
The DipYourCar brake dust pro is described as a touchless cleaner for removing dirt, grime, and brake dust from your wheels. It worked well and proved to be effective at getting rid of most grime from wheels.
Performed As Expected
You spray this on your car's wheels and notice it change color. After about 5 minutes, rinse to reveal brake dust and dirt-free wheel surfaces. This cleaner worked well and performed as expected.
Easy To Apply
To apply this cleaner, you just spray it on the wheels and let it sit. It says it is a touchless cleaner, but we had to agitate for it to work well. This was not a big issue and was still easy to do, but it is something to keep in mind.
Large Bottle
With most wheel cleaners coming in small 16-ounce bottles, it is nice that this one comes in a larger 32-ounce bottles. This should be enough for all four wheels and more, so you can clean more wheels with it.
Who Is It For?
We recommend this product to DIYers as professionals may find it less effective than other options. It wasn't as effective when we compared it to other options, which is why it comes in last. However, it is still satisfactory for most wheel cleaning applications.
Best Wheel Cleaner For Brake Dust Buying Guide
The best wheel cleaner for removing brake dust satisfies a certain criterion that you need to look for when buying a wheel cleaner. The most important things to consider are;
Ph Balance And Acid-Free
A wheel cleaner rated as being Ph balance and acid-free means it is strong enough to remove brake dust and dirt but not too strong to stain or corrode wheels. It is essential to check for this, especially if your wheels are sensitive such as alloy rims. 
Recommended Surface
Some cleaners are not designed to be used on all wheel surfaces. For example, the Adam's Wheel Cleaner 16oz is not recommended for anodized raw aluminum wheels. Therefore, it is important to check such a disclaimer where it applies to your specific type of wheels.
Active ingredients
Most wheel cleaners have Sodium Thioglycolate as the active ingredient. This is a chemical compound that reacts with metals and turns purple. However, some cleaners contain an acid, in most cases Hydrochloric Acid.
This acid reacts with metals but can also corrode bar wheel rim surfaces. Therefore they should not be used on uncoated wheels. Generally, acid-free wheel cleaners are recommended.
The Size
Wheel cleaners come packaged in spray bottles of varying sizes. Small and cheap cleaners are usually available in 16-ounce bottles. This may be sufficient for cleaning all four wheels once. But if you want to clean more than once, you may want to consider a larger bottle.
The amount of cleaner needed will depend on the dirt and brake dust particle buildup. For example, you may need more cleaner to break down years of buildup. But for regular cleaning, the standard 16-ounce bottle will suffice.
Wheel Cleaner Vs. Iron Remover
Iron remover, as already mentioned, is used to remove metal particles stuck on surfaces. These can be used on any part of the vehicle, while wheel cleaners can only be used on wheels. If you want to clean the wheels and maybe the bumper, go for an iron remover product. 
But if you only want a general wheel clean, the cheaper wheel cleaner will make more financial sense.
Last Updated on February 3, 2023 by Rifen
Last update on 2022-10-12 / Affiliate links / Images from Amazon Product Advertising API