Using a bucket alone to wash your car is not only boring but is also incredibly tedious. So to make cleaning your car easier and a little bit more fun, you will need to invest in a hose. But not just any hose but the best water hose for car wash, which, unlike cheap low-quality hoses, will not kink or leak.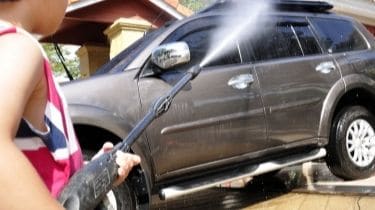 Furthermore, if you use a pressure washer, you will need a hose strong enough to withstand the high water pressure. As such, a standard run-of-the-mill garden hose just won't cut it. But to find the best hose pipe for washing car, you will need to do some digging. And here is where this article comes in.
To help you pick the right hose for your needs, we tested several hose pipes designed for car washing. And from our tests, we narrowed it down to eight that offered the best value for money. Also, we have included a guide on how to pick the best water hose for washing car.
The Flexzilla HFZG550YW garden hose is the best hose for car washing on our list. It is an extremely flexible hose that is easy to store and hook up to a water source. At the same time, it is made from a special polymer blend that makes it tough and durable.
In second place was the Gardguard 50ft Expandable Garden Hose. It also fits our criteria, given that it's expandable. In addition, it collapses into a convenient package making it easier to store. It also comes with a nozzle that was a good addition.
How we selected the hoses
So why did we select the below 8 hoses? We used three key things to grade the hoses. 
First is how durable the hose is and whether it can withstand different weather conditions. 
Second was how flexible it is and how easy it is to store. 
And lastly, is how the hose works with other hose attachments such as nozzles and sprinklers.
Pressure Washer Hoses vs. Garden Hoses
One of the questions you will want to answer before settling on a car washing hose is whether to invest in a pressure washer or a standard garden hose. To answer this question, we need to discuss how the two differ.
A pressure washer is simply a machine that you connect to your water line, and it increases the pressure of the water. This allows the water to flow out at a faster rate and allows it to rip through paint stains, grime, and other stubborn stains with incredible ease.
On the other hand, a garden hose is a normal pipe that you connect to a water line, and the water flows through it to where you want it to. A garden hose does not increase water pressure, so the flow of water remains normal. Unfortunately, this means the water isn't effective at removing stubborn stains.
A pressure washer will make your car washing process easy. These machines will be able to remove stubborn stains ranging from large patches of moss to grease stains. 
Commercial grade water hoses vs. consumer garden water hoses and what to look for
The main difference between commercial grade water hoses and consumer garden water hoses is thickness. The former is usually thick with a large diameter. Therefore, when looking for a commercial-grade water hose, you need to consider its thickness and construction material.
Typically for the work, they are designed for commercial grade water hoses with a diameter of ⅝ inches. Also, the hose you pick needs to have additional features such as kink resistance and crush-proof couplings.
Standard hoses are usually lighter and have smaller diameters. These are typically made from vinyl and have a light-duty thickness. This makes them easy to store. Ideally, you want a hose with a diameter of at least ½ inches.
As for the length, a 50 to 100 inches length will suffice for most garden hose use cases. Overall standard garden hoses do not have the same thickness as a professional hose.
Reviews Of The Best hose for washing car
Flexzilla HFZG550YW Garden Lead-In Hose 5/8 In. x 50 ft, Heavy Duty
The Flexvilla HFZG550YW garden hose is flexible and can withstand temperatures of as low as -40 degrees celsius. In the same light, it can also withstand high temperatures of upwards of 140 degrees celsius.
But what earns this hose the top spot on our list is its construction. It is made from a flexible polymer blend. This makes it soft and pliable. In addition, the anodized aluminum fittings are of high quality and twisted easily onto a house outlet or even a sprinkler. 
We noticed that this hose tends to scuff up when dragged on a driveway and does also end up in knots, but it does not kink. Compared to other garden hoses we inspected, this one felt thick and flexible. However, it is still compatible with most garden hose reels.
If you are looking for something lightweight and easy to move, this isn't the hose for you. Also, we noticed that the color of the hose can fade with time. Overall, though, this Flexzilla garden hose is great for car washing that is perfect for long-term use.
Gardguard 50ft Expandable Garden Hose 
If an expandable hose is what you are looking for, then you may want to check out the Gardguard 50ft Expandable garden hose. This hose is lightweight and will be easier to use than most other garden hoses.
It weighs only a couple of pounds and comes with a garden hose nozzle included, which is a nice touch. What we particularly loved about this hose is how easy it is to store. Also, unlike some of the other hoses we tested, this one retains a hose like a shape when it collapses.
This makes it easy to store in a bucket or hang up. The solid brass fittings on this hose are great and connect to the faucet nicely. However, we did not notice any leaks, so the seals it comes with do hold up.
The nozzle it comes with is average, though. While it can deliver the standard 2.5 to 5 gallons of water per minute, the spray settings live a lot to be desired. In particular, the soaker spray setting, which is pretty much useless. However, you can always swap out this nozzle with a better one.
Camco 25 Ft TASTEPure Heated Drinking Water Hose
The Camco 25 ft TASTEPure heated water hose is ideal for use in low-temperature environments. In addition, it offers water freeze protection in environments of up to below -20 degrees Fahrenheit.
It comes with both a female and male adapter for easy connection to the water supply. We found this to be useful as it allows you flexibility. Also, this hose is NSF-61 certified, meaning that you can use it for drinking water as well.
The exterior jacket of this hose looks and feels tough enough to protect it from damage. It also helps protect the internal electrical components from damage as well. When using this hose, it is recommended to use a GFCI protected outlet.
We found it to be too stiff, which makes it bulky. This may make it difficult to store when not in use. Also, if not tight enough, it does tend to leak. But, overall, it is a nice hose to have for car wash as well as drinking water.
Delxo Heavy Duty Water Hose,100FT Expandable Garden Hose
The next expandable hose on our list is the Delxo Heavy-Duty water hose. This can expand between 33 ft and 100 ft when in use. And like the other expandable hose on our list, it remains kink-free when not in use.
Similar to the Gardguard hose, this one features a nice black and blue color pattern. In terms of construction, it is made of rubber. It also features ¾ inch solid brass connectors that should last for a long time.
Attached to the hose is a hose nozzle with a range of spray patterns. The inclusion of the nozzle is nice as it means you can use it immediately after purchase. And since it weighs around 5 pounds, it is easy to store.
We did notice small leaks from the splitter and main faucet. However, the leak wasn't too much, but it is still something to keep notes off. Overall, though, this is a great expandable hose. 
Aterod 50FT Garden Hose Expandable Hose
The Aterod 50 ft Garden Hose is capable of expanding up to 50 ft. The hose is made from a combination of polyester, plastic, and latex. It also features solid brass connectors and a hose nozzle.
When not pressurized this hose collapses to almost a third of its length. This means it is much easier to coil and store than most other rubber hoses. The connectors also fit nicely into the water tap. 
The nozzle on this hose was the best of any of the hoses we tested. It has a nice jet mode that proved to be effective at car washing. As far as expandable hoses go, this proved to be the best hose for car wash among the ones we tested.
However, it was not without its cons. The main negative we noticed is that it tends to collapse when spraying. Also, it writhes and tosses when you turn off the water. We found this to be a problem as it could knock down things or even hit a child. So take note of this when turning off the water. We recommend holding it as you turn off the water.
TBI Pro Garden Hose Expandable and Flexible
The TBI Pro garden hose is one of those expandable hoses that do not feature a hose nozzle. However, it is still a great option for washing your car and even watering your garden. It can expand up to 50 ft.
What stood out to us about this hose is its construction. It has 4 layers of latex inside it. This is quite generous, considering most hoses have 2 to 3 layers of latex. In addition, the outer material is 3,750D, which is tough and durable, meaning this hose will last you for a long time.
Like the other expandable hoses, it comes with brass connectors as well as a shut-off valve. We noticed that the hose filled up and emptied with water quite quickly compared to other hoses. Also, it does not get any kinks when coiled up for storage.
This expandable water hose did seem to get tangled the first time we unraveled it. Also, as mentioned, it does not come with a hose nozzle included. Though this isn't such a big deal as you can always find a hose attachment to go with it.
Water Right PSH-100-MG-1PKRS 400 Series
Compared to the other entrants on our list, this is the priciest option you can go for. But is it worth the extra money? We decided to find out, and here is what we found out.
At first glance, this hose looks slimmer than what we are used to. Also, it is quite lightweight, lighter than most cheaper hoses. However, since it's made from polyurethane, it is still a durable and tough hose.
The lead-free fittings on this hose ensure leak-free and safe usage. Also, you can use this for drinking water. It does seem to hold up well when exposed to extreme sunlight. It does not kink up, which we were expecting from a hose priced at its price tag.
The one main problem we had with this hose was its water flow. It does have an issue with restricted water flow. And will not work well with a pressure washer, and neither will it work well with sprinklers. So overall, this may be a big issue for some people but not for everyone.
Teknor Apex 100519499 NeverKink 8615-50
The Tekno Apex 100519499 garden hose is made to be flexible and kink-free. And like with other Teknor hoses, it features a translucent strip running across the length of the hose. 
From the design of this hose, it does not kink or gets tangled, which is what we expect from the best garden hose for car washing. It also features the Microshield antimicrobial protection that protects against mold and mildew.
The couplings are made from aluminum and are lead-free. As such, the hose should be safe for drinking water as well. Furthermore, the aluminum couplings are rust and corrosion-resistant.
One issue we had with this hose is that it had a leak at the attachment with the faucet. However, it wasn't such a big leak, but it was constant. Thus it is an annoyance that you can live with.
Frequently Asked Questions
Should I use a special hose with a pressure washer?
Yes, a pressure washer will require a hose thick enough to withstand the high pressure of the water. Ideally, you want a hose with a thickness of at least ¼ inches. However, for heavy-duty use, you can go for a ⅜ inch thick hose.
What kind of water is used in a car wash?
Typically to cut down on water usage, car washes use recycled water in the initial rinse cycle. The recycled water is mixed with detergents and is also used in pressure washing. However, it is not used in the final rinse.
Are expandable hoses worth it?
Yes, this type of hose does not kink up or knot-like most standard plastic hose. But, more importantly, these hoses are capable of self-draining and coiling up on their own when water is turned off. As such, they do not wear out as easily as other rubber hoses.
What do I look for from an Expandable Hose?
There are several things to consider, with the most important being the reason for purchase. If you want a hose for watering your plants and car washing, consider the spray nozzle. Also, the size of the hose. Expandable hoses come in varying lengths, and ultimately, you will want something that will be easy to store.
What To Consider If You Want to Get The Best Water Hose For Car Wash?
So which is the best water hose for washing car? More importantly, how do you identify the best from the many options available in the market? Well, there are a couple of things to look for when searching for the best water hose for car wash, these are.
The material of the hose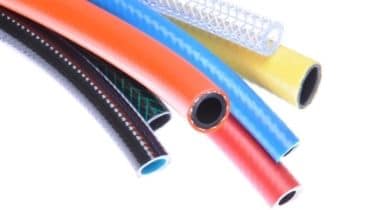 Hoses are made from a wide variety of materials ranging from PVC to Polyurethane. Commercial grade hoses are made from rubber, which is durable. However, rubber hoses can be cumbersome. 
If you want something a bit more flexible, then a PVC hose will be ideal. Alternatively, you can opt for one made from synthetic rubber or polyurethane. The latter offers the toughness of rubber without being overly cumbersome.
The ply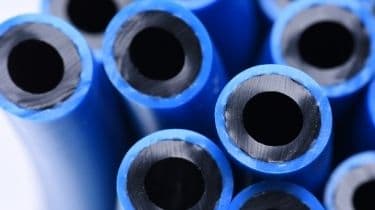 Ply in a hose refers to the number of layers the hose has. More layers equate to a tougher and durable hose. Typically hoses have one to six plies. The best hose for car wash will typically have three to six plies.
Length of the hose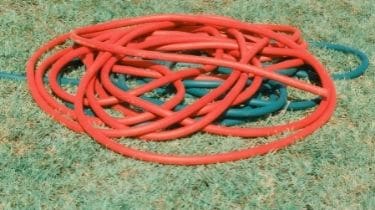 What hose length should you go for? Well, this will depend on your water source. For example, if you are using a tap, you may consider a longer hose of 20 plus feet. However, if you use a pressure washer, a shorter hose of 10 to 15 feet will be sufficient.
Longer hoses will require more storage space. Thus to get the best experience, we recommend getting an expandable hose. These are hoses that expand as they are filled with water and collapse when not in use.
An expandable hose can be as long as 100 ft when in use and collapse to a third of its size, making them easier to store.
Hose diameter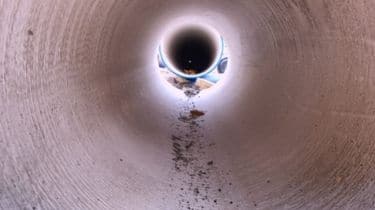 The diameter of a hose can range from 3 to 8 inches. A wider hose will allow more water to pass through. A narrower hose, on the other hand, will allow water to flow at a higher speed. Ultimately, a diameter of 4 to 6 inches is ideal for car washing.
The coupling material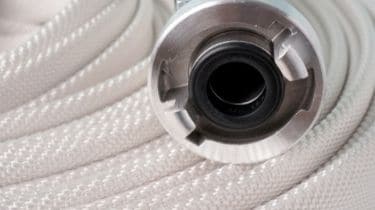 The coupling is the end part of the hose that you connect to a tap or pressure washer with. This part can be made of either metal or plastic. However, we recommend metal couplings as they can outlive plastic fittings that are less durable. As such plastic coupling is typically found on cheap hoses.
Pressure capacity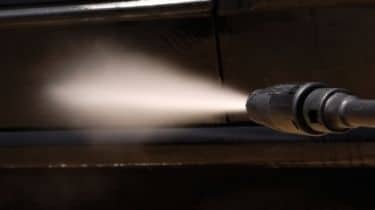 How much water pressure a hose can withstand will also be important. If you are using a pressure washer, then you need a hose tough enough to withstand the pressure of up to 2000 PSI. The pressure capacity of a hose will depend on the construction material. 
Flexibility and temperature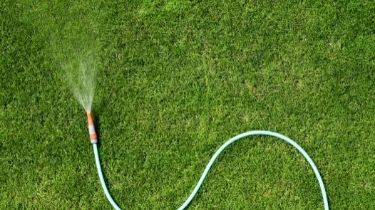 Some hoses are more flexible than others and are easier to move. Hoses made from PVC or polyurethane tend to be more flexible. When it comes to temperatures, it will depend on your environment. Choose a hose that can withstand high temperatures if you reside in a high-temperature area.
Conclusion
Overall the hose you pick should be able to serve you. There are many options available in the market, each with its own pros and cons. The best water hose for a car wash will offer flexibility, durability, and ease of storage. 
Last Updated on February 1, 2023 by Rifen
Last update on 2022-10-12 / Affiliate links / Images from Amazon Product Advertising API