A car's engine's performance will depend on several things, top among them the camshaft. As such, one way to boost the performance of your engine is by upgrading the camshaft. A camshaft upgrade will give you additional horsepower. Especially since the Hemi is known to withstand aggressive cam timing.
The mild cam timing and excessive head flow found in the Dodge Ram means it is suited for a cam swap. And you will notice significant improvements in performance by upgrading the camshaft.
But replacing your vehicle's camshaft comes with its own set of challenges. For one, different car models use different camshaft designs and configurations. Thus there is no one fits all camshaft.
For this reason, we have decided to focus our attention on the best cam for 5.7 Hemi ram. And after extensive research, we have come up with a list of eight. These eight have plenty of positive reviews online.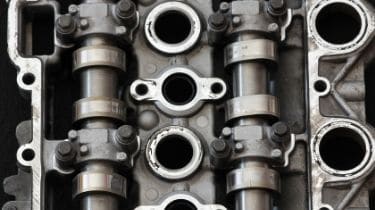 More importantly, we took the time to inspect them and see if what most of the reviews said was true. That being said, here is our list of the best performance cam for 5.7 Hemi. 
A Quick Comparison Of Our Top Picks
Top on our list is the COMP Cams 201-428-17 XFI 226/234 Hydraulic Roller Cam. The latter can withstand high RPMs, higher than the other options on the list. Furthermore, it can also be used on the 6.4 L engine and works well with VVT models. Making it an all-round camshaft for the 5.7 l and 6.4 L Hemi engines. 
It is followed in second place by the Geluoxi 53022372AA VVT Camshaft Replacement. The reason we picked this at number two is its performance increase and fuel economy gains. It offers the right balance between improved engine performance and fuel economy. Also, it is one of the best replacement camshafts for the Dodge Ram as well as the Dodge Durango.
How we picked the camshafts?
We scoured the internet to see the camshafts with good reviews and came up with a list of about 50. Then, we engaged different professional mechanics from that list to know which were the best from the 50 for the 5.7 L Hemi. From there, we narrowed it down to the eight we have reviewed below.
What is a camshaft, and what does it do?
But before we jump into the reviews, what is a camshaft, and what does it do? A camshaft is a metallic rod typically positioned above the cylinder banks. This rod usually has lobes on its surface that are referred to as cam lobes.
The purpose of the camshaft is to control the amount of air-fuel mixture that enters the combustion chamber. Also, it regulates how the burnet exhaust gas leaves the chamber to make way for the next combustion cycle.
The camshaft is usually connected to the crankshaft using a timing chain or belt. The crankshaft, on the other hand, is responsible for the movement of pistons inside the cylinders. This connection is therefore essential in achieving accurate timing.
Should I replace/upgrade my vehicle's camshaft?
Realistically, camshafts don't wear out quickly, and chances are if you have to replace your car's stock cam. You will also have to replace the entire engine. So why would you replace or upgrade the camshaft? 
The main reason why you would want an upgrade is to improve the performance of your car. Upgrading the camshaft will give your engine a boost in performance. This is done to improve the valve timing and overlap. When you swap a camshaft you may also want to change the oil pump.
Causes of camshaft sensor damage
The camshaft position sensor or camshaft sensor is an electric sensor whose primary job is sending data to the Engine control module on the camshaft's speed. The working process of the camshaft sensor is kind of similar to the crankshaft position sensor. Unfortunately, these sensors can become worn out or damaged over time. So what are some of the causes of camshaft sensor damage?
This sensor can wear out over a long time of usage. It can also be damaged by moisture damage and oil buildup on the engine.
If your vehicle is involved in an accident, this can cause damage to the sensor wires and stop them from working.
An oil leak caused by a defective gasket or loose oil cap can cause signals from the sensors wires to be interrupted.
The sensor can also be damaged due to damage to another related component of the engine.
However, if you need to fix your crankshaft position sensor temporarily in the middle of the there is some troubleshooting.
Do you know one of the many reasons your engine may be misfiring is a bad camshaft position sensor? But that's not only the reason for the misfire. If you are experiencing a misfire you may think of checking or changing the spark plug, because that's the primary reason. We have reviewed the best spark plugs for 5.7 hemi you can find great alternatives from that list.
Types of camshaft
Camshafts can be classified into two main categories, rollers, and flat tappets. However, these two types can be further categorized into hydraulic and solid camshafts. Therefore, these four are the main types of camshafts.
Flat tappet camshafts: 
The lifters used in a flat tappet camshaft have a flat surface while the lobes are slightly tapered. The tappet rides against the camshaft's lobes while the lobes cause the lifters to spin.
In older car models this type of camshaft typically used an early style oil pump. 
Roller camshafts: 
These feature a wheel and axle arrangement. The wheel attaches to the lifter body and is supported by needle bearings. While the lobes on this type of camshaft are flat, they are thicker than those of a flat tappet camshaft. 
Hydraulic camshafts:
These types of camshafts have a hydraulic mechanism that allows them to self-adjust for zero valve lash. This makes them durable and lasts for long, and are common in most vehicles. The one downside to these camshafts is that they can limit an engine's power output at higher RPMs.
Solid Hydraulics: 
Unlike hydraulic camshafts, solid ones do not have any mechanism or moving parts. Therefore, there is no internal mechanism to compensate for clearance. They tend to be used mainly in performance engines.
Best camshaft for the 5.7 Hemi Rreviews
COMP Cams 201-428-17 XFI 226/234 Hydraulic Roller Cam
A camshaft that has become synonymous with the 5.7 Hemi is the Comp Cams 201-428-17 Hydraulic roller cam. Most people who have installed this camshaft have complemented it on the mean sounding idle.
However, there is more to this camshaft than just a great idle sound. Improved engine torque output is the first thing you will notice after installing this camshaft. It is rated to run at RPMs of between 2100 to 7100, which is quite impressive for a hydraulic camshaft.
With a lobe separation of 116 DD and a 0.619-inch valve intake lift, it will also offer a significant improvement over the stock camshaft of the 5.7 hemi. The improvement will translate to better engine performance. 
Overall this camshaft works well with aftermarket cylinder heads. Furthermore, it is suited to vehicles equipped with EFI and offers increased performance in such vehicles. 
Geluoxi 53022372AA VVT Camshaft Replacement
The Geluoxi 53022372AA VVT Camshaft weighs the same as the stock 5.7 Hemi camshaft. However, it is cheaper than the stock camshaft of the 5.7 Hemi. As such, it is a great option.
At the front, this camshaft has a groove machined to the forward of the barrel. This means it is compatible with Dodge, which has an automatic transmission. It also fits the Dodge Durango.
One of the main reasons to upgrade to this camshaft is its effect on power and engine performance. It can result in a bump in power and torque output of up to 25%.
It will also help in making your car more fuel-efficient without sacrificing power output. This makes it an economical option.
Comp Cams 112-501-11 XFI 216/220 Hydraulic Roller Cam
If a bit of fun while driving is what you are after, then the Comp Cams 112-501-11 XFI might be the best option for you. It offers incredible drivability. And what it does best is allowing it to drive at higher RPMs. 
The lobe separation is wider on this camshaft than on most stock camshafts. As such, it creates a bigger vacuum, which translates to improved power output. In addition to improved power output, you will also get enhanced torque from this camshaft. 
So which cars is this camshaft compatible with? It will fit into a 2003-2008 Dodge 1500 RAM. It is also compatible with the 2500 with a 5.7 L non VVT engine. It is engineered for the beehive valve spring and 1:6:1 ratio rocker arms. 
The fact that it is designed for the 1:6:1 ratio rocker arms means its lift is improved without changing the camshaft. As such, it offers a greater powerband which enhances torque.
Best Performance Cam For 5.7 Hemi: Mopar 5302 2263AF, Engine Camshaft
Those of us have had issues with the engine's main bearing wearing out quicker due to the stop/start system. Also, some of the newer car models feature a unique torque system that has been known to impact MPG.
The Mopar 5302 2263AF camshaft does not come with a start/stop system or Etorque system to address these issues. This makes it one of the best performance cam for 5.7 Hemi. Due to this, it weighs less than most other camshafts.
As such, it is relatively easier to install. This camshaft works best with a 5.7 with MDS, and that does not have a start/stop or torque system. This helps improve fuel economy. 
This camshaft is compatible with the 2011-2018 RAM 1500 with 5.7 l. It is also compatible with the 2011 RAM 1500 classic with 5.7 l. One setback with this camshaft is that it does not work with engines without multiple displacement systems.
GELUOXI 53022372AA Camshaft MDS VVT Replacement
Designed strictly for Dodge vehicles, this Geluoxi 53022372AA camshaft. It is solidly built, making it an ideal option for most cars. It maintains excellent performance on bumpy roads. It works well with the 2009-2018 RAM 1500 5.7 Hemi. 
One of the best things about this camshaft is that it can improve engine performance while offering fuel efficiency. It is also compatible with the 2009-2010 Dodge Challenger Charger 5.7 Hemi V8.
The improved engine performance is thanks to the high fuel flow injectors that allow for enhanced airflow to the valves. Also, this camshaft does feature a multi-displacement system designed to allow for the automatic opening and closing of the cylinder.
Overall, this is one of the best camshafts for the Hemi 5.7 Challenger. However, it is not the cheapest camshaft out there. As such, if you are on a stricter budget, this may not be the best option for you. 
COMP Cams 201-424-17 XFI 218/226 Hydraulic Roller Cam
The Comp Cams 201-424-17 XFI camshafts are designed to get the best out of most modern cars' Variable Valve Timing technology. As such, this camshaft will be compatible with late-model Dodge Challengers, Dodge Durangos, and Chrysler 300s.
Since this camshaft is designed to work with the VVT technology, it can pick up torque in the low end of the engine and provide maximum power output at higher RPMs. Speaking of RPM, this camshaft operates at an RPM range of between 1,800 and 6800 RPMs
The camshaft is made from a billet core, meaning it is tough enough to handle both the 5.7 l and the 6.4 l Hemi engines. 
Overall, this will be an excellent replacement camshaft if you own a Dodge or Chrysler 300 model. Also, it should work on jeeps and Dodge trucks as well.
Thumpr NSR Cam for '09+ Dodge 5.7/6.4L HEMI
Another camshaft that is designed to work with the 5.7 l and 6.4 l engine is the Thumpr NSR cam. So what makes this camshaft worth a sport on our list? There are several things we could point out.
However, the first and perhaps most notable is the awesome sound you get when idling. But this is not the only thing that caught our attention. Capable of operating at RPMs of 1600 to 6200 RPMs in the 2003-2008 Dodge.
Another thing that we can't forget to mention is the fact that this is engineered to work with both VVT and non-VVT engines. This means it will be able to fit into a wider array of Dodge models than some of its counterparts.
When it comes to installation, it does not require springs. This makes the installation process easier. More importantly, it is made from billet steel.
best towing cam for 5.7 ram hemi: Comp Cams 201-300-17 NSR HRT No Springs Required Stage 1 Cam.
Designed for the Doge 5.7 Hemi engine from 2009 onwards, the Comp Cams 201-3—17 NSR HRT camshaft is another excellent option. It is designed to fit into the 5.7 l Hemi and does not require springs during installation.
But perhaps its best feature is the design of the lobes. The lobes are designed to offer improved engine horsepower while maximizing stability at higher RPMs. Additionally, the surface of the lobes has been given the micro surface enhancement finishing treatment.
This finishing process reduces surface peak roughness and improves the load-bearing area. This allows for higher loads. As such, this is one of the best towing cams for 2013 ram 5.7 hemi.
This camshaft is compatible with many vehicle models ranging from the Dodge 1500 Ram, Chrysler 300, Jeep Grand Cherokee to the Dodge Durango.
Best 5.7 l Hemi camshaft buying guide
Suppose you want to boost the performance of your engine by replacing the camshaft. In that case, there are several things you should consider before investing in one. Below are the main things to consider when shopping for a replacement camshaft.
Compatibility with your vehicle
It goes without saying, but not all camshafts are designed for the 5.7 l Hemi engine. Therefore, the number one thing to consider is compatibility. Check what vehicle models a camshaft is compatible with first before purchasing. 
Most online stores will have a compatibility feature for you to check whether a specific component is compatible with your car model. 
The performance
Since the primary reason you would want to buy a camshaft is to improve your car's performance, the performance impact of a camshaft is the next thing to consider. The best towing cam for 5.7 ram Hemi will improve your truck's torque and horsepower.
Usually, a higher RPM rating will be indicative of a camshaft's performance rating. As such, it is recommended to consider camshafts that can withstand higher RPMs.
Lobe separation
Also referred to as lobe displacement angle, lobe separation is the distance between the exhaust and intake valves. The opening and closing of these two valves are crucial to the optimal performance of the engine.
Typically, the best cam for 5.7 Hemi ram will feature a wider lobe separation. This allows for better closing and opening of the valves, which in turn results in more horsepower.
The installed centerline angle
This is the measurement of the position of the crankshaft versus the timing of the camshaft. This measurement is measured in crank degrees from TDC. Also, the camshafts intake love reaches max lift at the ICA.
Where is the camshaft sensor located?
Typically this sensor is located on the engine block or the cylinder head in most vehicles. However, it is essential to check your car's engine manual for the exact location. For example, in the 5.7 Hemi, the sensor is located under the alternator. This means it is located on the right-front side of the engine on the timing chain cover.
Difference between camshaft and crankshaft
A camshaft uses its egg-shaped cam lobes to open and close the engine valves. This is how it controls the air-fuel mixture entering the combustion chamber. On the other hand, the crankshaft harnesses the power generated from the combustion chamber into rotational movement. 
As mentioned, these two are connected via a timing chain and sprockets. The two are connected at a ratio of 1:2. This means the camshaft rotates once for every two rotations of the crankshaft.
How long are camshafts supposed to live?
The camshaft is a part that should last you the entire lifespan of a vehicle's engine. As such, if the camshaft is worn out, chances are the whole engine is too.
Frequently asked questions
How much HP does a cam add to a 5.7 Hemi?
This will largely depend on the type of camshaft used. However, on average, you can get about 70 additional horsepower on the 5.7 l Hemi by replacing the camshaft.
What happens when a camshaft is damaged?
A damaged camshaft will have many negative impacts on the engine, which can lead to costly repairs. The engine can fail or knock out. This is why it is essential to replace the camshaft if it gets damaged.
How much does it cost to replace a worn-out camshaft?
The cost of replacing a worn-out or damaged camshaft can vary depending on several things. However, you can expect to spend anywhere between $1000 and $2000 to replace the worn-out camshaft.
Which is faster in operation, the camshaft or the crankshaft?
The crankshaft is faster than the camshaft, and for every two rotations of the crankshaft, the camshaft will rotate once. This is because the camshaft is designed to rotate at half the speed of the crankshaft.
How does the camshaft improve horsepower?
The camshaft increases the time that the valve is open. This translates to quicker acceleration. Also, a performance camshaft will result in a rougher idle.
What do the numbers displayed in camshaft product detail pages mean?
The camshaft will typically have two sets of numbers displayed on their details page. The first set of numbers relate to the opening degree of the intake and exhaust systems, respectively. The second set of numbers indicate the intake and exhaust valve intake, respectively.
Is it pricey to repair a camshaft?
Camshafts are designed to last for a very long time. As such, they tend to be a bit costlier than other engine components. Unfortunately, this also translates to them being pricier to fix than other engine components.
Can I still drive my car with a bad camshaft?
Yes, however prompt repair of the issue is highly advised as leaving the camshaft unrepaired will end up costing you more in repair bills.
How long will it take a professional to change the camshaft sensor?
On average, it will take most professional mechanics a day to change the camshaft sensor.
Overall finding the best cam for 5.7 Hemi ram isn't as difficult as you may think. Sure there are hundreds of options available. But armed with the right information, you should be able to pick out the best for your car. 
The ones we have reviewed above should give you a good starting point if you are unsure which camshaft to purchase.
Last Updated on February 2, 2023 by Rifen
Last update on 2022-10-12 / Affiliate links / Images from Amazon Product Advertising API