Should you wash your car at home? Yes, definitely; not only will it save you a ton of money, but it will also be fun for you and the family. But to ensure your car is sparkling clean after the wash, you need the right tools.
And one tool you will need is a hose attachment or hose nozzle. The latter will ensure an even spray of water on the surface of the vehicle. To get the best results, though, you will need the best hose attachment for washing cars.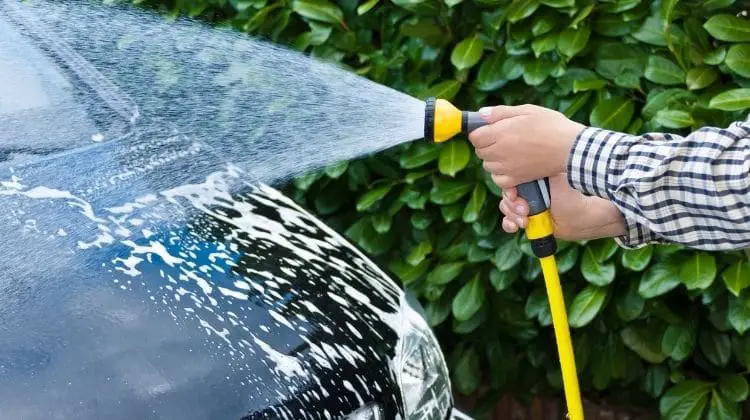 If it is your first time buying a home car wash hose attachment and you don't know where to start, we are here to help. We have compiled reviews of 10 car hose attachments that we believe will offer the best experiences and results.
Furthermore, we have included a buying guide on how to select the best from the rest. After all, you want to get the best car wash hose nozzle. 
Top on our list is the TriNova Foam Cannon and Gallon Car Wash Soap Kit. The latter is a powerful foam cannon that will offer a thick foam for cleaning your car. Also, this kit operates at high PSI making it ideal for cleaning driveways as well.
The SprayTec Garden Hose Nozzle Sprayer is number two, which is the best hose for washing cars. It works with most standard garden hoses and offers a decent number of spray patterns. 
How we selected our top picks
When making our selection, we considered several things:
We assessed how easy the attachment is to use.
We also checked the spray distance of the spray patterns offered by the attachment.
We also check the water pressure and durability by doing a drop test. 
Types of hose nozzle attachments
Hose nozzle attachments can be classified into the following five types;
Pistol grip:
This has a relatively straightforward design whose hallmark is a trigger that you use to control water flow. The trigger is typically located either behind or in front of the handle. Squeeze the trigger harder, and more water flows out.
Dial nozzle: 
This one features a rotating dial with distinct spray patterns. The dial settings control the flow of water. Generally, this nozzle type is often combined with a pistol grip nozzle. The trigger is used to activate the water flow.
Watering or rain wand: 
This is usually a long nozzle that is best for extending water flow to hard-to-reach areas. It is usually controlled using a simple sliding thumb control.
Firehouse or fireman nozzle: 
Similar to the dial nozzle, this one has a rotating dial. However, it lacks the distinct spray pattern of the former. Also, it is not used with a pistol grip, and the spray patterns have to be gradually adjusted. 
Fan nozzle:
this nozzle has a wide surface with many tiny holes to allow for water flow. The holes deliver a thin sheet of water that fans outwards, hence the name.
Best Hose Attachment For Washing Cars reviews
TriNova Foam Cannon and Gallon Car Wash Soap Kit
If you use a pressure washer for washing your car or even driveway, then you will find this TriNova Foam Cannon a delight. A hose nozzle with a PSI rating of between 800 and 3500 PSI can work with a wide array of pressure washers.
Also, thanks to its PSI rating, it can be used for all kinds of pressure washing tasks, from washing your car to cleaning your driveway. One of the things we loved about this foam cannon is its design.
The canister has a triangular design, making it easy to set down without tipping over like other foam cannons with a narrower design. Also, the canister has a relatively wide bottleneck and will not wear out quickly even after heavy usage.
Thanks to the wide neck, we found it pretty easy to pour water and soap into the canister. Compared to other foam cannons we have used and tested that tend to have a narrower neck.
Despite its many pros, though, there are a few things we did not like about this foam cannon. The main one being it is pretty heavy, and if you have a pressure washer whose long rod cannot be disconnected, this may not be for you.
SprayTec Garden Hose Nozzle Sprayer
For those who prefer to use a standard garden hose or our recommended best water hose for car wash, the SprayTec Garden Hose Nozzle sprayer will be the best hose nozzle for a car wash. This hose nozzle sprayer has a pistol grip for easy handling.
At first glance, this nozzle sprayer has a metallic finish, and sure enough, we found that it is made from metal. This should guarantee durability and a long lifespan. But how does it perform?
It is compatible with standard hoses and has a trigger lock to help maintain consistency. Furthermore, the rubberized handle offers a firm grip. With this sprayer, you get nine different spray patterns, and switching to a different pattern is relatively easy.
The spray patterns include jet, full, cone, angle, adulterated, fog, and flat. Thanks to its adjustable patterns, you can also use it for other applications.
One of the negatives we noticed with this sprayer is that it does tend to leak, though rare. Furthermore, we were not entirely convinced of its durability when we did our drop test.
Chemical Guys HOL126 14-Piece Arsenal Builder Car Wash Kit 
The Chemical Guys HOL126 14-piece builder car wash kit is the best pressure washer car wash attachment in terms of value for money on the list. It comes with a foam gun, bucket, and five 6 oz car care cleaning chemical products.
And you get all these for less than $100. To be honest, we were a bit skeptical about the price at first. The foam cannon, in particular, is excellent. We filled it with soap and water, did two rounds of cleaning, and did not exhaust it.
However, we found that it works best with a pressure washer. Thus while you can use it with a standard hose, you will be missing out on the thick foam you get with a pressure washer. 
All the other products included in this package are great as well. The speed wipe will leave your car with a pleasant smell. You also get a tire brush, dirt catcher, and rug, making this a wholesome cleaning kit.
Some people have complained that the foam gun is a bit underwhelming in regards to the foam. With a hose, it does not produce sufficient foam, which is a bit disappointing for most.
Foam King – The King of Suds – Deluxe Car Wash Sprayer
The Foam King Deluxe car wash sprayer is an excellent foam gun for washing your car. It is cheap for most people. However, this is not to say it is a low-quality product. On the contrary, this is an excellent option for what it is designed to do.
It features a 30-ounce bottle with soap fill lines. This means you do not have to guess how much soap and water you have in the bottle. Also, it has a dilution ratio of six different levels.
This gives you control over the soap and water mixture concentration. The inclusion of brass connects on it does make it durable. Overall, this is a budget alternative to pricier foam cannons used with pressure washers.
Though this will not produce the same foam thickness as pricier options. However, the foam produced will be sufficient for most people and their cars. Thus if you are on a budget, this is the best soap hose attachment.
GREEN MOUNT Water Hose Nozzle Spray Nozzle
If you are on a budget, then the best water hose nozzle for washing cars is the green Mount water hose nozzle spray. The latter can also be used for watering your sprouts and even cleaning your patio.
From our research, this is made from a zinc alloy and should be tough enough to withstand the occasional knock and bump. And from our drop test, it does seem that it will survive knocks and bumps.
There are six spray patterns to choose from, which makes it a versatile spray nozzle. Also, it can be used with a standard garden hose. The rubberized handle offers a firm grip, and it is easy to hold.
There is also a trigger lock to keep the water flowing without any leaks. The spray patterns settings can easily be adjusted using the settings ring. We found the latter easy to use, even with wet hands.
One negative we noted with this nozzle is that it does not have the full spray setting. For some people, the jet option may be a bit too powerful while the flat one is weak. Overall, we would have loved it if it had a full spray setting, though this isn't a big deal.
Dramm 12380 Heavy-Duty Brass Adjustable Hose Nozzle
Not a fan of pistol grip sprayers? Well, the Dramm 12380 Heavy-duty Brass adjustable hose nozzle might just be the nozzle for you. It has a solid brass construction with 2 O-rings and a standard hose washer.
This nozzle can be used for a wide array of cleaning applications, from cleaning your car, patio, or even walkways and gutters. And it's priced at a lower cost than most pistol grip nozzles.
But the best thing about this nozzle is its simplicity. It does not have a lot of moving parts, which means it does not break down easily. However, you may have to replace the rubber O-ring after some time.
The rubber O-ring nozzle is not of good quality and regularly fails, much to our disappointment. However, this O-ring is replaceable, and we recommend replacing it. Also, the supplied hose washer is made of vinyl and not rubber.
We would have preferred a rubber washer, but again this one is also replaceable. So it may not be such a big deal.
INNAV8 Water Hose Nozzle Sprayer 
If you are looking for a garden hose car wash attachment that offers more spray patterns than your current option, then the INNAV8 water hose nozzle might be what you are looking for.
It fits nicely into a standard garden hose, and we did not notice any leaks from the connection or valves. But perhaps the best thing about this model is its ten spray patterns.
Honestly, you can feel a bit overwhelmed trying to select from the ten available spray patterns. Nevertheless, this also means you can do more with this nozzle sprayer. You can use it for washing your car as well as the patio and driveway.
In addition, this sprayer is relatively lightweight and easy to handle. This may be thanks to its zinc-alloy and ABS plastic nozzles construction. The thumb control on this unit is small but secure, which reduces the chances of getting sprayed by accident.
A small rubber washer is less than half an inch, which we found leaks at times. 
FANHAO Upgrade Garden Hose Nozzle Sprayer
The FANHAO Upgrade garden hose nozzle is a small sprayer. But its size is deceiving as this is a powerful sprayer that you can use to wash cars. Other than that, you can also use it to wash your pets, driveway, or even roof.
Made from metal, it should last for a long time and will be able to withstand knocks and falls. It has four adjustable water spray patterns to choose from. These include jet, con, full, and mist.
The rubber handle offers a comfortable grip making this pistol grip sprayer easy to handle. Also, we found it easy to adjust the spray patterns. Also, it comes with two washers included, which is a nice touch.
One minor negative we noted is that the trigger goes from off to the full stream. Therefore, there is no way to hold the trigger to slow the water flow. However, we found this to be a minor inconvenience.
Adam's Premium Foam Gun Car Wash Foam Gun for Garden Hose
The Adam's Premium Foam gun isn't a foam cannon, but it does an excellent job for what it is, a foam spray car wash nozzle. It does produce a good amount of suds and foam. And the best part is that it connects to a garden hose.
As such, you do not need a pressure washer to use this foam gun. The 35-ounce canister has stainless steel fittings that will not rust or corrode. Additionally, it comes with one metering tip and four dilution ratios.
This allows you to control the amount of soap you want to run through. And it will work well with any car wash soap of your choice. This gives you the flexibility to use your already existing car washing supplies.
While this is a cheap alternative to a pressure washer and foam cannon, it does use up more soap than other foam guns. And this is the main negative we noted with this foam gun.
Bon-Aire HN-10C Original Ultimate Hose Nozzle
The Bon-Aire HN-10C has an excellent firehose design to it. But more importantly, it will turn your standard hose into a versatile spray tool. It features a stainless-steel construction and a simple design.
Thanks to its stainless steel construction, it is resistant to rust and corrosion. As for the spray patterns, you get five spray patterns. This makes it a versatile tool for handly anything from washing your car to watering your potted plants.
Switching between the five spray patterns is easy using the twist-type design. Twisting the nozzle allows you to go from a gentle gurgle for watering to a high-pressure spray.
However, we did not like the jet spray. Also, the price of this nozzle does not match the value you get. In our view, it is a bit pricey considering what it offers. 
Frequently Asked Questions
How often should I wash my car?
Every two weeks is the recommended interval. However, some prefer doing it every once a week, and there is nothing wrong with that. Furthermore, dirt such as road salt and bug gut should be cleaned immediately to avoid paint or metal damage.
What soap should I use to clean my vehicle?
There are certain soaps that are specifically designed for use on car paints. These are the kinds of soap to use. They are typically milder than your regular detergent. Do not use household cleaning detergents.
Is there a hose attachment that works like a pressure washer
Typically, ordinary hose attachments cannot produce the same pressure as a gas or electric pressure washer. However, there are some adapters you can use to make your hose attachment perform like a pressure washer though it will not perform at the same level as a pressure washer.
How can I unblock a hose nozzle?
You can use a pin to unblock a blockage in the spray nozzle. Alternatively, you can also use hairspray or dip the nozzle spray in alcohol.
What is PSI recommended for washing cars?
It is best to use water pressure of between 1200 and 1900 pounds per square inch or PSI.
How much PSI do I need to pressure wash my driveway
For cleaning a concrete driveway, the best PSI to use is at least 3000 PSI.
How To Choose The Best hose attachment for car washing: Tips and Tricks
When searching for the best water hose nozzle for washing cars, several things to keep in mind. The main ones are;
Fitting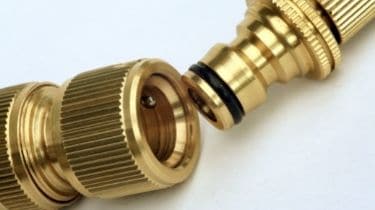 A hose attachment is designed to fit either a pressure washer or a standard hose. For most people, a standard hose is what they have for washing cars. Therefore, you will want a garden hose car wash attachment that can fit your garden hose. 
The material
Nozzle attachments are typically made from a combination of metal and plastic. In most cases, the pistol grip handle is made from ABS plastic and reinforced with rubber. On the other hand, the nozzle sprayer is made from metals such as brass, zinc, and aluminum.
The best hose nozzle for car wash will feature a metallic nozzle. This way, they will be durable and withstand knocks and bumps.
The flow rate
How much water can a nozzle spray onto your vehicle in a minute? Ideally, the more, the better for a faster and cleaner car. That being said, most nozzles will have a flow rate of between 2.5 and 5 gallons per minute.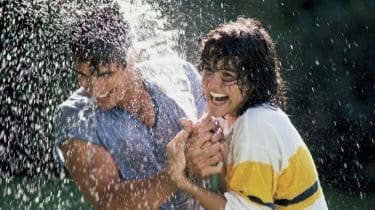 High-powered nozzles capable of delivering high amounts of water are best for cleaning cars. Thus check for a nozzle with a flow rate of at least 2.5 gallons.
Quality of the shutoff valve
The shutoff valve stops water from flowing through the nozzle. This part is essential as it allows for easy shutting off of the nozzle. Unfortunately, cheap nozzles have low-quality valves that can fail. 
Therefore, the best hose nozzle for car wash should have a good quality shutoff valve to ensure easy shutting off when necessary.
Spray patterns
Nozzle attachments will typically feature spray patterns designed for a wide array of applications. Therefore, when searching for the pressure washer car wash attachment, it is essential to check how many spray patterns are available.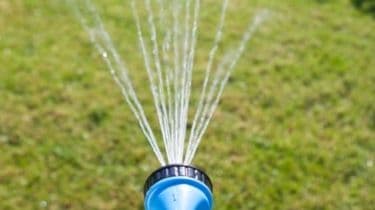 On average, you will get 4 to 10 spray attachments. This will be important if you plan on using the attachment for more than cleaning your car.
Ease of use
How easy an attachment is to use matters a lot. The design of the handle on a pistol grip nozzle will dictate its ease of use. Also, other features such as the shutoff or control button will influence a nozzle's ease of use.
Spray patterns adjustments
Suppose you plan on using your hose attachment for a wide array of applications. In that case, you need to consider how easy it is to adjust the spray patterns. For example, the best hose nozzle for car wash will feature an easy-to-adjust spray pattern.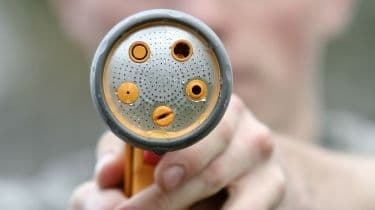 This makes it easy to switch from one pattern to another. This is important if you are using it for more than cleaning your vehicle.
Soap container
This applies more to foam guns and foam cannons used to foam the car's surface. The size of the container should be big enough to accommodate more soap and water mixture.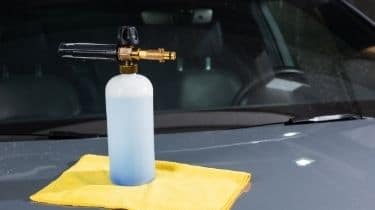 Also, check for the design of the container opening. Go for containers with a wide opening as it makes it easy to pour soap and water.
Leak protection
When washing your car, the last thing you want is to have leaks. So check for the leak protection features available on a nozzle. This will be particularly important around the nozzle and hose connection area.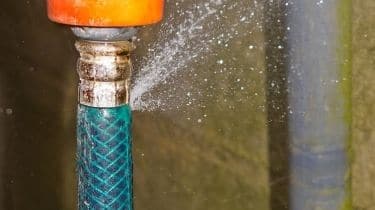 Accessories
Some hose attachments come with several accessories included. These accessories will make your cleaning easier. Thus it is also essential to check what accessories are included in the package.
Conclusion
If you want to save money on your car wash needs, buying the best hose attachment for washing cars will be the way to go. These attachments allow you to wash your car at home using your standard garden hose.
The attachments included on our list are among the best in the market and should serve you for a long time. 
Last Updated on February 1, 2023 by Rifen
Last update on 2022-10-12 / Affiliate links / Images from Amazon Product Advertising API