Comparing Cooper discoverer at3 vs. BFG all-terrain, both have competitive features that are very ideal for you when driving in different terrains. Choosing one among them may be a hard decision to make. However, in this article, we aim to solve this indecisiveness.
Comparing cooper at3 vs BFG ko2, BF Goodrich Ko2 stands out as the winner because it gives you high performance and load capacity at a lower price. On the other hand, Cooper Discoverer AT3 secured the runners' up with its high traction and sidewall performance.
Quick Comparison of Our Top Picks
A Quick Comparison Between Overall Cooper Discoverer at3 vs BFG all-terrain ko2
Use BF Goodrich KO2 if:
You're looking for a high load capacity tire.
You want high towing stability.
You're tight on budget.
You will do a lot of off-roading.
Use Cooper Discoverer AT3 if:
You want a durable sidewall.
You don't mind the budget.
You do street driving.
Review Of BF Goodrich All-Terrain T/A KO2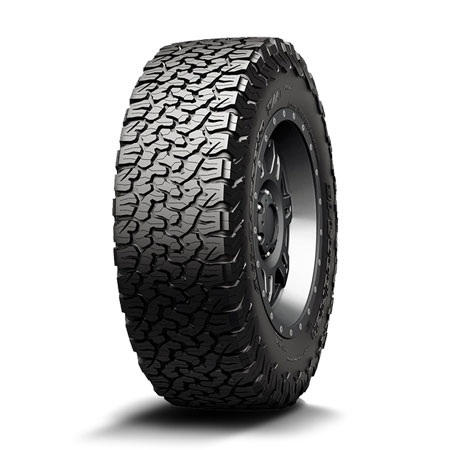 Goodrich company started in 1870 in Akron, Ohio. The company started by making rubber, and over the 150 years of its existence, it has improved drastically. It is now one of the largest tires making companies.
BFGoodrich represents the best you could ever wish for in a tire. First, you don't have to worry about bursts as the tire features Core Gard technology. This technology enhances and toughens the sidewall rubber to ensure it is split and bruise resistant.
Secondly, the treads formulation is special to reduce chip and tear for more endurance on the gravel. The interlocking design increases the stability of the tread block and rejects stone retention.
Many default tires have uneven wearing; however, this tire's footprint shape results in even distribution of stress for even wear. Additionally, the sidewall has protruding rubber blocks to enhance traction when you drive in mud, rocks even using it as snow plowing tires.
PROS
Has thick sidewalls.
It has a high load capacity of ranging from 2270 to 3750 pounds.
It has deep treads.
Has aggressive treads ideal for traction.
Uses durable rubber. 
CONS
It is a bit pricey
It is heavy.
Review Of Cooper Discoverer AT3 XLT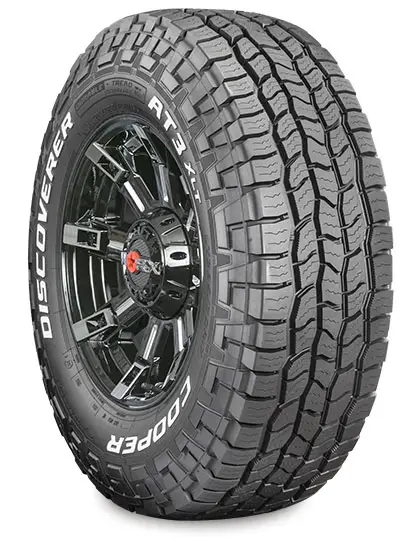 Cooper is a rubber company that was founded in 1914 in Akron, Ohio, as an M and M manufacturing company. The name changed in 1930 when cooperatives, M and M manufacturing companies, and the falls rubber company merged. Since then, the company has grown to be worth over $2.6 billion.
The company has your best interests at heart when making tires. Cooper Discoverer AT3 XLT tire is highly durable, and to prove this to you, they have a treadwear warranty of 60,000 miles.
The shoulders are highly rugged to provide optimum off-road traction for crawling. What's more, the wall is super-resistant to abrasion and punctures. The tire's design prevents cutting and chipping when you're driving on a terrain that is rocky and full of gravel.
PROS
The tire has deep treads.
It has a high load capacity
Uses very durable rubber.
Its design offers high traction.
The tire has a treadwear warranty
CONS
It is a bit expensive
They need a lot of attention
Some Popular Cooper at3 vs BFG ko2 Tire Sizes Comparison
Head-on Comparison of the Goodrich KO2 vs Cooper AT3 XLT
Brand Overview
Both brands have been around for a long time. Cooper has been around for 107 years, while Goodrich has been around for 151 years. Therefore, comparing Cooper at3 vs BFG ko2, Goodrich is older. Therefore, Good rich is more likely to produce more customer-centered tires as compared to cooper.
Winner: Goodrich
Performance in Different Weather
Performance in different weather is very important, and such tires should have features that enable you to drive safely in dry, warm, and wet conditions. 
Comparing cooper at3 XLT vs. BFG ko2 performance in different weather, cooper AT3 slips multiple times on wet and dry pavements. Also, the tires slide when you try to make abrupt stops. 
On the other hand, BFG KO2 is blocky, aggressive, and features an interlocking design. These features combined ensure that it remains sticky than its competitors.
Winner: Goodrich
Performance In Different Track (Mud, Snow, Off-Road, All-Terrain)
Performance in mud, snow, and off-road mainly depends on the tire's tread depth and how blocky they are. 
Looking at cooper at3 XLT vs. ko2, BF Goodrich Discoverer KO2 has a tread depth ranging from 15/32" while Cooper AT3 has a tread depth ranging from 16.5/32" to 18/32". Cooper AT3, therefore, beats BF Goodrich in tread depth. 
However, BF Goodrich treads are very interlocking, while those of Cooper AT3 are straight. As a result, Cooper AT3 will grip the softer surface, but it won't hold up as the interlocking BFG treads would. 
Winner: BF Goodrich.
Physical Look and Dimension
Dimension affects the distribution of weight over a tire because a higher dimension means a higher surface area of contact between the tire and the surface. 
Cooper discoverer at3 XLT vs. BFG ko2, Cooper discoverer AT3 has higher dimension and therefore, it is more stable when cornering compared to BFG KO2.
Winner: Cooper Discoverer AT3.
Speed Rating
BF Goodrich KO2 has a speed rating ranging from R, S, Q to T which means at optimum condition, the tire's speeds range from 106mph to 118 mph. 
On the other hand, Cooper discoverer AT3 has a speed rating ranging from R to S, which allows speeds from 106 mph to 112 mph under optimal conditions. If you want to learn some of the best automotive reviews you can check autodoctorjackson.com there you will get some of the top-rated hi-speed tires and automotive parts and other reviews.
Winner: BF Goodrich.
Load Range
Weighing up BFG ko2 vs. cooper at3 XLT in terms of load range, BF Goodrich has a load ranging from C to E which can allow a load capacity from 1765/1610 lbs to 4080/3750 lbs while Cooper AT3 has a load ranging from C to E and SL to XL which allows a load capacity ranging from 1764 lbs to 4080 lbs. Therefore both tire carry a higher load
Winner: Tie
Tread Compound Designed
Tread compound design determines whether you can drive in certain environments or not. BF Goodrich has treads that have an interlocking design. This design is perfect for all terrains because it's grippy. However, it is not ideal for sipping. 
On the other hand, Cooper discoverer treads are straight and blocky; therefore, they are ideal for sipping. However, these tires are not the best in all terrains because they are less sticky.
Winner: Tie
Towing Stability
Towing stability is the amount of weight a tire can tow. The higher the load capacity, the higher the amount of weight a tire can tow. 
BF Goodrich will be more stable when towing because it has a high load capacity ranging from 2270 pounds to 3750 pounds and is additionally grippy. 
On the other hand, Cooper AT3 has a relatively low towing stability because it has a low load capacity despite the tires being a little more grippy.
Winner: BF Goodrich
Shock Absorption
Both brands absorb shock when you drive on uneven surfaces. Shock absorption harmonizes your ride. Cooper Discoverer has high tread depth, and therefore, the treads are more likely to absorb shock than BF Goodrich.
Winner: Cooper Discoverer
Traction
The amount of grip between the tire and the surface is traction. Tires with higher tread depth are known to have a high amount of traction. Therefore, when driving on a cooper discoverer, you will experience more traction because its tire has high tread depth than BF Goodrich.
Winner: Cooper Discoverer
Side Wall Performance
Tires that have a lower aspect ratio will give you higher sidewall performance. The sidewall maintains proper lateral stability. Comparing cooper at3 and BFG ko2, Cooper has an aspect ratio ranging from 55 to 75 compared to BF Goodrich which ranges from 55 to 80. Therefore, the cooper discoverer has a high aspect ratio compared to BF Goodrich.
Winner: Cooper Discoverer.
Uniformity And Durability
Comparing Cooper discoverer at3 and BFG ko2 on durability, BF Goodrich beats Cooper Discoverer. When driving on gravel punctures, Cooper discoverer experiences a lot of punctures as compared to BF Goodrich. 
Additionally, the cooper discoverer's side walls have a 2ply rating, and therefore, it may be weak with time. However, the warranty assures you of a replacement.
Winner: BF Goodrich
Additional Other Key Features
Locking 3-D sipes- they provide an increase in tread block stability for a more even wear. What's more, the shoulders feature a serrated design that provides traction in mud, snow, and rock. The technology involved, without a doubt, ensures unmatched toughness against sidewall splitting. 
Winner Goodrich
Weight
Comparing cooper at3 vs. BFG ko2, BFG also is a lighter tire across the board compared to its competitors. BF Goodrich weight ranges from 32.1 to 72.6 pounds while Cooper Discoverer AT3 weight ranges from 30 to 73 pounds. Cooper discoverer is heavier because it has bigger tread blocks and very small voids or tread lines. On the other hand, BF Goodrich has wide voids between the tread blocks and, as a result, a difference in weight.
Winner: Cooper 
Price
Comparing BFG ko2 vs. cooper at3 BF at a price, Goodrich costs start from apprx. $143.99 to $453.99 while Cooper discoverer costs range from $245. 
Certainly, if you're tight on budget, you should go for BF Goodrich. However, if the cost is not an issue, consider checking whether Cooper AT3 interests you.
Winner: Cooper
Why Should You Consider KO2?
Over the 150 years of experience, BF Goodrich has polished its tire quality. Its performance around different weathers and terrains is without doubt undisputed. The tire gives you the best towing experience and load capacity you could ask for. What's more, the tire lasts long without wearing, and when it does, it wears evenly. This tire is ideal for jeeps, light trucks, and SUVs.
Why Should You Consider AT3?
Coming from a reputable brand with over 100years of experience, Cooper discoverer AT3 represents one of the best tires one would pray for. This tire's physical dimensions are optimized to give you an easy time off the road. The traction and sidewall performance assures you safety when driving by ensuring the tire grips when braking and bursts protection. This tire is perfect for jeeps and light trucks.
Last Updated on February 2, 2023 by Rifen
Last update on 2022-10-12 / Affiliate links / Images from Amazon Product Advertising API