Choosing between two rights can be challenging at times, and that is what this Goodyear Endurance Vs Maxxis M8008 review seeks to demystify. Between the two, Maxxis M8008 stands out as the winner because it will save you a few dollars on fuel and withstand even the harshest of terrains. On the other hand, Goodyear Endurance features in the rounds up not because it's poor; its high load capacity can't go without a mention.
A Quick Comparison Of Our Top Picks!
Please note that Prices and Availability Are Subject To Change
Please note that Prices and Availability Are Subject To Change
Overall Comparison Of Goodyear Endurance and Maxxis M8008
Use Maxxis M8008 if:
You will drive off-road in the harshest terrains
you want to save fuel
you're tight on budget
Use Goodyear Endurance if:
You want to carry high load capacity.
You want a smooth ride on uneven surfaces.
You want a tire that lasts long and wears uniformly.
Stay with us, continue reading as we debunk why Goodyear Endurance Vs. Maxxis M8008, Maxxis M8008 stands out.
Reviews Of Goodyear Endurance
Goodyear endurance is a product of Goodyear's company, which started in 1898 in Akron, Ohio. The company began in an abandoned factory in Ohio and has become one of the world's largest tire producing companies. From producing the first bicycle tire to what it is today, the company has over 100years of experience under its belt. Now, enough with the history.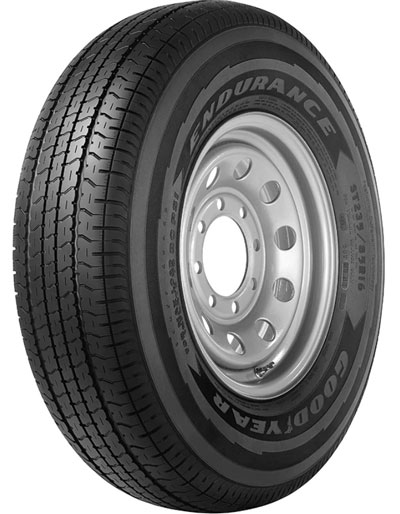 Goodyear endurance tires represent what you need on your trailer whether you go off-road or on the road. First, the tire's sidewall resists punctures and cuts because it's making use of Durawall technology. Therefore, you don't have to worry about the uneven surfaces you drive on. What's more, the scuff guard on the sidewall shields the sidewall from natural wear and tear. This guard prevents your tire from busts when driving.

Here is a promise; you will love the construction. The tire's construction uses rugged fabric steel that focuses on improving durability and carrying capacity. The design keeps you safe as it is easily compatible with tire pressure monitoring systems.
PROS
Features a durable construction design
Features a new tread design and a stronger sidewall
They have a high ply rating.
They have a high load capacity.
CONS
The treads aren't that deep.
They're poor at siping.
Reviews Of Maxxis M8008 ST
Maxxis M8008 ST tire is a product of Maxxis company founded on 1st January 1997 in Changhua county, Taiwan. What began as a bicycle tire manufacturer is now the ninth-largest tire production company in the world. The company now generates close to $4 billion in revenue.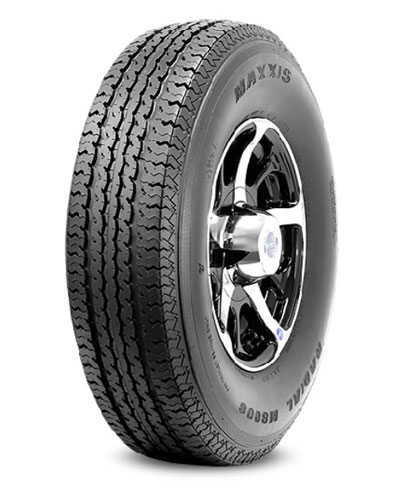 Therefore, this Maxxis M8008 ST tire is made by leaders in the industry who have for a long time been making quality and have a reputation to keep. The ply rating in this tire ensures your vehicle can comfortably carry a heavy load either off-road or on-road. What's more, the excellent shock absorption supplements the comfort when driving on gravel and other uneven surfaces.
The tire's durability is on another level. First, the tread design features an advanced compound that decreases the resistance. As a result, the tire will help you save fuel, and the treads will last longer. Also, the tire uses a double steel-belt in its construction to improve its strength and towing abilities.
PROS
It has a high load capacity.
Features tread enhancements to reduce resistance.
It is durable
has excellent shock absorption capabilities
CONS
They have a low-speed rating.
Ensure you check the dates before buying; there is a lot of old stock.
Head-on Comparison of the Goodyear Endurance Vs Maxxis M8008
Brand Overview
Goodyear was founded in 1898 and had over 100 years of experience in making tires. On the other hand, Maxxis was founded on 1st January 1997 and had 24 years of experience. Therefore, this means that the Goodyear brand is more established and reputable in the tire industry.
Winner- Goodyear
Performance in different weather
The best performing tires in different weather should have tread patterns that grip the surface properly during dry, warm, and wet conditions.
Maxxis tread patterns are straight to repel water when you drive in the rain. The treads are also aggressive and wide to allow siping and gripping as you drive safely in icy, hot, and warm conditions.
On the other hand, Goodyear treads patterns are straight and very ideal for rainy weather. However, they lack the aggressive blocky treads which help you drive safely during winter.
Winner: Maxxis
Performance in different track
An all-terrain tire should have an aggressive tread pattern for better off-road conditions like muddy and snow terrains. The tread patterns are also supposed to be deep in these tires for proper gripping of softer surfaces. Maxxis tread patterns have a deeper, while Goodyear treads are less deep. Also, Maxxis tread patterns are more aggressive compared to Goodyear's.
Winner: Maxxis
Physical look and dimension
The higher the dimensions, the higher the grip your vehicle has on the road. An increase in dimensions increases the surface area in contact with the road. As a result, your car has more surface to hold to and can easily maneuver and handle cornering efficiently. Both Maxxis and Goodyear have the same section width and dimensions. They will therefore have the same effect on the road.
Winner: Tie
Speed rating
The speed rating is important because it defines the speed at which the tire can safely carry a load for a certain time. Maxxis has a speed rating which allows speeds from 65mph to 106mph.
On the other hand, Goodyear has a speed rating that allows speeds from 65mph to 87mph. Therefore, the Maxxis speed rating is higher than that of Goodyear. But in terms of trailer tire, Goodyear endurance has a good speed rating compare to other trailer tires.
Winner: Tie 
Load range
The load is the older measurement of ply, and it defines the amount of load the tire's ply rating can handle. The ply rating shows the amount of strength the tire has and the amount of load it can carry. Maxxis has a ply rating of 6 to 10. On the other hand, Goodyear has a strength equivalent to a 10ply rating and can withstand a high load capacity. Therefore, Goodyear is ideal if you need a high load capacity tire.
Winner: Goodyear
Tread Compound Design
The tread design is equally important because they determine the season and terrain in which you can use the tire. More importantly, the compound involved in making the treads determine the durability of the tire. Maxxis tread compound design helps in decreasing the rolling resistance of the tire. As a result, this saves you fuel. On the other hand, Goodyear treads allow sipping in the tire.
Winner: Maxxis
Towing Ability 
Towing is the maximum amount of weight your vehicle can tow. Tires with a high load range can carry heavier loads and, therefore, higher towing ability. Goodyear has a high load capacity of a maximum of 4080/3640 lbs compared to that of Maxxis which ranges between 1360 lbs and 3420 lbs. Therefore, Goodyear has a higher towing ability compared to Maxxis.
Winner: Goodyear.
Shock absorption
All tires can absorb shock depending on the terrain you're driving on. Whether you're driving on gravel or even surface, the shock absorption features in the tires ensure that your ride remains smooth and soft. Goodyear has a great reputation for designing tires that give comfortable rides. On the other hand, Maxxis double steel-belted construction reduces the softness of the ride.
Winner: Goodyear
Traction
Traction is the amount of grip between a tire and road surface. The deeper the tread, the higher the traction. Traction also ensures siping when driving on wet and rainy terrains. Maxxis has deeper treads than Goodyear that start from 9/32" to 10/32".
Winner: Maxxis
Sidewall performance
Sidewalls help in maintaining proper lateral stability and prevent air from escaping. Tires with a lower aspect ratio have higher performance. A low aspect ratio is very much important in reducing and resisting cornering. Both Goodyear and Maxxis have the same aspect ratio.
Winner: Tie 
Uniformity and durability
Tires are supposed to be balanced because the outer might sometimes wear out faster than the inner. Also, improper inflation pressure may cause uniformity in wearing. Durability depends on the rubber used and the level of strength. Goodyear endurance tires have a 10ply rating, while Maxxis has ply rating ranging from 6 to 10. Therefore, the Goodyear tire has more strength than the Maxxis tire.
Winner: Goodyear
Additional other features
Additional features improve your driving experience. Maxxis tires feature a low-rolling-resistance, which helps you in saving fuel.
Winner: Maxxis
Weight 
The weight of a tire affects its portability and ease of use. Goodyear endurance weighs 33pounds while Maxxis M8008 weighs between 17lbs and 42lbs. The former is therefore easier to transport than the latter.
Winner: Maxxis
Price
Price is very sensitive, and you cannot buy something with the money you don't have. If you have a tight budget, you can go for Maxxis, whose costs start from $118. However, if you have a little more budget, you can buy Goodyear, which costs start from $133.
Winner: Maxxis.
Some Other Stand out features Of Goodyear Endurance and Maxxis M8008
Low-rolling resistance- if you decide to go for Maxxis, you will enjoy a low-rolling resistance. This low resistance will eventually help you in saving a lot of fuel. This feature reduces the resistance between the tire and the ground. As a result, the friction reduces and allows your vehicle to travel the same distance using minimal fuel.
Popular Goodyear Endurance Vs Maxxis M8008 Tire Size Comparison
FAQ
Why should you consider Maxxis M8008?
Maxxis performs well in all-weather and in all-seasons due to its deep treads. This tire will give you a soft ride irrespective of the terrain you're driving in. What's more, it has a high-speed rate compared to its competitor. Additionally, it has a low-rolling-resistance to keep you on the road while saving your fuel. Above all, it sells at a very affordable price.
Why should you consider Goodyear Endurance?
Coming from a brand that has a reputable history, this tire's load capacity, without a doubt, is competitive. With a set of these tires on your truck, you can carry a reasonably high load. What will even amaze you is the level of towing ability and shock absorption. With this tire, you can drag any load to any terrain. Not forgetting that the tire is durable and when it wears, it does so uniformly. Surely, with all these, you can't complain about the prize.
Last Updated on February 1, 2023 by Rifen