We can all agree that while the Dodge Ram is a fantastic vehicle, its headlights aren't its best feature. The truck's stock headlights, especially on older models such as the 2001 Dodge RAM, look outdated, and they aren't the brightest either. 
Fortunately, if you own a 2001 Dodge RAM truck, you can replace the original headlights with new and better aftermarket Ram headlights. However, not all aftermarket headlight assemblies will be worth your money and time. And some of them will likely be a step down from your truck's current headlights.
To help you find the best aftermarket headlights for 2001 dodge ram, we have compiled a list of six headlights compatible with the 2001 Dodge RAM and that are a sure step up from your current lights.
Top on the list is the DWVO Headlight Assembly Compatible with 1994-2001 Dodge Ram 1500/94-02....This headlight assembly firstly looks stunning. Secondly, thanks to its wide-angle design, it offers improved brightness over your stock headlights.
In second place is the AUTOSAVER88 Headlight Assembly Compatible with 1994-2001 Dodge Ram.... The Autosaver88 provides high-quality construction and lighting quality at an affordable price tag. 
Also, we have included a buying guide on what to look for when shopping for headlights for your Dodge Ram. But first, let's look at the different types of headlights available and which type is better.
A Quick Comparison Of Our Top Picks
Compatible With
1994-2001 Dodge Ram 1500 and 1994-2002 Dodge Ram 2500/3500
'94-2001 For RAM 1500 and '94-2002 For RAM 2500 and 3500
'94-'01 Ram 1500 / 94-'02 Ram 2500 and 3500
94-01 / 2002 for RAM 2500 & 3500
1994-2002 For Ram 1500 2500 3500 [Except Sport Model]
Ram 94-01 for 1500 ; 94-02 Ram 2500 and 3500 (EXCEPT SPORT VERSION)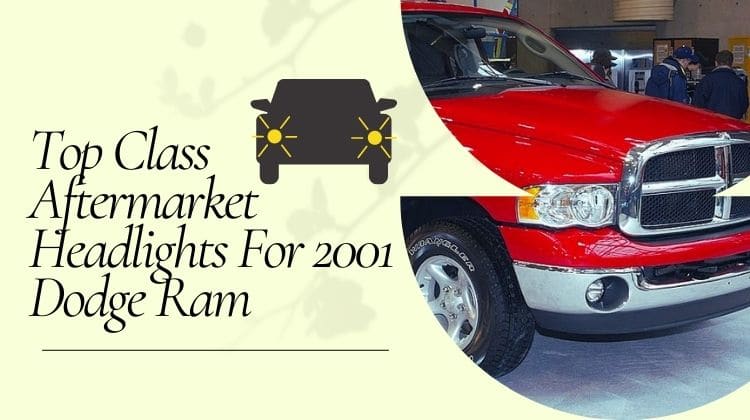 Halogen vs LED vs HID
Halogen headlights are the most common, and most car brands use them as their default headlight bulbs. This type of headlight bulb features a filament wire that produces light when an electric charge heats it.
The halogen gas inside the bulb makes the filament glow brighter. Halogen bulbs are the cheapest of the three, but they are also the least bright.
On the other hand, LEDs use light-emitting diodes that glow when an electric charge passes through them. They are typically brighter than halogens and last longer. They are also the most energy-efficient of the three and can be used as parking lights or taillights even as headlights. Popular LED headlights sizes are H11, H8, H9, 9005, 9007, 9012. The good news is now you can check which are the best 9012 LED headlights from our site.
HIDs, on the other hand, features an ionized gas inside the bulb and light up when an electric current passes through two electrodes. Xenon is the most common gas used in HID car headlights. They are significantly brighter than halogen bulbs but only slightly brighter than LEDs.
So which is the best? LEDs seem to take the crown of the best since they are more energy-efficient and last longer.
Review Of The Best Aftermarket Headlights For 2001 Dodge Ram
DWVO Headlight Assembly: best headlights for 2001 dodge ram
The DWVO headlight assembly compatible with the 94-01 Dodge Ram 1500 will be a perfect fit for your 2001 Dodge Ram. This headlight assembly will also fit 94-02 Dodge Ram 2500 and 3500 models. 
So what can you expect when you install this headlight assembly? Firstly, this headlight assembly package comes in a pair. Thus you get for both the driver and the passenger side. The assembly is also very well sealed to keep moisture out.
The headlight assembly looks excellent and makes your Dodge Ram pickup truck look amazing. The housing is shockproof and heatproof, making it more durable. 
One thing to note about this headlight assembly is that it is rather difficult to adjust. The adjustment screw is in an awkward position. Furthermore, we found it fairly difficult to install, and you may want to have it installed by a professional.
AUTOSAVER88 Headlight Assembly with Corner light: best headlights for 2001 dodge ram 2500, 3500 and 1500
The AutoSaver88 Headlights are pretty affordable and should be a great option if you are on a budget. But can they compete with pricier models, or are they a victim of their low cost? Let's find out.
At first glance, the headlight assembly looks quite decent and is relatively easy to install. They will fit on a 1994-2001 Dodge Ram 1500 and a 1994 to 2002 Dodge Ram 2500 and 3500.  
The headlight kit is fully sealed, and the seal does seem to hold up well. Most people who have used this headlight have commented on the seal holding up well, even in heavy rain. The clear lens on this assembly is of good quality and delivers exceptional visibility.
Even with the dims, you will still be able to see the road. Our primary concern with this headlight assembly is that it looks a bit flimsy. So we caution against dropping it or hitting anything.
AUTOSAVER88 DRL Projector Headlight Assembly: brightest headlights for 2001 dodge ram
The AUTOSAVER88 DRL projector headlight assembly has a lot of mixed reviews online. So we decided to test them for ourselves, and the results were quite interesting. Firstly, this assembly is designed for the 1994 to 2001 Dodge 1500 and the 1994 to 2002 Dodge 2500 and 3500.
Secondly, we absolutely loved the smoke black look of the two assemblies. They also feature a chrome-plated finish on the inside. This makes them look even better through the finish has another purpose. It improves the reflectivity of the light, giving you a brighter light.
These headlights worked incredibly well with LEDs. However, we did notice that the beam pattern produced with some LED bulbs was pretty bad and likely to blind other drivers. The reason being the reflective housing is designed for halogen bulbs that light up 360 degrees.
We recommend using LEDs with three light chips at the top and bottom. According to the manufacturer, this headlight assembly is not adjustable. However, we noticed that it is possible to adjust them up and down. But it will only adjust an inch or so, and we had to turn the adjustment screw for quite some time before noticing any changes.
Brock Replacement Set Driver and Passenger Halogen Headlights
The Brock Replacement set driver and passenger halogen headlights offer great value for money. These headlights come with 90004 Halogen bulbs included. But how do they perform?
One of the things we loved about these headlights was the mounting frame. They are pretty easy to install. Also, they have a transparent lens that should give you excellent visibility at night. The light pattern was nice, and we did not notice any black spots on it.
Designed to be a direct OEM replacement, they fit perfectly on the 2001 Dodge Ram. Also, they have the same chrome housing design as the factory headlights. This is either a plus or con, depending on how you feel about the Dodge Ram factory headlight assembly.
Our only concern with these headlights is the adjustment of the driver side assembly. We had trouble adjusting the assembly. Also, the rubber grille seal wasn't the best, and it would be better to use the factory seal.
Overall, these halogen headlights with corner lamps compatible with the 1994-2002 Dodge RAM are good value for money.
OE Style Halogen Headlights: brightest headlights for ram 1500
These OE Style headlights from Auto Dynasty were among the cheapest headlights we tested. And while this cost is considerably lower than other OEM replacement headlights, they are still a great option.
They came with all the brackets and mounting points intact. In terms of installation, they were relatively easy to install. Also, adjusting them wasn't much of a problem. They should fit 1994 to 2001 Dodge ram and 1994-2002 Dodge RAM 2500 and 3500.
It is worth noting that these headlights will not be compatible with the sport version of the Dodge Ram. These were noticeably brighter than the stock headlights of the dodge ram 1500. And there was no modification required to install them.
We noticed some dark spots when on high beams. However, these dark spots are not bad enough to make us not include these headlights on our list. Also, they seem a bit flimsy and can break when hit.
AmeriLite for Dodge 1994-2001 Ram 1500
AmeriLit headlights are known for being high quality. And these OEM replacement headlights for the 1994 -2001 Dodge RAM, 1500 are no exception. These headlights will also fit the 1994 to 2002 Dodge Ram 2500 and 3500 models.
As with other best headlights for the 2001 dodge ram 1500, they come in a drive and passenger side headlight pair. There wasn't an instruction manual included with these headlights. However, they were pretty straightforward to install. 
These headlights will give you a brighter light than the stock headlights on your Dodge Ram. They also fit perfectly on the truck, without the need for any modifications. When installed, these headlights look great.
They do come with headlight bulbs included. However, the plastic nut that holds the bulb is not great. Most people have complained of theirs being broken or breaking during the installation of the headlights. 
Best headlights for Dodge Ram 2001 buying guide
The aftermarket lights market is flooded with all kinds of headlights, especially for the Dodge Ram, given how we all love our Dodge Ram trucks. So how do you know that you have picked the best aftermarket headlights for dodge ram?
There are several factors to consider in your search for the best headlights for the 2001 dodge ram 2500. And these are;
Check Thoroughly Is It Compatible Or Not?
Headlights are built to fit different vehicles. Therefore, 2001 dodge ram 2500 led headlights may not be compatible with Dodge Caliber. As such, you need to consider whether the headlight replacement you want to buy is for the Dodge Ram or not.
But that's not all; some headlights are designed to work with Dodge Ram trucks of a specific year of make. If you have a 2001 Dodge ram, you will want to look for a headlight assembly compatible with the 2001 models of the truck.
Purpose of buying: Find what are The Reasons?
Why do you want to swap out your truck's stock headlights for new dodge ram aftermarket headlights? The answer to this question should influence the type of headlights you buy. It may be that you want to improve the look of your truck or want headlights to use in harsh weather.
If your answer is the latter, then you want headlights that are waterproof and can withstand harsh weather. If it's purely aesthetics, then the design of the headlights will be what to look for. 
Durability Is a Must: Don't Think About Cheap
On average, the best headlights for the 2001 dodge ram 1500 will last between 5 to 8 years. However, not all headlights will last for that long. Thus it is essential to check what the headlights are made of. Most are made from hard ABS plastic, which can withstand harsh weather.
The brightness of the headlights Is The Most Important Element To Check
One primary reason to shift to aftermarket headlights is the brightness they offer. Most aftermarket headlights have angled surfaces that improve light quality. Projector and reflector aftermarket headlights will offer the best in terms of brightness.
The design of the headlights
Headlights come in all kinds of designs that can improve the overall look of your car. However, when it comes to design, it comes down to your preferences. Chrome headlights will give your truck a nice and sleek design.
If you have a black truck and want a more aggressive look, you can opt for headlights with smoked black housing instead.
Ease of Installation
The Dodge Ram truck is not the easiest car to install headlights. As such, when looking for 2001 dodge ram 2500 led headlights, you will want to consider ease of installation. Some headlights are easier than others to install.
Consider whether a headlight comes with installation instructions or not. Most that lack a manual will necessitate professional installation. You can get help from this post: how should a led headlight be positioned?
Moisture resistance: Check The Seal
Headlights should feature a seal that prevents moisture from entering. The quality of this sealing will be another essential feature to consider. This is especially if you live in overly humid or rainy areas. 
Warranty and return policy
When shopping for 2001 dodge ram 1500 headlights and taillights, you will want to know the warranty of different headlights. Also, you will want to know what the return policy is of the vendor. The best vendors will offer a return policy and a warranty for their products.
Cost: Spend Within Your Budget
Some headlights are pricier than others. Thus if you are on a budget, you may consider affordable headlights without compromising on quality though. 
Frequently Asked Questions
Why AmeriLite is The Best Aftermarket Headlights For Dodge Ram?
AmeriLite offers headlights that fit the same as the default OEM headlights found on the Dodge Ram. These headlights are also long-lasting and are DOT certified.
Should I upgrade to LEDs
Yes, LED headlights offer more visibility due to them being brighter than halogen headlights. Thus you can see more of the road. They will also last longer than halogens.
What bulbs are in RAM projector headlights?
The Dodge Ram uses single beam 9005 bulbs in the projector headlights
Can I put HID bulbs in my projector headlights?
Yes, Xenon HID bulbs work best when used in projector headlights.
How can I increase my headlight output?
Swapping halogen bulbs with LED bulbs and cleaning the headlight assembly surface with a headlight restoration kit.
 Conclusion
The best aftermarket headlights for 2001 dodge ram will offer improved visibility and aesthetics to your truck. And while there are plenty of aftermarket headlight brands available on the market, not all will provide you with the same level of quality.
Last Updated on February 2, 2023 by Rifen
Last update on 2022-10-12 / Affiliate links / Images from Amazon Product Advertising API