Even though the Dakota hasn't been produced for more than 10 years, there are still many people like you who drive this mighty with pride and love to upgrade it. One of the parts that you should definitely consider upgrading is the headlights. Because in this long period surely, your stock headlight has been exposed to many things from strong sunlight, dust, dirt, and rain to the road hazards. So it's time to give your super crusty, yellowish headlight a new look with the best aftermarket headlights that will make your Dakota looks much better than before.
The good news is you can still find the best aftermarket headlights for dodge Dakota in the market today, and they are very affordable too. With the right fit Dodge Dakota headlights, these trucks can be transformed into something safe to drive, stylish, and luxurious. So, If you are a proud owner of this truck, it is high time for you to get the top-rated high-quality aftermarket headlights for your Dakota.
But how do you choose the best one? Well, We have tested 20 different headlights for Dodge Dakota for several models and offer you the top 4 picks to help you make the right choice.
Here Is A Quick Comparison Of Our Top Picks!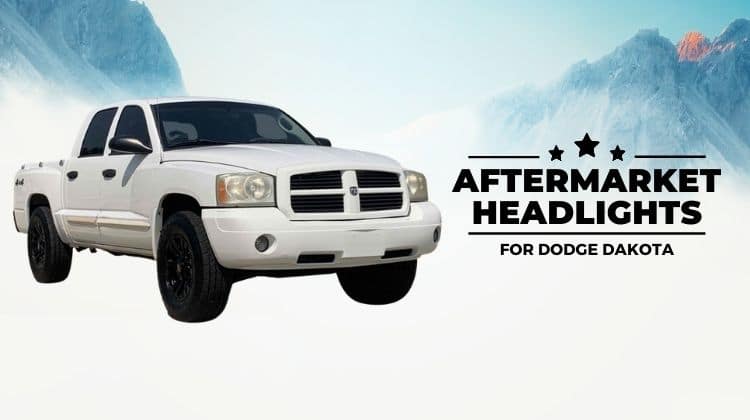 How We Tested and Selected Those Top Headlights For Dodge Dakota
Before writing this roundup review, we have tested many aftermarket headlights for Dodge Dakota. Although we have researched the headlights available in the market, we also checked some reviews from customers who bought and used them. After that, we tested each headlight by installing and using them on our Dodge Dakota. For your reference, here we list the things that we went through before selecting our top picks.
Light Distribution
A well-distributed beam pattern is the main reason why we listed it first. Because of this, headlights can provide a wide-angle of coverage without overshooting or underlighting certain areas. Also, there shouldn't be any blind spots that make you feel uncomfortable while driving.
Build Quality
The quality of build is an essential variable in the selection process. You don't want to buy a cheap one only because it looks good and then realize that you will have to replace it in no time at all. To know if the headlights are well built, we check their construction as well as how well they work. We also check their design, if it is appealing and strong enough to withstand the weather conditions in which your truck will travel on a daily basis.
Fit
How well do these headlights fit? Will you be able to install them without any problems or issues? What about being able to replace them easily? Although some headlights are easy to install on Dodge Dakota, they may not be the best ones for your needs as well. So we checked all above these before picking our top picks.
Safety
How safe is it when you drive with these headlights installed? Are they SAE and Dot certified? What about in the event of a hit? We check these headlights for the presence of impact-absorbing as well as other safety components that protect you from any harm.
Mounting
The best way to mount headlights is by keeping them in their stock position and not moving around the vehicle or changing their positioning as you turn them on and off. Unfortunately, this can cause your lights to be at an unfavorable angle, which will lead to less light being provided to your eyes.
Installation
The best way to install headlights is by checking if they are securely attached and that there is no gap between the mounting point of the headlight and the vehicle's body surface. We have checked and assessed how easily these headlights can be installed.
Review Of Top 4 Best Aftermarket Headlights For Dodge Dakota
After the period of testing, we collected all of our data to create these top 4 best headlights for your Dakota pickup truck.
Review Of DWVO Headlight Assembly Compatible with 1998-2004 Dodge Dakota
DWVO headlight is one of the best budget-friendly aftermarket headlights for Dakota that can be found on the market today. These headlights come with a wide range of features that are not only essential for your vehicle but will also make them look great.
When we got the DWVO Headlight Assembly, we were amazed at the quality compared to the price point and how great these headlights looked on our 2001 Dodge Dakota sport pickup. The installation was easy, and we did not have any problems. The headlights fit perfectly on our truck, and they look quite great compared to our crusty yellowish stock headlights.
The specific unit we reviewed is compatible with the 1998-2004 Dodge Dakota model. So if you have one of these models, you can be sure that this product will work for your vehicle. One thing to mention we have some good experience with the DWVO headlights with our 2001 Dodge Ram and we shared our experience in this post: Best Aftermarket Headlights For 2001 Dodge Ram.
Talking about the brightness, DWVO uses special chrome plating, which is very helpful in increasing the brightness and also making them look great. Also, it comes with a UV coating, making the headlights last for a long time without getting dull and yellowish.
For more durability, this headlight is shockproof and heatproof thanks to the use of high-grade housing material that ensures maximum safety against shocks as well as water damage and even corrosion. For moisture protection, this headlight also uses quality silicone, which will make it last even longer.
The headlights are made from polycarbonate black housing and a clear lens which is a great combination. Pricing less than $100, this headlight is a perfect choice for anyone who wants to make their vehicles look better and improve their safety.
Above we have talked about the positives of this headlight, now let's talk about why you should avoid buying it.
The main reason we recommend not buying DWVO Headlights is that some users claimed that the headlight looks kind of flimsy. Looks and design vary from user to user's preference and we actually liked the looks of this headlight. Another problem we heard from them was that they find difficulties with adjusting the headlight; for example, the turn signal sockets were not correctly oriented. Though with our reviewed unit, we did not face any beam adjustment problem.
Apart from all these issues, the DWVO Headlights are great for price and function. We recommend this headlight to anyone who wants to improve the looks of their dodge Dakota (1998-2004 model) and make them safer.
Review Of AmeriLite Chrome Headlights Parking Turn Signal Sets (4Pc) for Dodge Dakota (1997-2004)
AmeriLite has been proven to be a reliable and effective company manufacturing headlights for more than 30 years. AmeriLite is one of the leading brands in the industry when it comes to aftermarket headlights. They are known for making beautiful, quality products that will last long even after regular use.
After hearing lots of good things about AmeriLite, we decided to buy one of their headlights. After receiving the product in a few days, we took it out and installed them on one of our friends 2004 Dodge Dakota. The installation went smoothly, and the lights looked great.
The good thing is with this package, we got high and low beam pre-installed 9007 dual filament halogen bulb, turn signal light, parking lights, and pre-installed rubber edge trim. 
The chrome housing was not too shiny, which is good because that can be blinding to other drivers on the road, but it has been made so perfect that you won't even notice this issue.
Talking about build quality, most of you know that Amerilite headlights are known for their high quality. This product is no different, and it was made with perfect craftsmanship.
Before releasing their headlights, they always do tests such as temperature & humidity, dust, salt, and even moisture, and our reviewed headlight is no different. These tests ensure that the headlights will stay outside for a long time without getting damaged. Also, their headlights are SAE and DOT approved, which is great for the safety of your truck.
Now some people find the installation and headlight beam adjustment a little difficult, but for us, it wasn't. After testing our headlights and seeing how bright they are, we had no trouble with the adjustment whatsoever. We have already used them on a few of our truck's trips since then, and they work great each time.
Also, the price they set for this headlight is quite reasonable for what you are getting. It is a good quality product, and it was made with great craftsmanship. We recommend this product to anyone who wants a good quality headlight for their truck. Since these are DOT and SAE approved, we think you will love them too!
Finally, if you are looking for an excellent quality headlight from Amerilite for your Dodge Dakota ('97 – '04) series, we highly recommend AmeriLite Chrome Headlights. It is a fantastic headlight in the budget range, and it will give your truck an excellent look as well as great visibility on the road.
Review Of ACANII – For 2005-2007 Dodge Dakota Replacement Headlights Headlamps Pair Driver + Passenger Side 05 06 07
If you are the owner of 2005- 2007 Dodge Dakota and you need to replace your old factory headlights with some good quality ones, without a doubt, check ACANII headlights. This is a great product that will work perfectly for your mid-size Dakota, and it comes with everything you need to install them properly on your truck.
These headlights lens are made of Polycarbonate material. Polycarbonate is known and used for its durability, corrosion resistance, and impact. And top of that, they applied UV coating to protect from sun damage to avoid getting yellowish. These headlights meet all the requirements to be used in USA and Canada (SAE and DOT compliant), which means you don't have to worry about legality issues.
We put ACANII headlights on our 2006 Dodge Dakota, and we were really impressed with their quality and performance. It took less than 30 minutes to install these headlights and bam! Our old yellowish headlights were replaced with these beautiful new headlights. One of our friend was also impressed, and he instantly ordered a set for his Dodge Dakota as well.
Now talking about the lighting source type, you can use your old stock Low/High Beam H13 bulbs or purchase new LED lights. Nothing wrong with that! Good thing the headlights come with the park bulbs or turn indicator bulbs, and for the rest, all you have to do is just install your main light bulbs, and you are ready to go.
The chrome housing and clear lens will give your vehicle a sharp, modern look, and it will also help with visibility. The lenses are made of glass that is resistant to scratches and damages from weather conditions or daily driving. These are very bright headlights that produce lots of light, which will help you see better in foggy conditions or at nighttime. And if we have to mention something else about these lights, it's their quality build!
We tested these headlights in the last 6 months, and after sheer use and abuse, everything still looks brand new. We couldn't find any internal condensation issue. We have spoken to other owners of these headlights. Most of them had similar stories: high quality, good build, and durability. Based on the usage of the last 6 months we couldn't find any negative reviews about these lights, and we are sure you won't either.
We compare ACANII with similar priced AKKON – For 2005-2007 Dodge Dakota headlights and found that AKKON has some issues with the rubber seal, which leads to condensation on the inside of the lens. ACANII is a much better choice, and it's definitely worth every dollar you pay for them!
Finally, ACANII offers these headlights at affordable prices, which is perfect if you want to install them on your Dodge Dakota without spending too much money. If you ask us which is our favorite headlight for the 2005-2007 Dodge Dakota, we would say that ACANII headlights are the best. The reason for crowing them as the best headlights for 2005-2007 Dodge Dakota is because of the material they used, the quality of their lens, the accurate fittings, and the easiness of installation and adjustment.
Review Of AM AutoParts Headlights Headlamps Left & Right Pair Set for 05-07 Dodge Dakota Pickup Truck
If we have to name a runner-up for the 05-07 aftermarket headlight, we will pick Headlights Headlamps by AM Autoparts. We tried these headlights on our 2006 Dodge Dakota, and their build quality is excellent – they are made of high-quality materials. In addition, they have a perfect fitment, which makes them look like OEM lights.
At the time of installation, we did not find any adjustment issue, and we were surprised how easy they are to install as well. It took us only 30 minutes to install the headlight. Also, The price is very competitive, and at less than $200 you can't really complain.
Another reason why AM Autoparts headlight for the Dodge Dakota is on our top picks is that they are very bright. Also, the chrome finish and clear lens are impressive, making them look outstanding. We are not surprised that this headlight for the Dodge Dakota is made of high-quality materials, and it's a perfect fitment as well.
These headlights are SAE and US DOT approved, which means they are legal in all 50 US states. The drawback we found with these headlights is we did not find any installation guide.
We recommended these headlights for the 2005-2007 Dodge Dakota because of their build quality, price, chrome finish, fitment, brightness level that exceeds OEM specs, and other things.
Finally, if you have Dodge Dakota and are not satisfied with the stock headlights, we would recommend AM AutoParts headlights because they are excellent at an affordable price.
Things To Consider Before Buying Aftermarket Headlights For Dodge Dakota
Is It Compatible Or Not?
This is one of the most critical factors that you should consider before buying a new set of headlights. Some vehicles fit with different types and brands of headlight bulbs, so it's necessary to know whether they are compatible with your Dakota or not.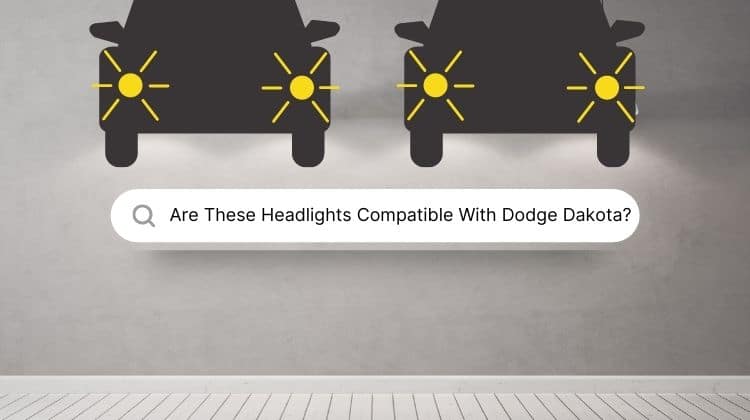 Also, one thing to keep in mind all Dodge Dakota aftermarket headlights are not universal. For instance, you can not install or try those headlights that are only made for some specific year or generations, Dodge Dakota. 
You should also make sure whether the headlights that you want to buy are compatible with your vehicle or not. You can find this information by checking out its size, shape, and brand. For example, the most common high and low beam bulb that fits with Dodge Dakota is the 9007 headlight bulb. Also, the headlight models we reviewed fit well with the Dodge Dakota model from 97 – 2004 and 2005- 2007.
Housing
You should also consider the housing material used in making your headlights. The most common materials used to make the headlight housing are ABS plastic and (PP) polycarbonate plastic. Among them, PP is the most durable. In addition, PP has good impact resistance and is also resistant to corrosion. Also, manufacturers apply UV coating to protect the PP from sunlight. However, ABS plastic is also a good choice for its durability and price, but it has low impact resistance and corrosion-resistant properties than the PP.
Besides the housing material, you should also remember that the housing flushes with the headlight. So you have to make sure that they are flush with each other so you can get a good look at your vehicle, and it's all as per its original design.
Ease Of Installation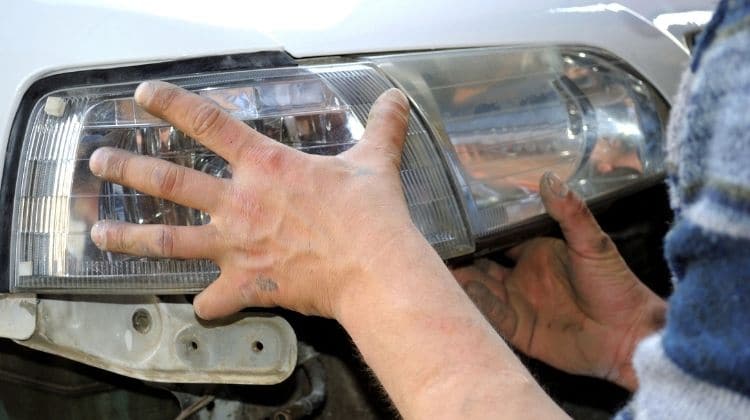 You should also consider the ease of installation because this is one aspect that all customers look for when they buy a new set of headlights. You have to make sure that it's easy to install and remove them from your vehicle so you can keep on using them whenever you want. You should also consider whether your new headlights come with all installation accessories or not?
Sealed Design
Another aspect that you should consider before buying a new set of headlights is the sealed design. The most common sealing materials used in making headlight housings are solid silicone, rubber seals, and gaskets. Make sure the headlight is well sealed to protect and keep the dust and debris out and from getting inside the light. Try to figure out what kind of sealing is used in the headlights from the product description.
Moisture Resistance
You have to make sure that the headlights are moisture resistant. This means that you should be able to use them in all kinds of weather conditions. If the headlights have moisture-resistant components, they will protect them from getting damaged by rain, snow, and other elements.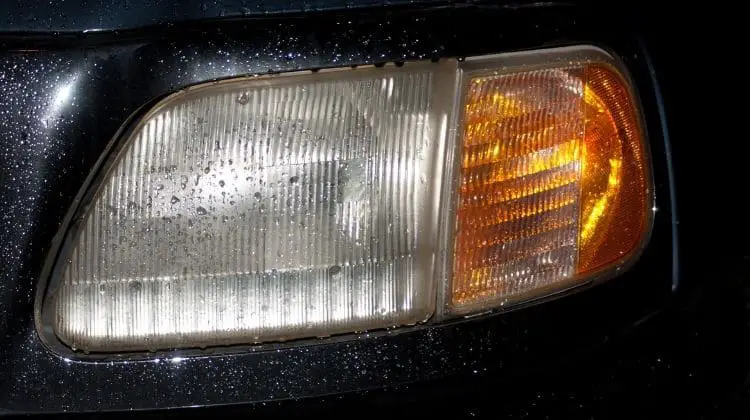 Brightness Of The Headlights
Aftermarket headlights are the best choice for customers because they improve light output. With this, you can see better when you drive at night without any problem.
You have to make sure that the headlights you buy offer a superior light output so they will be more visible for other drivers during nighttime driving. Most of those aftermarket headlights have better light outputs and produce brighter lights than standard headlight models, which is why aftermarket headlights are preferred by many customers.
Headlights also have a high beam, low beam, and fog lights used to direct the light beams in a direction that will provide better illumination of your vehicle. Also, most aftermarket headlights come with an option for daytime running lights or DRLs so that you can see better during the daytime.
You even have to consider different types of headlights available in the market for you to choose from, like projector headlight or reflector headlight.
When it comes to projector headlights, they are known for producing the brightest and cleanest lights compared to other types of headlights that you can find in the market. The best part about these types of aftermarket headlights is that they offer a better light distribution when compared with other headlights.
Reflector headlights are the most common type of headlights found in vehicles. These are typically made up of either a combination or one single reflector headlight that is circular shaped. It can be used to direct light beams towards your car during nighttime driving.
However, when it comes to projector headlights, you have to consider the type of bulb used when installing these headlights. For projector headlight, you have to check the type of bulb that is used since they come in different types. For example, there are LED Projector headlights, which use LEDs as their light source compared to traditional halogen bulbs. Also, in projector headlight, you can use the HID bulb, also known as High-Intensity Discharge.
In summary, Projector and reflector aftermarket headlights offer the brightest lights compared to other headlights.
Design Of The Headlights
You have to make sure that the headlights you choose come with a sleek and stylish look. A modern designed headlight will improve your vehicle's appearance and also it can be an eye-catcher of other motorists. You also want to opt for headlights that are easy on your eyes because they will give you a better view during the day and at night.
Depending on the type of headlights you choose, there are two types of designs: chrome and smoked design. Smoked housing to create a more aggressive look for your truck or any light-duty vehicle.
The headlights that have smoked housing are usually preferred by people who opt for black trucks. However, headlights with chrome housing can produce a more crisp and clean look which will not only improve the looks of your truck but also make it appear more expensive.
Warranty
You have to look for a product that comes with a warranty because this will give you peace of mind and security while using the headlights. Make sure the manufacturer offers an extended warranty on their products so you can be certain that your headlights will last for a long time.
Cost
The cost of the headlights is also very important. This depends on several factors such as; design, quality, and quantity that you want to buy. Of course, you can opt for a cheaper product if it has good reviews or comes with a warranty. Still, there are chances that this could be lower in quality compared to other headlights.
Conclusion
Indeed headlights are the most important part of your vehicle. When you see yellowish, foggy or scratchy headlights, it is not only irritating but also dangerous. Also, without spending arms and legs, aftermarket headlights give the best illumination to your driving experience and thus play a significant role in enhancing your safety while driving. The above 4 headlights we reviewed are unbiased and completely based on our experiences with those products. We hope and believe this best aftermarket headlight for the Dodge Dakota review will give you the right direction to make your purchase decision.
Last Updated on May 27, 2022 by Rifen
Last update on 2022-10-12 / Affiliate links / Images from Amazon Product Advertising API