The 2015 GMC Sierra comes with halogen bulbs as the stock headlight bulbs. And while they do get the job done, they are not as bright as aftermarket bulbs. More importantly, they typically do not last long.
As such, you will have to replace the stock bulbs sooner than you think. And replacing the bulbs with aftermarket bulbs will do you and your truck a world of good. 
But which is the best replacement headlight bulb for 2015 GMC sierra? This is the question we seek to answer in this article. 
We compiled a list of four of the brightest headlights for the 2015 GMC sierra on the market. These four will be a significant upgrade over your stock lights.
Additionally, we have included a guide on how we selected the four and what you should look for when shopping for the Best GMC sierra headlight bulbs.
The Alla Lighting Mini FL-BH 9012 HIR2 LED Bulbs topped our list as they offer more brightness than the others on the list. In addition, they have a higher wattage, which translates to a brighter beam.
The AUXITO 9012/HIR2 LED Light Bulbs are highly rated and are also incredibly bright. At 80 watts, they are below the Alla lighting mini; they are also reasonably priced. 
A Quick View Of Our Top Picks
Color
6000K~6500 Kelvin Xenon White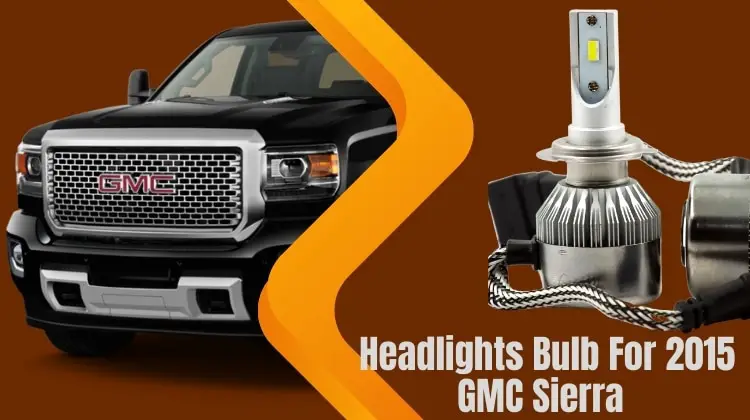 Why Trust This Review?
In our compilation, we go over what makes each bulb a great 2015 sierra headlight upgrade over the stock bulbs. We also include our own views on some of the things we found, could be improved with the bulbs. We focused on the 2015 GMC Sierra, but owners of other cars can pick a thing or two about the performance of these bulbs.
How We Picked The Four?
We picked our top four bulbs based on their brightness, ease of installation, and how much of the road they can illuminate. All the four we have picked scored high marks on all four points. We also considered the price and how the bulbs fit into the 2015 GMC Sierra.
How Do I Know If I Need To Replace The 2015 GMC Sierra 1500 Headlight Bulb?
But first, how do you know it's time to replace your 2015 GMC Sierra 1500 headlight bulbs? There are several things that will indicate it's time to replace them. The main indicators of worn-out bulbs are;
Dim headlights: If you notice that your headlights are dimmer than usual, it may be because of two things. One build of grime and dirt on the headlight housing caused the bulbs to be dimmer. Or two, the filament in the bulbs are worn out or damaged, and the bulbs need to be replaced.
Flickering lights: If you notice your headlights are flickering on and off frequently, it is a sign that they are past their lifespan or are damaged and need replacing.
One bulb goes off: headlight bulbs are typically replaced in pairs; thus, if you notice one light has gone off, it may be time to replace the bulbs.
How Do You Change A Headlight On A 2015 GMC Sierra?
Warning: If you are not comfortable or confident about how to install a headlight on a GMC truck, we advise you to ask for help from expertise or pay for a professional installation.
To change the headlight on a 2015 GMC terrain, you will need; a 7mm, 10mm socket and ratchet, T20 Torx bit, and a flat blade screwdriver. First, under the vehicle on the front wheel, remove the t20 bolt. Then remove the cover that the t20 bolt was holding in place.
You should now be able to access the headlight. Then open the hood panel to access the headlight assembly panel. Four clips will secure it. Use the flat blade screwdriver to remove the four clips.
Then remove the three t20 bolts on top of your grill. On the wheel well, you will also notice four clips; remove them. Remove the t20 bolts as well and remove the outer cover. You should have access to a 7mm bolt under the cover and two additional ones on top of the headlight assembly.
Remove these three bolts; once these bolts are removed, you can now lift the headlight assembly by the top tabs.
Reviews Of The Best Replacement Headlight Bulb For 2015 GMC Sierra
Alla Lighting Mini FL-BH 9012 HIR2 LED Bulbs Dual High Low Beam Conversion Kits Headlights
The Alla Lighting mini FL-BH 9012 HIR2 LED bulbs made for a great 2015 GMC sierra headlight upgrade. The manufacturer markets them as being 600% brighter than halogen bulbs, something we were keen to see for ourselves.
Obviously, it is not possible to say how much brighter in percentage a set of bulbs are over another. Still, the difference in brightness between these and the stock halogens was noticeable. And with a combined brightness of 12500 lumens, they were incredibly bright.
More importantly, they cast a 6500 K xenon cool white light, which was way better than the yellow light cast by the stock halogen lights on the GMC Sierra. The brightness of these bulbs is thanks to their high wattage of 90 watts.
These are IP65 rated water-resistant bulbs and should be able to withstand heavy rainfall. When it comes to the lifespan, you get a 30,000-hour lifespan. This is mainly thanks to the built-in high-speed cooling system.
It took us about 15 minutes to get these bulbs installed, and they should be perfect direct replacements for 9012, HIR2, 9012LL, and HIR2L bulbs. While it was easy to install on the Sierra, other people complained about them taking longer to install on other models. 
This, though, depends on the vehicle model and has less to do with the bulbs themselves. One slight negative to note is that the fan is audible when the car is off. This is though a small annoyance. 
AUXITO 9012/HIR2 LED Light Bulbs Mini Size 80W 16,000LM Per Pair CanBus Ready Conversion Bulb Kit
The headlight bulbs on the 2015 GMC Sierra 2500 are pretty terrible. Replacing them with the AUXITO 9012/HIR2 LED bulbs will give you significantly better results. In addition, these 9012 LED bulbs are noticeably brighter than halogens.
These bulbs are a great alternative to high-end and costlier aftermarket 2015 GMC 2500hd headlight bulbs. In terms of brightness, they offer 16,000 lumens of brightness from both bulbs at a wattage of 80 watts. This makes them about 400% brighter than the 2500 Sierra's stock bulbs.
In addition, they come with a 360 degrees adjustable locker ring and an L-shaped tool. This makes it easy to adjust the beam so you are not blinding oncoming drivers.
But how easy are they to install? From our experience, we found them to be easy to install, and the whole process can be accomplished using a flat and Phillips screwdrivers. The driver-side bulb was easier to install compared to the passenger-side bulb, though.
There is a 12,000 RPM turbo cooling fan that helps prolong the bulbs' lifespan to 50,000 hours. And they illuminate much more of the road than stock bulbs. They are also can-bus ready, meaning they will not interfere with your car's electronics system.
It was a bit difficult to align the bulbs to point to the correct 3 O'clock and 9 O'clock directions, especially on the driver side. This was the only negative we noted with these bulbs.
Fahren Forenner 9012/HIR2 LED Headlight Bulbs
The Fahren Forenner 9012 is another one of the best LED headlights for the 2015 GMC Sierra. With 12,000 lumens of brightness from both bulbs, they are incredibly bright. And the first thing you notice is how brighter they are compared to the stock or original halogen bulbs.
And they are relatively affordable as well, which is always great. But this shouldn't be the main reason for you to buy them. Instead, buy them for their performance. In our review, we found the 6500 K white light from these bulbs stretched further than that of the stock bulbs.
As such you will be able to see more of the road. Something else we liked about these bulbs is that they are plug-and-play. They worked out of the box without throwing any errors. The 360 degrees rotating locking head was also a nice inclusion.
This allows you to adjust the beam pattern. There is also a 12,000 RPM turbo cooling fan, and we noticed it was much quieter than the fans on some of the other bulbs we tested. This fan combined gives the bulbs a 50,000 hours lifespan.
HIKARI TOP XHP50.2 LED, 9005 LED Bulbs Conversion Kit
The HIKARI TO XHP50.2 LED bulbs offer 10,000 lumens of brightness and a wattage of 30 watts. Compared to some of the other options on our list, they can't be considered the brightest, hence their position on our list. 
However, compared to stock halogens, they are considerably brighter. Also, they provide a wider beam pattern giving a clear view of the road and its surroundings. Also, they distribute light very well, especially in a reflector housing.
One of the things we liked about these bulbs was the bidirectional plug. This plug has a locking tab on each side and allows for the plug to be connected on either side. This is important to get the correct polarity.
The bulb holder is 360 degrees adjustable. This allows for easy adjusting of the beam pattern. Furthermore, since it is a plug-and-play style bulb, the installation process is very easy. It will also not throw any errors due to the car's electronic system. 
While the bidirectional plug is an excellent idea, the extra plug may not fit into the wiring harness of some car models. This makes it difficult to install on some car models. However, these bulbs performed exceptionally well. 
How Can I Improve My Aftermarket Headlight Performance?
One way of improving the performance of your aftermarket headlights is using LED bulbs, such as the 9012 LED are the most brightest and compatible with lots of vehicles. These are brighter than standard bulbs. Also, Cleaning the headlight assembly will be another way of improving brightness.
As your car ages, the headlights start becoming hazy due to moisture build-up and the build-up of other tiny particles. Using a headlight restoration kit is an excellent way to clean the headlight and restore brightness to the original levels.
How To Pick The Best aftermarket headlight bulbs for 2015 GMC Sierra
There are plenty of aftermarket headlight bulb options available on the market for LED and HID lighting upgrades. And when faced with the huge variety available, it can be overwhelming. So how can you identify the best LED headlights for 2015 GMC Sierra? Here are the things to look at.
Compatibility
First and foremost is whether an aftermarket bulb is compatible with the 2015 GMC Sierra. There is no point in spending money on a bulb that will not fit into your car. Bulbs will typically indicate which car models they are compatible with.
Alternatively, you can use compatibility checker tools available on online stores such as Amazon to check whether a bulb is compatible with your 2015 Sierra.
Construction
The best 2015 GMC 2500 headlight bulb will typically feature an aluminum housing. This guarantees it a longer lifespan. Apart from the housing check, for bulbs with 360 degrees adjustable locker rings. This makes them easy to adjust.
The inclusion of a fan is also important. LED bulbs tend to heat up at the base, and a fan is necessary to dissipate this heat, which can reduce a bulb's lifespan. Thus a fan is an important feature to look for.
Ease of installation
How easy a bulb is to install matters a lot. You want a bulb that will not require a lot of tools to install and that has an instructions manual. The inclusion of an Allen wrench in some bulbs will make them easier to install as well.
Brightness and wattage
A bulb's brightness is measured in lumens. The higher the lumens rating, the brighter it is. Also, the higher the wattage, the brighter it is. Thus it is essential to check the wattage of a bulb to get a picture of how bright it is.
Halogen bulbs typically have 55 watts; LEDs have higher than this. However, in some areas, local laws prohibit the use of headlight bulbs of certain high wattages. Therefore, it is also essential to check this to ensure the bulbs you buy are within the legal limits regarding wattage. 
Can-bus ready
Check for whether a bulb is can-bus ready or not. This will determine how well it will perform alongside the car's internal electronic system. A bulb that is not can-bus ready will tend to flicker and go off due to this interference, and you may need to buy a can-bus adapter to fix this.
Buying a can-bus-ready bulb will save you from buying a separate adapter and will ensure it works correctly right out of the box.
Fan Noise
Going through online reviews is the best and most practical way of knowing if a bulb's fan is noisy. For example, some cooling fans produce a sound that is noticeable when the car is off. This sound can be an annoyance for some people. 
Price and warranty
The price of aftermarket bulbs varies greatly. There are high-end bulbs that cost quite a lot, and there are others that are more affordable. Ultimately it will depend on your budget; pricier bulbs tend to be brighter. However, affordable LEDs are still bright enough for effective nighttime driving.
The warranty attached to a bulb will also be something to consider. Most will offer a two-year warranty. The availability of a warranty for a bulb is always essential.
Frequently Asked Questions
What Is The 2015 GMC Sierra 1500 Headlight Bulb Size, Number, And Which Type Is The Best Replacement?
The 2015 GMC sierra uses the 9012 size headlight bulbs for both the high beam and low beam lights. The best 2015 GMC sierra 1500 headlight bulb replacement bulb would be a 9012 LED bulb.
What are the Differences Between Halogen and LED Headlight Bulbs?
The main difference between halogens and LEDs is in how they work. Halogens use a tungsten filament encased inside a housing filled with halogen gas. This tungsten filament emits light when an electric current passes through it, and it heats up. On the other hand, LEDs use light-emitting diodes, which emit light when an electric current passes through them. As such, LEDs do not heat up as much as halogen bulbs do.
Is it safe to purchase GMC Sierra aftermarket headlight assembly kits online?
Yes, online stores will offer the same warranty features as physical stores as the warranty is from the manufacturer. More importantly, in case of a defective Headlight Conversion Kit, GMC Sierra online stores also offer returns.
Can I Upgrade to LED Headlights from Halogen Headlights?
Yes, LED bulbs use the same socket fixtures as traditional halogen bulbs, and as such, you swap out halogens with LEDs without any modifications.
What is the best brand of aftermarket headlights for GMC trucks?
There are several brands that offer exceptional aftermarket headlights for GMC trucks. These include Auxito, Fahren, and Alla Lighting.
Why Do GMC Trucks Have Such Terrible Headlights?
The main reason is that these trucks use a single filament halogen bulb for both the high beams and low beam lights. The result is underwhelming brightness, especially at night.
Conclusion
There have been a lot of complaints about the brightness of GMC Sierra trucks headlight bulbs. Driving with the truck's stock bulbs, especially at night while it's raining, can actually be dangerous. The best thing you can do for your truck is to switch to the best replacement headlight bulb for 2015 GMC sierra.
The brightest headlights for 2015 GMC sierra will give you peace of mind when driving at night more than the stock bulbs could ever do.  
Last Updated on February 2, 2023 by Rifen
Last update on 2022-10-12 / Affiliate links / Images from Amazon Product Advertising API