We can all agree that when we drive at night, it is important to be able to see the road and other cars. That's why you need a LED projector headlight bulb for your vehicle. With the best H7 LED bulb for projector headlights, you will be able to do just that. Whether you own a pickup truck or SUV, which is compatible with the projector headlight bulb the extra brightness gives your vehicle better visibility at night.
Almost all vehicles come with halogen bulbs as the default headlight bulbs. And while halogen bulbs are decent, they aren't as bright as LED bulbs. Also, they have a shorter lifespan meaning you will end up replacing the bulbs more frequently.
It, therefore, makes sense to switch your stock halogen bulbs with new LEDs. But are LED bulbs suitable for projector headlights? While there are LED bulbs that have dead spots when installed on projector headlights, there are also some that perform well on projectors.
The trick is finding the right LED bulb for your projector headlights. So what is the best h7 led headlight bulb? To answer this question we have compiled a list of the best h7 led bulbs for projector headlights.
We have also included a buying guide on selecting the best h7 bulbs from the many options available. But before we get to the reviews, we need first to understand what projector headlights are and how they differ from the more traditional reflector headlights. 
Topping our list is the HIKARI 2022 HyperStar H7 20000LM Wireless LED Bulbs. These bulbs are incredibly bright at 20000 lumens and can project their light wider than most other bulbs. 
They are also easy to adjust with the 360 degrees adjustable mounting collar. The number two spot goes to the H7 LED Headlight Bulb, EASY EAGLE 120W High Power. These are slightly less bright than the top ones at 10000 lumens, but they are easy to adjust and have an IP68 waterproof rating.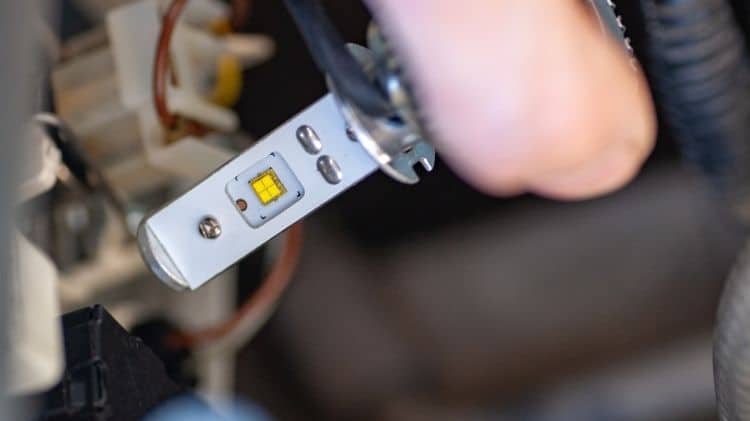 What Are Projector Headlights?
A projector headlight consists of a bulb encased inside a steel bowl with mirrors that act as reflectors, similar to reflector headlights. However, projector headlights also incorporate a lens that magnifies the brightness of the bulb.
Another component found on projector headlights is the shutter. The latter is positioned below the light beam and cuts it off so that the light is aimed at the road and not blinding other drivers. In some models, you can adjust the shutter to switch between low and high beams.
Projector vs Reflector Headlights: Main Difference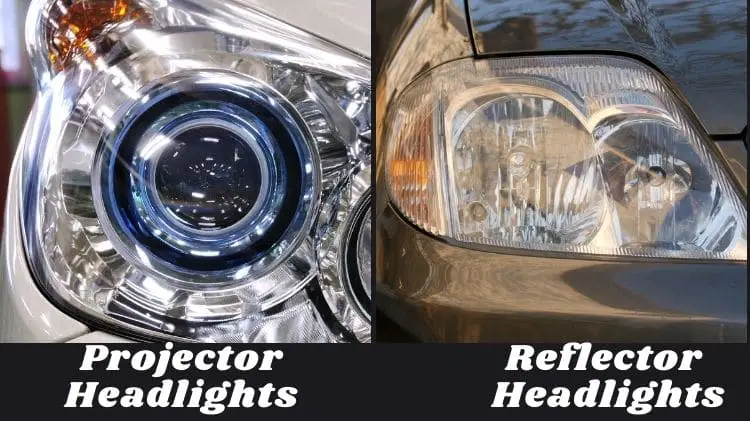 From the definition above, we can already see how projector and reflector headlights differ. Projector headlights feature a shutter that cuts off the light beam and a lens that magnifies the bulb's brightness. 
However, reflector headlights do not have a shutter or a lens. Instead, they have reflector mirrors inside the headlight that guide the beam of light. Thus the main difference is in how the two aim the light.
Reflectors use the mirrors inside the headlight, while the projector headlights use a combination of these mirrors and a lens; as such, projector headlights are noticeably brighter than reflector headlights.
Halogen vs HID vs LED: Which Bulb Best Fits Your Projector Headlight?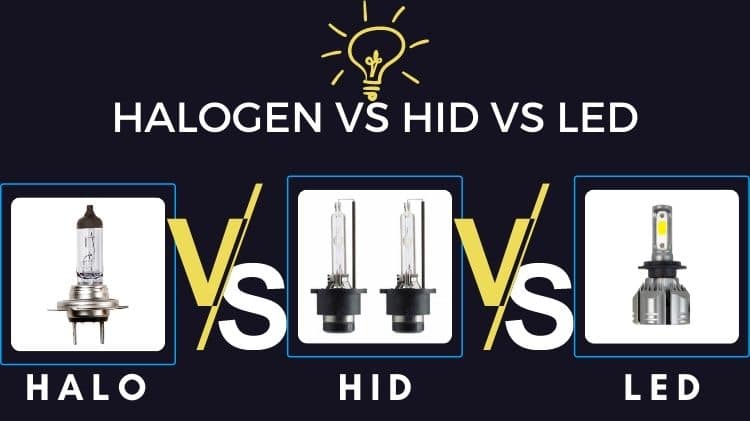 Halogens are the more traditional of the three. These typically consist of a glass bulb with a filament tungsten wire inside. This wire lights up when an electric wire passes through it and causes the tungsten to evaporate. 
But unlike incandescent bulbs, halogens have halogen gas inside the bulb that reacts with the tungsten, thus eliminating the problem of bulb blackening.
High-intensity discharge bulbs contain two tungsten electrodes housed within a capsule filled with xenon and metal salts. When electric current passes through, a reaction occurs, and a bright white plasma is formed that produces the light.
Light-emitting diodes use diodes that light up when an electric current passes through them. Compared to the other two, LEDs are more energy-efficient, consuming between 15 and 18 watts.
Also, LEDs light up immediately, unlike HIDs that can take up to 10 to 20 seconds to reach full brightness. Therefore, LEDs are the best for projector headlights as they are brighter than halogens and more energy-efficient than HIDs.
How Do I Know If I Have Projector Headlights On My Vehicle?
Projector headlights will have a lens on the assembly. The lens will look like a small crystal ball that has been cut in half. So if you see something like that on your headlight assembly, then chances are you have projector headlights.
Benefits Of Using H7 LED Bulb For Projector Headlights
The h7 bulb is bright and works well with projector headlights, with some h7 bulbs having upwards of 12,000 lumens of light.
This bulb type is also compatible with most modern vehicle types that come with projector headlights by default. This include Ford, BMW, Audi, Volkswagen and more.
They are also quite affordable and are easy to install on projector headlights. However, some models may require a special bracket or retainer.
Reviews of The Best H7 LED Bulb For Projector Headlights
HIKARI 2022 HyperStar H7 20000LM Wireless LED Bulbs
The Hikari 2022 Hyperstar h7 2000 lm wireless LED bulbs are an excellent option for projector headlights. We installed these on a 2018 Dodge grand caravan to see how they would fare. And safe to say, they are some of the best h7 bulbs for projector headlights on the market. 
These were noticeably brighter than stock halogens. Also, they offer 6000 K of white light, which is better than the dim yellow light produced by halogens. When you switch from halogens to this one, you may notice a blue tint on the light beam, but your eyes get used to it quickly.
We liked these 20000 lumens bulbs because they project more light to either side, which gives you a better view of the entire road. And with the projector headlight in-built shutter, you are not going to blind oncoming drivers.
We did not have any notable challenges installing the bulbs. The bulb holder is 360 degrees adjustable, allowing you to adjust the bulbs and beam pattern. However, we did have to buy a canbus adapter.
There is a 15,000 RPM dual fan that helps prolong the bulb's lifespan. These bulbs are capable of lasting up to 50,000 hours. Our main issue with these bulbs is that an adapter is required when installing them on most vehicles.
H7 LED Headlight Bulb, EASY EAGLE 120W High Power
The Easy Eagle h7 LED headlight bulb makes for an excellent replacement for any stock OEM bulbs. We replaced a 2008 Mercedes Benz C300 bi-xenon stock bulbs, and the difference was staggering. Also, they did not throw any error codes.
Installation was relatively straightforward, and we did not require any additional adapters. At 10000 lumens of brightness per bulb, these were noticeably brighter than the stock bulbs. Also, the 6500 K white light produced is closer to natural light than the light of the stock bulbs.
The bulbs come with a removable and adjustable adapter. This makes it easy to install on both reflector and projector headlights with ease. It is important to note that these bulbs are incredibly bright and, if not installed properly, will blind oncoming traffic.
They also feature a high-speed cooling fan that should guarantee the bulbs last for a very long time. For up to 30,000 hours, to be more specific. And with a 1p68 waterproof rating, they can withstand different kinds of weather conditions.
Installation is not a breeze for everyone, though. Some people have complained of these bulbs being challenging to install. Thus before buying, we recommend checking whether these will be compatible with your vehicle.
HIKARI VisionPlus H7 LED Bulbs
The next Hikari bulbs on our list are the Hikari VisionPlus H7 LED bulbs. At 15,000 lumens of brightness, these are incredibly bright and are 400% brighter than halogens. Thus with these installed in your projector headlights, you will see more of the road.
Similar to the other Hikari h7 LED bulbs on the list, these offer a wider beam pattern. This gives you improved visibility at night while minimizing dark spots. And when it comes to installation, they are relatively easy to install.
Though we did require an error canceller and adapter clip for the 2015 Mercedes ML250, the light color temperature stands at 6000K, which gives it a blue tint, which you may get used to when switching from halogens. As for the bulb's cooling, they feature a 12,000 RPM dual turbo cooling system.
While these are LEDs, we found them to be quite hot to the touch. In fact, they are hotter than some halogens. This isn't such a big problem, though, especially since they are equipped with a turbo cooling system, but it is something to keep note of.
H7 LED Headlight Bulb, Aukee
Aukee is another headlight manufacturer with a history of making headlight bulbs of exceptional quality. We tested the company's h7 LED 110 w high-power headlight bulbs on a 2011 Dodge Ram 1500 with aftermarket projector headlights.
The first thing we noticed is how wide the bulbs project the light. The light beam is also projected quite a long way out. And with 18,000 lumens of brightness, they were brighter than the stock h7 halogen bulbs.
They produce bright white light with a 6000 K intensity which is better than the yellow light projected by the h7 halogens. We also did not notice any weird patterns or hot spots on the headlights.
In terms of installation, they were relatively easy to install. There is an adjustable mounting collar that allows for adjustment of the beam pattern. For the best performance, you have to position the bulbs facing 9 O'clock and 3 O'clock.
The bulbs are ip68 waterproof rated and should be able to withstand all kinds of weather conditions. One thing to note is that some people have complained about interference with radio signals. However, this seems to be a problem with certain vehicles.
Lsyomne H7 LED Headlight Bulb 600% Brighter
The Lsyomne H7 LED headlight bulbs are among the brightest. At 20,000 lumens, they are rated to be 600% brighter than traditional halogens. But is that all they have to offer? 
According to the manufacturer, these bulbs can project light to a distance of up to 1200 ft. And in our review, we noted that the lights do light up a sufficient portion of the road. Everything is visible, from road signs to potential obstacles.
And with a light intensity of 6000 K, you will feel like it's daytime when driving with these bulbs on at night. The beam pattern is also well-focused, which is excellent, especially for projector headlights. 
As for the cooling system, it is a 15000 RPM turbo cooling fan. With this cooling system, the bulbs should last up to 60000 hours. Another key benefit of these bulbs is the EMC system that minimizes their chances to interfere with radio signals.
The high beams of these bulbs can be a bit too bright, though. This may lead you to blind oncoming traffic. However, this will be a problem if the bulbs are not correctly configured. 
XSTORM H7 LED Headlight Bulbs 2021
The Xstorm h7 LED headlight bulbs have perhaps the most modern design of the bulbs on this list. It features a six side design that gives it a distinct look different from the standard design of most other bulbs. 
But how bright are these bulbs? At 20000 lumens, these bulbs are significantly brighter than any stock halogen bulb. Also, since it has LEDs on all six sides, it does not have a blind spot like some two-sided LEDs.
The coverage of the bulbs is quite something, and they are also able to project light further out as well. On the 2014.VW Jetta, these LEDs performed superbly. Not only are they super bright they also did not throw any error warnings.
An 8000 RPM turbo fan helps with cooling the bulbs. This helps them have a long lifespan and can last for up to 60,000 hours. 
On some vehicle models, there is a special bracket or retainer required. The models that may require this include Ford, Kia, Volvo, Volkswagen, Hyundai, and Mercedes Benz. However, the manufacturer does provide you with the bracket on request.
Light Moses H7 LED Headlight Bulb 360-Degree Light Source Elite
Not all LEDs work great with projector headlights. The Light Moses h7 LED headlight bulbs are designed for projector headlights. They feature wrap-around LEDs chips with 18 LEDs meaning they do not have a dark spot. 
As for brightness, they offer an impressive 10,000 lumens of brightness. The 6000 K color temperature is more ideal for projectors than the 8000 K color temperature. The result is a bright white light that retains a clean cutoff at the top.
These bulbs are pretty much plug-and-play kind of bulbs. Thus there are no difficult adjustments needed, and it takes a few minutes to get them installed. The 360-degree beam pattern will illuminate all the potential obstacles and signs on the road.
As for the cooling system is a 10,000 RPM turbo cooling fan that gives the bulbs a lifespan of up to 50,000 hours. The bulbs are also IP68 waterproof rated. 
H7 LED Bulb, CAR ROVER 50W 10000 Lumens
The Car Rover 50 watts 10000 lumens headlight bulbs are the best h7 headlight upgrade for people on a budget. However, their price isn't an indicator of their quality. At 10000 lumens, they are significantly brighter than stock halogens. 
Also, the 6000 K white light produced by the bulbs appears whiter and does not have a blue tint, which we noticed in some LEDs. More importantly, these bulbs provide a wide beam of light without blinding oncoming traffic.
Thus while they are brighter than halogens, they are not overly bright as some HIDs. The bulbs are also 360 degrees adjustable. This makes it easy to adjust the beam pattern. And like the other bulbs on the list, these have a high-speed cooling system.
This gives them a lifespan of up to 30,000 hours. It may not be as high as that of others on the list, but it's better than what you get with most halogen bulbs. Furthermore, they proved to be relatively easy to install without the need for additional adapters.
What Factors To Check To Get The Best h7 Bulbs For Projector Headlight
When shopping for an h7 bulb for your projector headlights, there are several things you should consider. These are;
Light output
Number one is light output. This is how bright a bulb is. Typically LEDs are brighter than halogens. As such, any LED bulb you buy will most likely be brighter than halogen bulbs. However, a bulb with at least 8000 lumens of brightness will be an ideal choice. 
The higher the lumen count, the brighter the bulb will typically be. It is worth noting that some bulbs may be overly bright and that they are outlawed. Recently we have reviewed the best 9012 LED headlight bulbs which are also the brightest LEDs out there.
Color temperature
The color of the beam produced by a bulb also matters. Generally, halogens produce a yellowish-colored light while LEDs produce a white-colored light. However, the intensity or temperature varies. The ideal color intensity is 6000 K as it is closer to matching the intensity of natural light. 
Bulb lifespan
How long a bulb lasts will determine how frequently you have to change it. Obviously, you want a bulb that will last you for a very long time. Most of the best h7 led bulbs for projector headlights will have a lifespan of 30,000 hours to 60,000 hours.
Installation and vehicle compatibility
When buying LED bulbs, check whether they are compatible with your specific vehicle model. Amazon offers a handy tool for checking a bulb's vehicle compatibility. Another important aspect to note is how easy the bulbs are to install.
In some cases, bulbs may be harder to install in some car models and easier to install in others. Thus check to see if there are adapters required for your specific car model.
Cooling system
LED bulbs tend to overheat at the back, which can impact their durability. To counter this, they typically feature a cooling system. Thus when buying a bulb, check to see if it has a high-speed turbo fan for cooling.
Cost
The price of LED bulbs varies, with some costing upwards of $100 and others $29. The $100 bulbs will typically be brighter. However, if you are looking for something affordable, you can still find a decent bulb for under $50 or even under $30.
Frequently Asked Questions
What Brightness Is Best For Projector Headlights?
Projector headlights are designed to work with bulbs of varying brightness. However, bulbs with a light intensity of 6000 K are recommended because they are better at imitating natural light than 8000 K light intensity bulbs.
What kind of bulb goes in a projector headlight
Projector headlights can use different bulbs from halogens and HID to LEDs; however, LEDs are the most common bulbs used in projector headlights.
Can LED bulbs be used in projector headlights?
Yes, LEDs are 300% brighter than standard halogen bulbs and offer the same brightness levels as HID while being more energy-efficient than HIDs.
Why are my projector headlights so dim?
One of the common causes of dim projector headlights is a corroded ground wire. This is the wire that connects the bulb circuit to the vehicle chassis.
Why did my projector bulb blow up?
This typically is a result of overheating. This can happen because of a defect in the headlight that causes a surge of electric current that causes the bulb to overheat and blow up. It can also be caused by not switching off the power supply causing overheating of the bulb and subsequent blowing up.
Conclusion
LED bulbs work well on projector headlights. However, to get the best out of your projector headlights, you have to get the best h7 led bulb for projector headlights. There are plenty of options available, but not all qualify to be considered as the best.
So if you are asking yourself, what is the best h7 led headlight bulb? The reviews above may be an excellent place to start.
Last Updated on February 1, 2023 by Rifen
Last update on 2022-10-12 / Affiliate links / Images from Amazon Product Advertising API