Jeeps are some of the best off-roaders on the planet. But like other offroading cars, overheating is a problem you can expect to face as a jeep owner. This is especially if you live in a hot and humid area.
And one component that will be critical in protecting your jeep's engine from overheating is the radiator. The radiator produces an antifreeze coolant that helps cool the engine when it gets too hot.
But as you can imagine, radiators do not last forever and eventually, your car's factory radiator will need replacing. And when it is time to replace your jeep's radiator you will need to find the best replacement radiator for jeep jk.
The radiator is one of those parts that isn't spoken about as much as it should, perhaps because it isn't as exciting as other parts. Nonetheless, getting the perfect replacement radiator for jeep jk can make a world of difference.
So what are some of the best radiators for Jeep JK? In this article, we explore our eight best jeep jk radiators.
A Quick View Of Today's Best Radiator for Jeep JK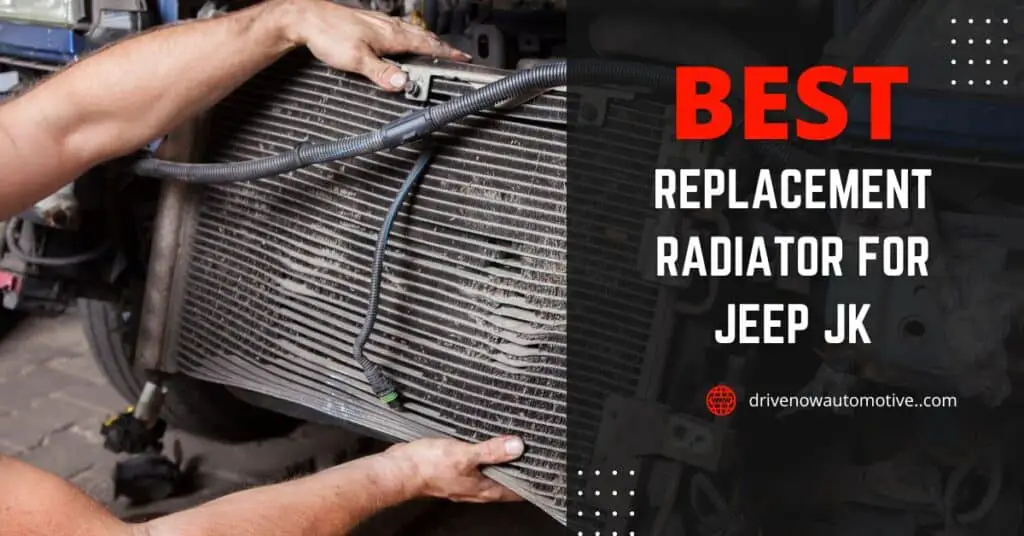 Symptoms Of A Bad Radiator in Jeep JK
To know when to replace a radiator, you must first understand the symptoms of a jeep jk radiator leak.
Coolant Spill Under The Car
If you notice a pool of coolant under your vehicle, it may be due to a radiator leak. You typically see a pool of bright green, pink or yellow liquid under the car near the bumper. If you notice the pool further back, it may be a leak with the radiator hoses. In some cases, it may also result from a leak in the thermostat housing.
Constant Overheating
When the radiator leaks, it will no longer be able to cool your Jeep JK sufficiently. This will result in more frequent overheating incidences. A leak can start small but become bigger when left unaddressed.
Discolored or Rusted Parts
A radiator leak can deposit coolant fluid on other parts of the engine and radiator. And since parts of the engine tend to be hot, the coolant evaporates quickly, leaving the parts discolored and causing them to rust. So if you notice discoloration in some parts of the engine or rusting, it may be due to a radiator leak.
A Squealing Sound
A radiator leak can also deposit coolant fluid onto the serpentine belt. This will result in a loud squealing noise. This will also lead to some accessories not turning on as fast.
White Exhaust Smoke
The coolant leak from the radiator will also cause white smoke from the exhaust. So if you notice this kind of smoke from the exhaust, it may be due to a radiator leak.
When Should I Replace The Radiator?
On average, a well-maintained radiator should last you anywhere between 8 to 10 years. In some cases, it may last for up to 3 years. But you should replace the radiator if you notice it leaks or your engine is constantly overheating.
What Happens If I Do Not Replace a Bad Radiator?
A failing radiator will cause your jeep's engine to overheat, leading to the head gasket failing. This will lead to more damage to the engine, which can result in the need for the most costly repair work. It is, therefore, vital that you replace the radiator if it is no longer working.
The best replacement radiator for jeep jk Reviews
TYC 2957 Radiator Compatible with 2007-2018 Jeep Wrangler
The TYC 2957 radiator costs relatively less than an original OEM replacement radiator for the jeep. However, it is one of the best radiators you can replace your failing stock radiator. Its cost is just one of its many benefits.
It comes With A Radiator Cap Included.
One of the things we loved about this radiator was that it came with new rubber bushings and a radiator cap. So there was no need to use the old bushings from the old radiator of the 2015 JKUR we were replacing it on. It also came with a new radiator cap, with an indicated listing of 18 PSI.
Easy To Install
In our experience, the radiator was easy to install, and everything lined up correctly. There were no modifications required to get it to fit. In terms of quality, it is made from aluminum tubes and has doubleheader plates that help prevent leaking.
Excellent Cooling Performance
This radiator offers the same coolant flow volume as the OEM radiator and, in some cases, can exceed it. In our case, we did notice that the 2015 Jeep JKUR ran noticeably smoother and cooler after swapping out its old radiator with this one.
Who Needs This TYC 2957 Radiator?
This is significantly cheaper than other options, such as the stock Mopar radiator. This will be ideal if you are on a strict budget and want a radiator to replace your leaking stock radiator quickly.
Mopar 6814 3886AA, Radiator
Mopar is a company known for making OEM-grade replacement radiators of exceptional quality, and the 6814 386AA radiator is one of the best from the company. This radiator is designed to be a direct replacement for the Jeep wrangler's factory radiator.
Easy Installation
We had no issues fitting this radiator into a 2014 jeep wrangler. It took about 2 hours to install, but most of that time was spent removing the old radiator. For most people who don't have experience replacing radiators, it may take 4 to 5 hours.
Great OEM Replacement Radiator
If you want to replace your factory jeep radiator, you cannot go wrong with this Mopar option. It comes with a new radiator cap and is an original product from Mopar. Its price is also not high for an OEM-grade radiator.
OEM level performance
You can expect it to have the same level of performance as the OEM radiator. However, if you have a leaking radiator, replacing it with this option should yield some noticeable difference in cooling your jeep.
Who Should Buy This Mopar 6814 3886AA, Radiator
If you want an OEM replacement radiator for your jeep without breaking the bank, this should be the radiator for you. It is reasonably priced and is an original Mopar OEM replacement radiator.
Sunbelt Radiator For Jeep Wrangler Wrangler JK
Another jeep JK radiator with an affordable price tag is the Sunbelt Radiator. This one is designed for the Jeep Wrangler JK. However, its price should not fool you into thinking it's a cheap knockoff.
It is Easy To Install
In most jeep wrangler models, this radiator is easy to install and matches the screw holes of the OEM radiators. However, some users have complained that it is incompatible with their jeep's screw holes. In our experience, it fit perfectly fine into a 2009 jeep wrangler.
Offers Value At A Reasonable Price
This radiator is relatively inexpensive, and it's easy to dismiss it as a cheap knockoff. However, it does deliver in terms of performance. And you should get the same level as other OEM replacement radiators.
Quality Construction
The radiator looks well made and is also quite heavy compared to other replacement radiator options. The only concern we had was with its longevity. Some users have complained of it lasting only one year, though this is subjective and will vary from driver to driver.
Who Needs Sunbelt Radiator and Why?
If you want to save money on your replacement radiator, this radiator should be a great option. It is relatively cheaper than other options, including the TYC 2957 Radiator, but maintains the same level of quality.
AUTOSAVER88 Radiator Compatible with 2012-2018 Jeep Wrangler
Built for the 2012 to 2018 jeep wrangler with the 3.6L engine and 2007 to 2011 3.8L v6 wrangler, the Autosaver88 radiator is one of the best jeep jk aluminum radiators. Not only is it affordable, but it also offers excellent performance.
Direct Replacement For OEM Radiator
We installed this in a 2010 jeep JKU, and it fit perfectly; our only issue was that it did not come with a radiator cap, and we had to purchase hoses. However, considering its price, this was not such a big deal.
Excellent Construction and Performance
This radiator has multi-louvered fins and offers high efficiency for cooling the engine. It also has a plastic tank and an aluminum core. This help reduces the risk of corrosion and helps ensure the radiator lasts long.
Affordable Radiator
This is one of the cheapest radiators you can find. And while it has some cons you do not find with pricier models, it is well worth the money. However, it is important to note that this only works with manual transmission vehicles.
ALLOYWORKS 3 Row Aluminum Radiator for Jeep Wrangler JK
The Alloyworks 3-row aluminum radiator is designed for the 2007 to 2015 jeep wrangler jk with the 3.6L and 3.8L V6 engines. So how does it fair against other radiators designed for the Jeep Wrangler JK?
Relatively Easy To Install
We found it easy to install on a 2013 jeep jk model, and the installation was relatively straightforward. The only issue we had was with the AC condenser. The mounting bosses of this radiator are a bit off, which made it challenging to mount the AC condenser. Other than that, though, everything else fits perfectly.
Better Than The Factory One
But what about its performance? From our preliminary tests, this radiator ran better than the stock radiator. In addition, the wrangler ran cooler even in hot weather. It is made of aluminum and has a 3-row racing design that helps improve its cooling.
Quality Construction
This radiator is mainly made from aluminum, which is great to see when most other radiators feature many plastic parts. However, in our view, the design could do with some improvements; its performance is top-notch.
Who And Why Need ALLOYWORKS 3 Row Aluminum Radiator
This radiator could be higher on our list based on its performance, but its various design flaws let it down. Nonetheless, this will be a good option if you want something that will be an improvement over your existing radiator in terms of performance.
Mishimoto R2957-MT Plastic End-Tank Radiator
For the 2007-2018 jeep wranglers, there is the Mishimoto R2957-MT plastic end tank radiator. This is another inexpensive option that offers the same level of performance as the OEM radiator.
Easy Installation Process
One of the things we loved about this unit is its price point; it was an exact fit in a 2007 jeep JK. No modifications were required, and it took about one and a half hours to replace it with the old radiator.
Radiator Cap And Hoses Included
There are a lot of cheap radiators that do not come with the radiator cap and hoses included. This Mishimoto model is not one of them. With this model, you get installed a new radiator cap and hoses.
Good Performance and Durable
It comes with a lifetime warranty, which shows how confident the manufacturers are with their products. And it does work well, cooling the engine.
Who Is It For
Installation is an issue with some radiators as some screw holes do not line up. This is not a problem we encountered with this radiator, though. And it should be a good option if you want to replace the radiator yourself.
OzCoolingParts Jeep Radiator, 3 Row Core Aluminum Automotive Radiator
The OzCoolingParts jeep radiator is another that uses a 3-row core aluminum design, perfect if you want to get the most out of your radiator. In addition, it offers better performance than the stock radiator of the Jeep JK.
Improved Performance
The 3-row aluminum cor design ensures improved cooling compared to the stock factory radiator. We installed this in a 2008 jeep wrangler, which performed significantly better in rugged terrains than in the factory one.
Installation Is Not Complication
What about installing it? The installation process was quite a breeze, except for some minor issues. One of the issues was that we had to make some alterations to the default electric fan shroud. However, this was not such a big problem.
Better Construction
The factory radiator has a plastic upper-end hose. This one comes with aluminum, which offers better durability and can be repaired. In terms of construction, this one is also an improvement over the stock radiator.
Who Is It For?
If you are looking for a radiator that can withstand the rigors of offroading, this should be top on your list. Unfortunately, it costs more than some of the other options on our list, and that is because it is best for drivers who want to get the most performance out of their radiators.
Coolermaster 4 Row Aluminum Radiator
Another radiator designed for exceptional performance is the Coolermaster 4-row aluminum radiator. This is a pricier unit compared to some of our entries on the list. So is it worth the price?
High-Quality Construction
This is a more premium radiator in terms of its construction. It features a tig welded aluminum body with no epoxy like most cheap radiators. Thus it should last for longer under extreme conditions than cheaper options.
Great Performance
It has four rows of tubes that measure 20.39 inches by 21.06 inches. This ensures a more improved coolant flow to cool the engine and is why it performs better than cheaper options in extreme conditions.
Vehicle Compatibility
This radiator is compatible with several jeep jk models. It is compatible with the 2007 to 2011 jeep wrangler with the 3.8L engine. It can also be used in the 2012 to 2017 jeep wrangler with a 3.6l engine.
Who Is It For
This radiator is perfect for anyone who cares only about performance. It offers better performance than cheaper options and has a better construction than the OEM stock radiator.
Consider The Below Factors Before Buying The Best jeep Jk Replacement Radiator
If you are looking for the best radiator upgrade for jeep jk, there are things you need to consider that will influence your decision.
Compatibility
The first thing to check is whether a radiator is compatible with your vehicle. Some radiators are only compatible with vehicles with a manual transmission. Others are designed for specific jeep jk models.
So it is essential to check the type of cars a radiator is compatible with first before buying. This information can typically be found in the description of the radiator.
Ease of Installation
Another important to check is how well a radiator pairs with your jeep's default components. You want to get a radiator that will directly replace your car's stock radiator. This is not always the case, though; some radiators may require some modifications.
On average, installing a radiator takes between 1.5 to 2 hours. Check online reviews to see how easy it is to install a specific radiator.
The Construction
Aluminum is the most common metal used to make radiators. Some cheap radiators, though, are made of plastic. You want to avoid these radiators. While the radiator tank is, in most cases, made of plastic, the core should be aluminum.
Some pricier models, such as the CoolingMaster 4 Row Aluminum Radiator, are tig welded, guaranteeing a higher level of durability.
Cooling Efficiency
How well the radiator cools the engine matters the most. Several things can influence this, the most important being the design. For example, a larger radiator will offer a more extensive surface area. Also, the tube design will influence the cooling efficiency.
Lifespan
Lifespan is a bit difficult to test as it requires you to test the radiator in natural driving conditions. However, the warranty of a radiator can give you a clue as to how long the radiator can last. The Best Radiator for Jeep JK will typically have a lifetime warranty.
Frequently Asked Questions
Can I Put Water In My Jeep JK radiator?
Yes, but only in an emergency. If you notice your engine overheating, pull over and check the coolant reservoir level. If it is low or empty, you can add water. However, the recommended mix is a 50/50 coolant and water mixture.
Can Drive My Jeep Jk Without Radiator
Starting the engine without the radiator is possible, but you must ensure it does not run long enough to overheat. Ideally, it should run for 15 to 30 seconds, and the engine will overheat.
Last Updated on February 3, 2023 by Rifen
Last update on 2022-10-12 / Affiliate links / Images from Amazon Product Advertising API